On February 7, 2020, Credit Suisse Group AG announced that CEO Tidjane Thiam has resigned, effective Feb. 14, 2020. The company appointed Thomas Gottstein, Head of Unit Credit Suisse (Schweiz) AG, as his successor and their current Head of Institutional Relations, Andre Helfelstein as Gottstein's replacement.
The announcement came amid allegations that Credit Suisse spied on former board members, a scandal that led to the departure of Pierre-Olivier Bouée, its Chief Operating Officer in October 2019.
Background and timeline
In March 2015, Credit Suisse recruited Cote d'Ivoire native Tidjane Thiam from Prudential plc. He replaced Brady Dougan as the company's Chief Executive. The market responded favorably to the news and the company's share price increased significantly.
From the strategy Thiam had, it was evident that he wanted to refocus the bank on wealth management. In October 2015, Thiam promoted Iqbal Khan to the management board in charge of International Wealth Management. Khan had a steady rise in the company giving him the reputation as the "crown prince" to succeed Thiam in the near future.
The company nevertheless had a share price slide in November 2017 which led the CEO to take charge and begin a restructuring initiative. Following this initiative, the company's share price rose again, approaching an almost two-year high.
The relationship decline
However, in January 2019, Thiam and Khan, who had become residential neighbors, got into an altercation at a party held in Thiam's home. Though this was not public knowledge, the altercation led to Khan complaining to the company's board which led to a fall out between the two men.
In February that same year, Khan was passed over in a restructuring/reorganization in the company that saw two of his colleagues promoted. In a very interesting move, Khan resigned from Credit Suisse to join rival UBS in July 2019, with a start date in October 1, 2019. Two months later, Zurich prosecutors launched criminal investigation after Khan complained that he was being threatened by unidentified people.
Speculations were that Credit Suisse had decided to keep tabs on Khan after he agreed to join UBS, hoping to prevent him from poaching private bankers. Within days, Credit Suisse's board began their own inquiry into the surveillance. Thiam and Urs Rohner, Chairman of the Board, vowed that the "truth will emerge."
Outspoken U.S. investor David Herro, one of Credit Suisse's biggest shareholders, says it would be "damaging" to expel any senior manager over the potential shadowing of Khan. Former Credit Suisse and UBS chief Oswald Gruebel took the opposite stance, stating that Thiam should be fired if the reports were confirmed.
By the end of the month the scandal claimed that another victim, a contractor for Credit Suisse, had committed suicide.
Credit Suisse ousts Chief Operating Officer and right-hand man of Thiam
In October 2019, right about the time the police were investigating the death of the contractor, Credit Suisse absolved Thiam and ousted Chief Operating Officer Pierre-Olivier Bouée, who had been his chief lieutenant at three companies for more than a decade. The bank in its statement said that Bouée had acted alone in ordering the surveillance of Khan and had informed neither Thiam nor the board of his intentions. Rohner apologized to Khan and his family and reaffirmed that Thiam had the board's backing.
The bank that month announced mixed third-quarter earnings. The lender's financial statements and presentations were overshadowed by questions about the scandal. In his first public comments on TV, CEO, Thiam reiterated that he didn't order the undercover work and called it "inappropriate" and "disproportionate." Interestingly, of his longtime colleague Bouée he added, "I'm not sure you can describe him as a friend... He is somebody I respect. I value him as a professional."
Second spying accusation emerges in December 2019
In December 2019, another spying attempt was revealed. This time, the company's former Chief Human Resources Officer Peter Goerke, was the target. Again, former COO Bouée was blamed for the incident. The financial institution swiftly declared that he was fired for cause. Bouée was painted by Credit Suisse as a rogue operative who kept all executives and directors in the dark about his actions.
Chairman Rohner however began to take a different stance saying that this new case has changed the situation, as a pattern had started to emerge.
Around the same time, Credit Suisse was trying to fend off a third accusation that had arisen. This time, it was related to a U.S. employee who had left the corporation years earlier. In a case dating from 2017, Colleen Graham, a former senior compliance executive in the U.S., alleged in a court filing that the bank had her followed.
Credit Suisse said it had investigated Graham's claims "and found them to be entirely baseless," and said the U.S. Department of Labor also dismissed her claims. However, it came to light that the company's lawyer, it turns out, still met with Graham as recently as the first week in February 2020 to discuss her claims.
Regulators step in
In January 2020, Swiss regulators begun looking into the matter. The regulators hired an independent auditor. The investigations revealed that in 2018, Thiam asked Khan to collect "dirty material" on Claudio De Sanctis, a top private banker who left for Deutsche Bank that same year. Thiam took to social media site Instagram to reject the findings calling it "entirely false and defamatory".
On February 10, 2020, it emerged that Switzerland's markets regulator will continue its investigation into corporate governance issues despite the resignation of Thiam. A spokesman for the Swiss Financial Market Supervisory Authority, or FINMA, said the regulator is continuing its probe into the bank to "clarify matters related to supervision," according to the report.
Power struggle between Tidjane Thiam and Urs Rohner emerges
Though Credit Suisse's chairman and CEO always projected a united front, signs of a possible rift and cracks were first seen around 2015.
During that year, there was a huge trading loss which prompted Thiam to publicly complain that he was caught unaware by his traders. Interestingly, the chairman Rohner took the position that Thiam should have seen it coming. The rift deepened after the spying scandal which saw the exit of then COO, which the bank struggled to contain.
Openly, the chairman was on the defensive. Confidentially, he was lining up backing from other investors, including Qatar's sovereign wealth fund and the world's largest asset manager, BlackRock, Inc. Rohner was also counting on the board's support in his defensive posturing. It was also reported that he was lining up a team of possible successors to Thiam.
However, reports have suggested that the ousting of Thiam was not unanimously supported by all.
Specifically, David Herro (Harris Associates' deputy chairman), Silchester International Investors (which owns around 8.42% of Credit Suisse) and Eminence Capital warned the board of directors that if there was a choice to be made, Rohner should be the one to go. The power struggle at the time appear to be tilting in favor of the CEO. But as mentioned before, the Chair was rallying support from other shareholders.
New CEO steps into a likely difficult situation
From the look of the situation, incoming CEO, Gosstein is most likely stepping into quite a difficult situation currently at the bank. On Friday February 7, 2020, the company's share price dropped by around 5% when the changes were announced suggesting that investors were not happy with the directional change.
Reports suggest that he will need to both heal internal wounds at the bank following the high-profile power struggle and figure out how to reverse its more than 50% share price decline over the past five years.
Again, there is another school of thought that believes that the investors which were loyal to Thiam are not likely to disappear into the background. David Herro, Harris Associates, is quoted to have told Bloomberg TV on February 7, 2020 that while he believes Gottstein is "talented," the bank still has "a chairman who is less capable and talented and a board who seems to just mimic, just follows blindly whatever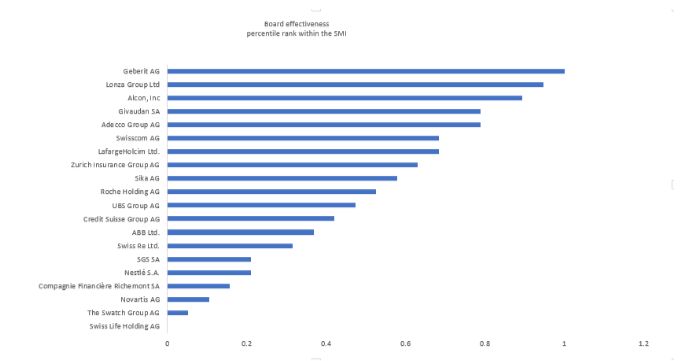 Utilizing CGLytics' risk rating tool, we find that Credit Suisse's Board effectiveness is scored 73 points, earning the financial company a rank on the 42nd percentile in the Switzerland's largest cap index(SMI) which may not be considered a good ranking.
Understanding the board's skills and expertise
Using CGLytics' board expertise and skills matrix online application, we are able to gain insights into Credit Suisse current expertise and possibly what the new matrix will look like when the changes are effected.
Utilizing the process as outlined above, we find that the while board chairman Urs Rohner has Executive, Leadership, Non-Executive, Industry, International and Governance expertise, he lacks Financial and Technology expertise which is quite critical to his role and for a scandal of this nature.
Per CGLytics' methodology, outgoing CEO Thiam also lacks Technology expertise which means for all the other remaining expertise in our classification are owing to his executive roles at Aviva and Prudential as well as his Non-Executive experience from his role at Fox Corporation, which also ended in May 2019.
Incoming CEO Thomas Gottstein, from CGLytics' expertise classification, does not yet have any Non-Executive, Governance, International and Technology expertise.
Current Board Expertise and Skills of Credit Suisse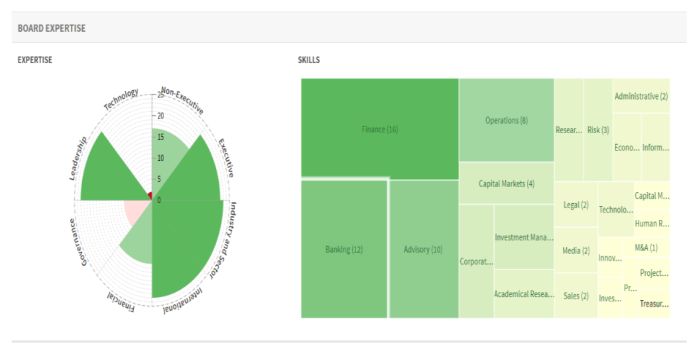 Source: CGLytics Data and Analytics
Data from CGLytics suggests that expertise of the current board of Credit Suisse are concentrated in Leadership, International, Industry/Sector and Executive. A significant number of their directors also seems to have Non-Executive expertise. Interestingly, Governance and Technology does not seem to be the area of greatest emphasis.
Board expertise and skills of Credit Suisse after February 14
While performing a scenario analysis, we see that from February 14, 2020, when the anticipated change takes effect, the board's strongest skills stills remain concentrated in Leadership, International, Industry/Sector and Executive expertise.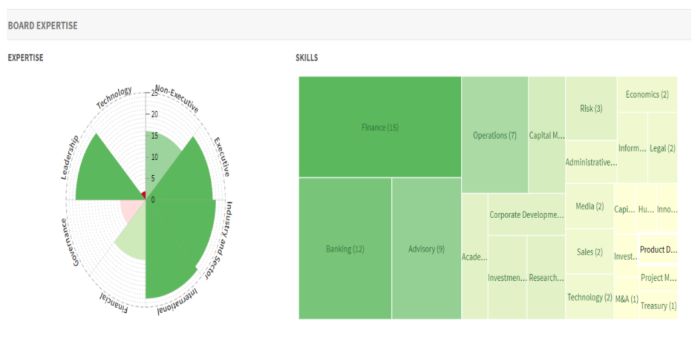 From CGLytics' data, it reveals that since Thiam took over in 2015, the company's revenue and share price fell steadily from 2015 to 2017. However, both indicators improved in 2018 and is expected to rise again when the closing books of 2019 are announced.
Specifically, from 2014 to 2018, revenue has dropped by 21% and share price has more than halved in the same period. Revenue is however expected to rise by 3% and the 2019 closing share price also depicts a rise of 21% within the same period.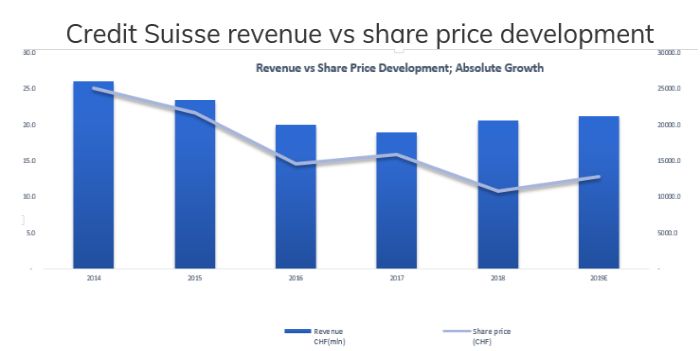 Credit Suisse revenue vs share price development
Final pay day for Thiam
According to Swiss media reports, following his departure from Credit Suisse, Thiam may walk off with an amount of CHF 20M to CHF 30M. Based on the CEO's granted pay of CHF 12.65M in 2018, as well as the deferred payments currently totaling about CHF 11.8M, CGLytics' data indicates that Thiam stands to walk away from his position as CEO with approximately CHF 24M.
Would you like to gain instant insights into more than 5,500 globally listed companies' board composition, diversity, expertise and skills?
Or access the same CEO pay for performance insights used by Glass Lewis in their proxy papers?
Request a demo to learn more about CGLytics' boardroom intelligence capabilities and executive remuneration analytics, currently utilized by world-leading institutional investors, activist investors and advisors.
The content of this article is intended to provide a general guide to the subject matter. Specialist advice should be sought about your specific circumstances.