In the age of the empowered customer, organisations across all industries are unified in the belief that delivering an excellent customer experience is key to a viable future strategy. This means that focusing on customer experience won't just keep customers happy, but will also grow your business by helping you stand out from your competition.
Financial services lack customer trust and emotional differentiation
Customer experience is a key differentiator in an interconnected and go-getting world. Competition on customer experience (as opposed to, say, price and product) has already been going on, also in financial services. However, customers' perception of the financial sector is still lagging behind in terms of best practice—I would say that customer experience management is highly inconsistent across the sector. Many financial institutions are struggling to reconcile increasing regulatory demands with high-quality, personalised, immediate, and integrated interactions across a huge range of channels as is expected by their customers. They are fighting against the deficit of customer trust and the lack of emotional differentiation.
Trust is key to customer experience excellence, and it's the first thing that companies must get right. In the wake of the 2008 financial crisis, public confidence in the banking sector plummeted. But what the financial crisis also revealed was a lack of engagement between banks and their customers. Despite investing billions in online banking and also offering multi-channel businesses, online/mobile, and call centres, big banks are still seen as places that don't provide a true variety of services or differentiated customer experience.
Given this context, one could argue that companies should steer their biggest investments towards measurement and analysis of customer experience and needs. However, KPMG's Now or never: 2016 Global CEO Outlook revealed that customer experience is only number four when it comes to the top priorities for CEOs.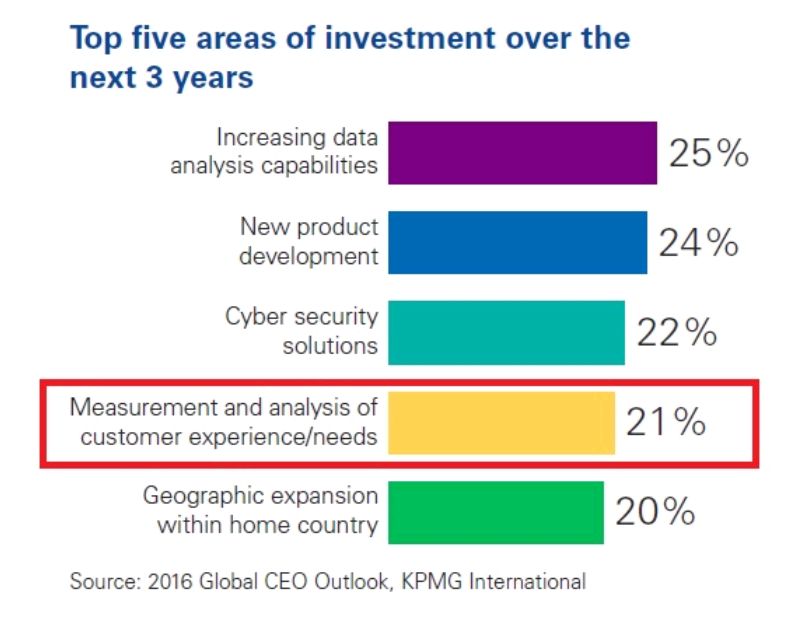 How can the customer experience in financial services be enriched?
Premium examples of superior service, products and interactions are all around us: non-financial sectors that provide excellent customer experiences can serve as inspiration. In this way it's actually an advantage that financial services has been slower to evolve than other fields, as we can observe best practices and lessons learned. I've made four observations:
1. Pride yourself on your people
The travel industry is leading both customer experience innovation and the delivery of experience quality through people. Hospitality continues to focus on the delivery of the brand through its people. Premium hotel chains invest heavily in training staff in how to interact with guests in a way that is not simply polite and friendly, but memorably so. The desire to create experiences that live in customers' memories drives their day-to-day business and interaction with clients.
2. Make it memorable
Emirates is a true example of a brand that deliberately sets out to create memorable moments for its customers. The Emirates experience begins long before boarding: business class passengers are chauffeured to the airport; spa treatments are available in Emirates lounges for passengers. Upon boarding, passengers are greeted (with smiles, personal compliments and a choice of newspapers), given hot towels soon after take-off and a light snack within the first hour, and can take a souvenir family photograph with the flight attendant. Emirates cares for their passengers and takes ownership of their needs. They make you feel important as the individual touches appear special and personal. Driving this service, of course, is a well-crafted plan to leave the customer with highlights to remember.
3. Seek simplicity
Airbnb is successful because it is easy to use and puts the customer at the heart of its business. From browsing to booking to picking up the keys, Airbnb's business model is all about the customer. Airbnb does something else that's really important besides providing an easy-to-navigate website: they've got a nifty algorithm that celebrates customer experience, motivating property owners to compete on pleasing the customer, not on price.
Financial institutions can analyse different touch points with their customers and look at how they make them feel. By simplifying processes, such as account opening, online investing, performance reporting, and integrating interfaces to ensure a two-way communication with customer, financial institutions can win back trust.
4. Create communities
Social trading platforms such as eToro are a great example for communities in the financial universe. These trader networks make people feel that they belong to a group. The social aspect, for example having followers, being followed, or chatting to other investors, is as important as the financial return itself. Being part of local communities (on- or off-line) where people come together, exchange ideas, build relationships and interact can be a successful way of creating emotional connections—and this is how to "wow" clients.
The content of this article is intended to provide a general guide to the subject matter. Specialist advice should be sought about your specific circumstances.