There are many reasons why you should digitalize your contracts. If I had to choose only one, it would be the exploitation of your contractual data.
Data is the wealth of your contracts, make them shine. However, you should know how to enhance them; it is not that simple.
Why do your contractual data matter?
Because they reflect mutual commitments with your customers or suppliers. According to our cultures, we are sometimes used to only looking into our contracts when the situation becomes increasingly tense or escalates into conflict. However, there are many benefits to having regular and easy access to your contractual data in order to manage and respect your commitment.
Below are a few examples from our clients:
Facilitating the correct application of commercial discounts throughout the life of the contract. In fact, these discounts are often determined by the achievement of milestones, volumes, etc.
Ensuring that SLAs (Service Level Agreements) or other commitments such as payment terms, other deadlines are met.
Easily implement price indexation and revision clauses regarding the timing of these revisions.
Etc.
Consequently, depending on whether you are a customer or a supplier, exploitation of your contractual data can lead to millions of euros in earnings or savings.
It is professional hygiene. When you personally brush your teeth, you do it at least twice a day and not when someone asks you to. Furthermore, you don't look for your toothbrush or toothpaste. You automatically know where it is and how to use it.
The idea of reproducing this good practice on contract data is interesting, so why isn't it so simple?
To make your contractual data shine, you need to reconcile it with your operational data
Contract data has the particularity of requiring, in most cases, to be reconciled with other operational data to be fully valued. Nevertheless, the difficulties are not very often on the contract side but rather on the operations or agreement's life cycle. On the contract side, there are several solutions for digitizing them that provide the required data.
We have already shared our recommendations for the success of this type of project (in French only):
It is a good first step. but we must go further.
Let's take the simple example of a volume discount. The contract data will be (I) milestones or discount clauses and (II) the rates or prices retained for each tier. These data will be valuable only if you can reconcile them with the amounts committed during the contract period. However, this statement is probably easier said than done. As a matter of fact, it often requires finding the data in other company's information systems, to extract and reconcile them.
Our recommended steps
1 - Identify the required data that you want to manage
No need to take too much, keep it sober (it is trendy!). Just be sure to choose a contract management tool that will allow you to extract new data from your contracts as new use cases are identified.
2 - Extract this data from your contracts
There are several possibilities: if it is "metadata" or "attributes" of the contract, you will probably be able to access it automatically, otherwise, you will use an artificial intelligence engine. In any case, you will need a contract management tool. Would you extract your wisdom teeth without anesthesia? No and the same goes for a manual extraction of your data which would be far too painful, laborious, and expensive.
3 - Host this data in an easily accessible platform
This platform can be your contract management tool, but other alternatives exist depending on your IT architecture.
4 - Make sure that the operational data is available
In parallel to step 1, make sure that the operational data is available. Sometimes some information is not immediately available in an information system (business application) but stored in independent and hard-to-access excel files. When it is available, identify the data and the information systems concerned in your business applications (sales, purchasing, finance, etc.).
5 - Extract the data from the business application
Once you have identified this data, you can dispose of it and extract it from the business application in which it will remain in use. To make the best use of them, you will be tempted, and this is quite normal, to start with a test. However, do not wait to think about the possibilities of automating the extraction in order to later transform this operation into a regular routine.
6 - Compare your contractual data with your operational data
The hardest part is done, all that remains is to compare your contractual data with your operational data and deduce any discrepancies.
7 - Value your data
This is when you will take pleasure and be able to value your data and your work. For each discrepancy, you will have the opportunity to take remedial action and to control your commitments or those of your customers or suppliers. You can often automate these actions and make them a regular hygienic routine!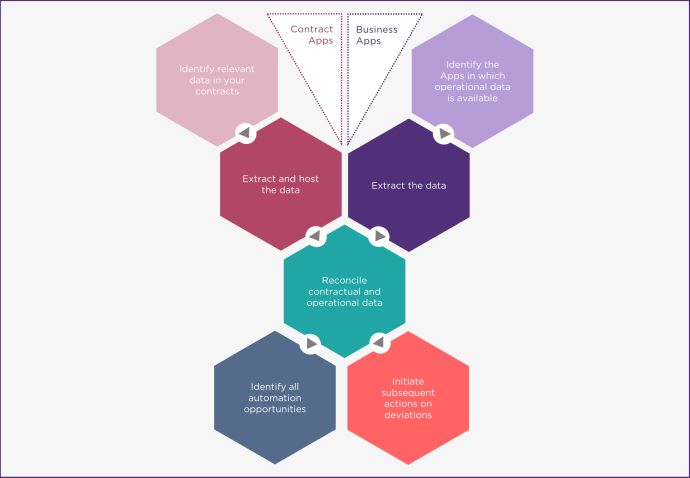 The challenge in this method is to maximize the time spent on the last stage, that means on analyzing and understanding the gaps in order to carry out relevant remedial actions at the right time.
All these stages involve:
Organizational aspects (who carries out these activities?)
Processes (who does what and when?)
Tools (contract management and information systems/business applications, IT architecture)
Project management
Adoption of new operating methods (both internally and externally with your customers or suppliers)
It's funny, it perfectly matches the topics on which Wavestone can help you! For once you can benefit from a consultation without apprehension.
The content of this article is intended to provide a general guide to the subject matter. Specialist advice should be sought about your specific circumstances.