The advert below featured on Linkedin yesterday together with an article entitled "Dove uses Photoshop Trojan Horse to shame potential body-shamers". It is the story of Dove's viral message in its "real beauty" campaign but it is also a reminder of how a trade mark is able to have economic value that is independent of its traditional origin function, why trade mark laws need to have effective provisions to protect this value of the trade mark and also, whether manipulation of adverts is contrary to Advertising Standards Authority ("ASA") codes, or should be.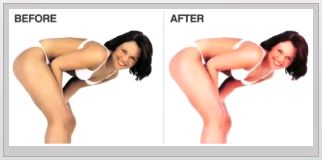 The advert cleverly and even ironically illustrates how brands are now so much more than a name identifying the origin of a product or service. In this example DOVE represents a cause that is communicated in a very clever way. For those that identify with the cause (just about everyone who feels inadequate paging through a magazine, I would imagine) will now (hopes DOVE) identify just as powerfully with the DOVE brand. The fact that DOVE is a beauty brand makes the communication very powerful and perhaps ironic too; historically DOVE itself must have been guilty of a touch up or two, or at least its owners have.
From a trade mark law perspective, it highlights the so-called dilution provisions of trade mark laws. These are the provisions that enable a trade mark symbolising a brand to be protected against unfair advantage and detriment, absent confusion. For example, a canny marketer could use the DOVE trade mark in relation to unrelated goods, say cars (avoiding confusion), but still take advantage of the cause ("real beauty") now represented by trade mark, and hence the advertising goodwill in the mark. Similarly, if the mark DOVE was bid on as a keyword for a breast cancer product, then potentially such use could affect the economic value of the brand, DOVE.
In some instances it is necessary to show some form of economic loss (interpreted by many to be lost sales) to prevail in a case using the dilution provisions or under unlawful competition. The campaign demonstrates the potential for the economic loss to be simply, the recognition that harm could be caused to the advertising or investment function of the brand which takes a considerable amount of time and money to develop. Once a brand represents a worthy cause, diversification and licensing become infinitely easier, thereby increasing the value of the brand.
The ASA code in South Africa protects against misuse of general advertising goodwill and against imitation (absent confusion) and so provides a form of protection too. The advert also reminds me of an  article penned by a colleague of mine. Here the author considers the manipulation of advertising images in food and beauty publications, and whether they are contrary to the ASA code as being misleading. The position is that consumers are unlikely to be misled but it is a question of degree.
You can view the DOVE advert by going to www.afro-ip.net.
The content of this article is intended to provide a general guide to the subject matter. Specialist advice should be sought about your specific circumstances.