Em primeiro lugar felicitá-lo e dar-lhe os parabéns: ter uma ideia merecedora de ser apelidada de inovadora é um grande feito. Ao iniciar-se um novo projecto com espírito empreendedor, quer seja dentro de uma actividade empresarial consolidada ou uma embrionária, é frequente surgirem várias ideias e devemos assegurar-nos de que a sua essência de inovação é verdadeira. O motivo é que as ideias por si só não têm valor, é a execução da ideia, o seu desenvolvimento, a forma de execução o que tem valor económico e está condicionado a que tenha êxito no mercado, para além da necessidade de a ideia ser inovadora e engenhosa. Se não fosse assim não seria inovação 1 e 2.
O valor da realização da ideia está vinculado a que possamos demonstrar que é nossa, da nossa propriedade, que é inovadora, que tem viabilidade económica e que perdura no tempo. A Propriedade Intelectual (PI) manifesta-se aqui como uma poderosa base para consegui-lo, apoiando-nos nela durante as etapas do ciclo da inovação.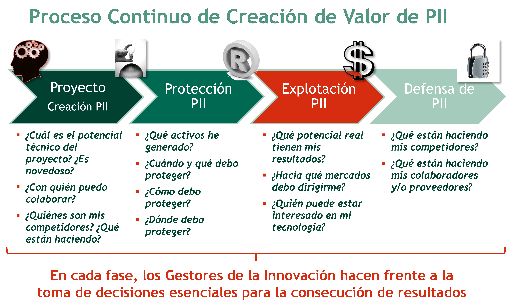 No momento de "criar" a ideia inovadora, a informação de qualidade, relevante, concreta e oportuna que nos fornecem as diferentes pesquisas em documentos de PI, ajuda-nos a definir o Plano de Negócio: São realizadas pesquisas sobre Invenções, Desenhos e Marcas para:
Conhecer o Estado da Técnica sobre o campo tecnológico em que se processa a inovação.
Localizar possíveis colaboradores, conhecer a competência e saber o que fazem.
Ver se o projecto de inovação poderia lesar algum direito de um terceiro.
A protecção dos resultados obtidos no desenvolvimento da ideia inovadora é conseguida com recurso à PI. Necessitaremos de conhecer as diferentes modalidades de protecção, como combiná-las e como aplicá-las, com a premissa de que se trata de Activos Intangíveis e que a PII é um investimento e, como tal, sujeita a obter rentabilidade.
Rentabilidade conferida porque com o registo da Marca, Patente ou Desenho, estamos a manifestar que é da nossa propriedade.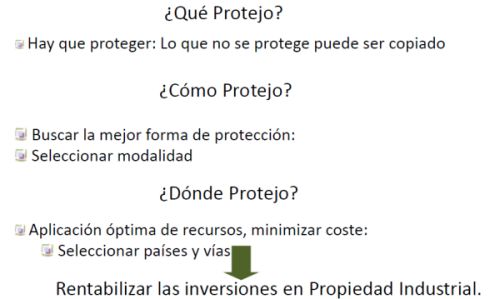 Previamente ao pedido de registo, teremos que ver se cumprimos os requisitos necessários das diferentes figuras de protecção (novidade, actividade inventiva, singularidade, força distintiva,... - é importante adquirir uns conhecimentos básicos sobre PI ou, em alternativa, contar com assessoria especializada-) e desenhar uma estratégia de registo em conformidade com o Plano de Negócio. Um dos princípios que rege a propriedade Industrial é o da territorialidade: Obtém-se protecção com o Estado onde se consegue o registo. Há que ter a noção clara, ou pelo menos uma ideia bastante aproximada dos países onde vamos operar e fazer o respectivo registo.
A Propriedade Industrial é uma fonte de informação secundária, desde o ponto de vista da investigação de mercados, determinante ao comercializar ou explorar a nossa "ideia inovadora" (o seu desenvolvimento). Existem bases de dados (BD) abertas dos diferentes Institutos Oficiais de Propriedade Industrial, de motores de busca na Internet, assim como BD privadas e correspondentes ferramentas e aplicações. Estas permitem gerar desde estatísticas descritivas, a mapas geoestratégicos que nos orientem na pesquisa de mercados demandantes do nosso produto ou serviço inovador e na localização de perfis de empresas ou investidores interessados em adquirir a respectiva licença de utilização (sobre a patente, a Marca ou o Desenho) ou até comprar a sua titularidade.
E, no caso de detectarmos uma utilização indevida da nossa inovação por uma pessoa alheia, será necessário exercer os direitos que a Propriedade Industrial nos confere mediante as acções legais oportunas.
O conhecimento e utilização adequada da Propriedade Industrial, da informação que nos confere, dos direitos que nos outorga e do valor que adquire e dá ao projecto, marca a diferença entre o desenvolvimento da ideia inovadora ser audacioso ou se transforme numa temerária aventura crivada de erros.
Erros frequentes como:
Pensar que a protecção é mundial.
Confundir denominação social, marca e nome comercial.
Crer que ao registar a Marca numa classe 3, se tem a exclusividade para todos os produtos e serviços.
Convicção de que as legislações e procedimentos de registo e protecção são os mesmos em todos os países.
Desconhecimento ou não utilização dos sistemas regionais ou internacionais de protecção.
Não comprovar se uma marca está já registada ou é utilizada pela concorrência. Infringir direitos.
Pedido tardio do registo de Propriedade Industrial.
Divulgação precipitada (Patent Killer) ou não estabelecer acordos de confidencialidade ou não divulgação.
Ao subcontratar, não determinar de forma clara a titularidade dos direitos de Propriedade Industrial.
Empregar uma marca inadequada para um mercado pelos seguintes motivos:
Marca com conotações negativas no idioma ou cultura local.
Impossibilidade de registo no gabinete nacional de PI.
Footnotes
1 Peter Drucker. Advogado e teórico de estratégia empresarial (1909-2005).
2 Manual de Oslo da OCDE e Eurostat.
3 Princípio de especialidade: os Sinais Distintivos (Marcas e Nomes Comerciais) na hora de registá-los nos Gabinetes de Marcas dos Estados e Gabinetes Regionais e Internacionais (OMPI, EUIPO, OAPI, BOPI, ARIPO) são catalogados segundo o Acordo de Nice (1957) que estabelece a Classificação Internacional de Produtos e Serviços (Classificação de Nice). A protecção é adquirida para o produto/serviço da classe que se registou. Na versão actual de 2016, décima edição, há 45 classes (34 de produtos e 11 de serviços)
---
The content of this article is intended to provide a general guide to the subject matter. Specialist advice should be sought about your specific circumstances.