Einführung
Durch erfolgreiche Grenzbeschlagnahmeanträge kann die Ein-¬ und Ausfuhr von schutzrechtsverletzenden Waren bereits an den Außengrenzen der EU oder Deutschlands verhindert werden. Grenzbeschlagnahmeanträge stellen damit insbesondere bei noch unbekannten Verletzungsfällen ein gutes Hilfsmittel zur effektiven Durchsetzung von gewerblichen Schutzrechten dar. Darüber hinaus können sie flankierend zu gerichtlichen Verletzungsverfahren eingesetzt werden. Die vorliegende Broschüre soll einen ersten Überblick über die Voraussetzungen und Möglichkeiten von Grenzbeschlagnahmeanträgen geben.
Im Rahmen der Grenzbeschlagnahme haben Schutzrechtsinhaber die Möglichkeit, die Ein- und Ausfuhr sowie den Vertrieb von rechtsverletzenden Waren in der Europäischen Union (EU") und Deutschland zu verhindern, ohne dass hierzu die Identität der beteiligten Personen oder der tatsächliche Vertrieb der verletzenden Waren bekannt sein muss.
Die Grenzbeschlagnahme  kann aber auch gegen dem Rechtsinhaber bekannte Verletzer  ein wirkungsvolles Mittel zur Schutzrechtsdurchzusetzung sein. Zum einen, weil die Waren vergleichsweise einfach bereits an den Außengrenzen aufgehalten werden können, zum anderen, weil die erfolgreiche Festsetzung der Waren und die damit drohende Vernichtung der Waren den Schutzrechtsinhaber in eine komfortable Lage für etwaige Vergleichsverhandlungen mit dem Verletzer bringen kann.
Die Zahl der Aufgriffe durch den deutschen Zoll ist sehr hoch. Der Mittelwert der Aufgriffe in den Jahren 2015 bis 2017 liegt bei über 22.000, wobei 2013 über 3.000.000 Waren mit einem Wert von knapp 200 Millionen Euro beschlagnahmt wurden. Der größte Teil der beschlagnahmten Waren entfiel auf Markenverletzungen, danach folgen Designverletzungen, deren Anteil stetig zunimmt. Die Herkunft der Ware ist überwiegend aus Fernost. Die Aufgriffe gehen auf die Zusammenarbeit der Zollbehörden mit etwa 900 Schutzrechtsinhabern zurück.
1. Gegenstand der Grenzbeschlagnahme
Grundsätzlich ist zwischen einem nationalen Grenzbeschlagnahmeantrag und einem Unionsantrag zu unterscheiden. Während sich der nationale Antrag auf das Tätigwerden der deutschen Zollbehörden richtet, kann ein Unionsantrag das Tätigwerden mehrerer oder sogar aller Zollbehörden in den Mitgliedsstaaten der EU bewirken. Je nach Schutzrecht und begehrtem Tätigwerden können dabei verschiedene Anträge und verschiedene Verfahren in Betracht kommen. Im Rahmen der vorliegenden Broschüre werden nur die Grundzüge der Grenzbeschlagnahmeverfahren aufgezeigt.
Im Wege des europaweiten Grenzbeschlagnahmeverfahrens können Waren beschlagnahmt werden, die im Verdacht stehen, Rechte geistigen Eigentums zu verletzen, die unionsweite (!) Wirkung beanspruchen. Hierzu zählen Gemeinschaftsmarken, Gemeinschaftsgeschmacksmuster, international registrierte Marken und Designs (WIPO) mit Benennung der EU, Sortenschutz und geografische Herkunftsangaben. Außerdem kann gegen Waren vorgegangen werden, die der Umgehung eines Kopierschutzes dienen. Die Grenzbeschlagnahme umfasst dabei in die EU importierte Waren bzw. von der EU ausgeführte oder zur Wiederausfuhr angemeldete Waren. Auf europäischer Ebene wird die Grenzbeschlagnahme in der europäischen Verordnung (EU) Nr. 608/2013 geregelt. Nicht umfasst von der Grenzbeschlagnahme durch die Zollstellen der EU nach Maßgabe der Verordnung (EU) Nr. 608/2013 sind Waren, deren Vertrieb (lediglich) gegen wettbewerbsrechtliche Vorschriften verstößt und Waren, die mit Zustimmung des Rechtsinhabers hergestellt worden sind, auch wenn sie sich ohne Zustimmung des Rechtsinhabers in einer Einfuhrsituation befinden (nähere Informationen finden Sie in unserer Broschüre Parallelimport und Außenseitervertrieb"). Für letztere sowie für Patente, Gebrauchsmuster, ergänzende Schutzzertifikate, Halbleitertopographien, nationale Marken und Designs, Urheberrechte, ist aber eine Grenzbeschlagnahme aufgrund eines nationalen Antrags nach deutschem Recht möglich. Die Grenzbeschlagnahme nach deutschem Recht ist in den Gesetzen zu den jeweiligen Schutzrechten kodifiziert, z.B. in § 146 MarkenG, § 142a PatG, § 25a GebrMG, § 55 DesignG und § 40a SortSchG sowie zum Urheberrecht in § 111b UrhG.
Von der Grenzbeschlagnahme gänzlich ausgeschlossen sind Waren, die sich im persönlichen Gepäck eines Reisenden befinden, keinen kommerziellen Charakter haben und einen bestimmten Warenwert nicht überschreiten.
Es gibt wesentliche Bereiche, in denen neben einem Unionsantrag auch ein nationaler Grenzbeschlagnahmeantrag nach den deutschen Regelungen sinnvoll ist, nämlich insbesondere bei Parallelimporten, sog. Overruns", dem innergemeinschaftlichem Warenverkehr sowie nicht registrierten Marken.
2. Voraussetzungen der Grenzbeschlagnahme und Antrag
Die Grenzbeschlagnahme ist eine Maßnahme der Zollbehörden. Diese werden regelmäßig auf Antrag, in Ausnahmefällen auch von Amts wegen tätig. Die Inhaber eines Schutzrechts, bestimmte Verwertungsgesellschaften und Berufsorganisationen sowie zur Nutzung des Schutzrechts Befugte sind berechtigt, einen nationalen Antrag auf Grenzbeschlagnahme zu stellen. Einen Unionsantrag können hingegen neben dem Rechteinhaber sowie bestimmten Verwertungsgesellschaften und Berufsorganisationen nur die Inhaber einer ausschließlichen Lizenz in mindestens zwei Mitgliedsstaaten stellen, sofern der Inhaber des Schutzrechts zugestimmt hat. Für jedes Schutzrecht kann jeweils nur ein nationaler und ein Unionsantrag gestellt werden.
Der Antrag auf Grenzbeschlagnahme ist kostenfrei und kann für maximal ein Jahr gestellt werden. Eine Verlängerung des Grenzbeschlagnahmeantrages ist bei weiterhin bestehender Gültigkeit des Schutzrechts und Berechtigung des Antragstellers problemlos und beliebig oft möglich.
Der Antrag wird elektronisch bei der Zentralstelle Gewerblicher Rechtsschutz eingereicht und gelangt so auch an die Zollbehörden außerhalb Deutschlands. Der Antrag kann nach der Einreichung noch geändert werden. Zu beachten ist, dass der Antragsteller die Zollbehörden unverzüglich unterrichten muss, soweit sich etwas an dem Bestand des Schutzrechts oder der Berechtigung des Antragstellers ändert.
Der Grenzbeschlagnahmeantrag muss unter anderem folgenden Inhalt aufweisen:
Bezeichnung des Schutzrechts/der Schutzrechte
Nachweis der Berechtigung
Bei nationalem Antrag: Sicherheitsleistung
Der Grenzbeschlagnahmeantrag sollte zudem folgende Angaben enthalten:
Betroffener Warenkreis
Hinweise zu Originalprodukten
Hinweise zu rechtsverletzenden Produkten
Hinweise für eine Risikoanalyse
Voraussetzung der Grenzbeschlagnahme durch die Zollbehörden ist das Bestehen eines Verdachts einer Schutzrechtsverletzung. Es ist nicht notwendig, dass eine Schutzrechtsverletzung tatsächlich vorliegt. Im rein nationalen Grenzbeschlagnahmeverfahren nach deutschem Recht kann die Zollstelle eine Beschlagnahme nur anordnen, wenn die Schutzrechtsverletzung offensichtlich ist.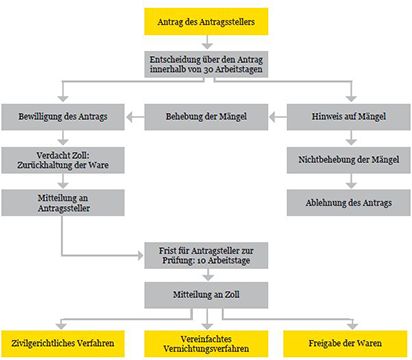 3. Verfahren der Grenzbeschlagnahme
Die Zollbehörden überprüfen das Vorliegen einer Schutzrechtsverletzung lediglich summarisch, d.h., es wird keine detaillierte materielle Prüfung, sondern lediglich eine vereinfachte Prüfung vorgenommen. Insbesondere bei technischen Schutzrechten haben die Zollbehörden oftmals nicht die erforderliche Ausstattung, die Verletzung genauer zu prüfen. Sobald die Zollbehörden den Verdacht einer Schutzrechtsverletzung haben, halten die Zollbehörden die Waren zurück und informieren sowohl den Zollanmelder bzw. Besitzer der Waren, als auch den Antragsteller von der Grenzbeschlagnahme.
Sofern der Antragsteller einen entsprechenden Antrag gestellt hat, erhält er umfassende Informationen zur Herkunft der Waren und zu den am Transport und an der Zollanmeldung beteiligten Personen. Ferner hat der Antragsteller die Möglichkeit, die Waren zu inspizieren. Im Falle eines entsprechenden Antrags werden dem Antragsteller die Waren zur Prüfung übergeben oder übermittelt. Im Rahmen der Prüfung der Waren darf der Rechteinhaber diese sogar zerstören bzw. Substanzeingriffe vornehmen, wenn dies zur Feststellung der Verletzung notwendig ist. Für zerstörte Waren muss der Antragsteller jedoch ggf. Schadensersatz leisten, sofern die Waren nicht ohnehin auf Grund der Rechtsverletzung zu vernichten sind.
Der Antragsteller hat dann im Rahmen eines Unionsantrags die Möglichkeit, innerhalb von zehn Tagen nach Erhalt der Mitteilung der Grenzbeschlagnahme (bei verderblichen Waren innerhalb von drei Tagen), den Zollbehörden die Verletzung des Schutzrechts mitzuteilen und ein Gerichtsverfahren (Hauptsacheklage oder einstweilige Verfügung) einzuleiten. Gleichzeitig kann er einen Antrag auf Vernichtung der Waren stellen. In diesem Fall werden die Waren durch die Zollbehörden vernichtet, wenn der Anmelder oder Besitzer der Waren entweder der Vernichtung positiv zugestimmt hat, oder der Vernichtung nicht innerhalb der oben genannten Frist (zehn bzw. drei Tage) widersprochen hat. Die Vernichtung erfolgt auf Kosten und Verantwortung des Antragstellers.
Widerspricht der Zollanmelder bzw. Besitzer der Waren der Beschlagnahme, werden die Waren nur auf der Grundlage einer gerichtlichen Entscheidung vernichtet.
4. Strategie
Angesichts der enormen Warenströme in der heutigen Zeit versteht es sich von selbst, dass die Möglichkeiten der Zollbehörden rechtsverletzende Waren aufzufinden, begrenzt sind. Umso wichtiger ist es, die Zollbehörden beim Auffinden von Verletzungsprodukten bestmöglich zu unterstützen. Die besonderen Merkmale des Schutzrechts sowie der Original- und bekannter Fälschungsprodukte sollten daher bereits im Antrag auf Grenzbeschlagnahme den Zollbehörden so detailliert, aber auch so einfach wie möglich mitgeteilt werden. Nach Möglichkeit sollten dabei auch Fotos von Originalprodukten sowie von bekannten Fälschungsprodukten beigefügt werden. Sofern dem Schutzrechtsinhaber konkrete Informationen über einzelne Lieferungen (etwa Zeitpunkt des Transports, Beförderungsmittel, Transportweg, beteiligte Personen, etc.) bekannt sind, ist es ebenfalls zu empfehlen, diese Informationen an die Zollbehörden weiter zu geben. Soweit ein Grenzbeschlagnahmeantrag auf Patente gestützt wird, ist es zudem sinnvoll, den Gegenstand des Patents verständlich zu erläutern und auch Erkennungsmerkmale etwaiger patentverletzender Waren sowie Prüfhinweise
anzugeben.
Bei alledem sollte nicht übersehen werden, dass aufgrund der immensen Anzahl der in die EU eingeführten Waren ein Grenzbeschlagnahmeantrag primär als flankierende Maßnahme zu eigenen Nachforschungen und gerichtlichen bzw. außergerichtlichen Schritten zur Durchsetzung von Schutzrechten verstanden werden sollte. Keinesfalls ersetzt er die aktive Marktbeobachtung und Verfolgung entdeckter Rechtsverstöße.
The content of this article is intended to provide a general guide to the subject matter. Specialist advice should be sought about your specific circumstances.