IP landscape analysis provides companies with a vital overview of innovation in their chosen markets and industry sectors, from patent hotspots to industrial application, market investments, and major players. Yoran Margaron, IP Strategy and Innovation Specialist – Life Sciences, shares insights from Questel's analysis of the tissue engineering field.
Questel has been supporting major worldwide pharmaceutical and biotech companies to develop their innovation strategies for more than 15 years, including through the provision of IP landscape and other IP consulting services. Driven by a mission to facilitate the development of innovation, in an efficient, secure, and sustainable way, we are dedicated to ensuring client's competitive longevity by maximizing their patent assets, especially in innovation hotspots. Tissue engineering provides one valuable example of the data insights and analysis our team provides.
What Is Tissue Engineering?
Tissue engineering is a set of methods that aims to replace or repair damaged or diseased tissues with natural, synthetic, or semisynthetic tissue mimics. This interdisciplinary field seeks to create 3D tissues by combining cells, scaffolds, and bioactive cues.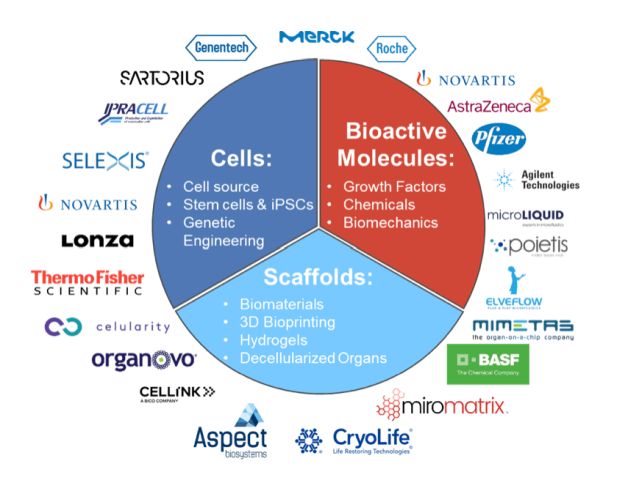 Industrial Applications
Skin and Epithelia 3D Models
Commercially available constructs for in vivo applications are branded as Apligraf®, Theraskin®, Dermagraft, and OrCel®; as well as in vitro models: EpiSkin®, Epiderm®; and ultimately Leiden epidermal model and Full-Thickness model: EpiCS®, LabCyte EPI-MODEL®. Advanced synthetic skins were notably developed using 3D bioprinting for an Organovo and L'Oréal collaboration.

Medical Devices
Regenerative Medicine is a key area for tissue engineering, notably knee cartilage reconstruction using SPHEROX®, MACI®, CarticelTM, JACC®; treatment of cardio-vascular defects such as HeatSheet®, GINTUIT; and skin reconstruction with Kaloderm®, Holoderm®, JACE®. Knee meniscus system from 3D bioprinting was developed through a partnership between Aspect Biosystem and Johnson & Johnson.

Oncology
Culture devices dedicated to tumor spheroids formation are commercially available as AggreWell®, Corning®, Cellstar®, NanoShuttleTM, and Lipidure ®; scaffolds for tumor organoids as Alvetex®, BiogelxTM, Matrigel®, Cytosoft®, HyStem®, MaxGel®. 3D bioprinted tumor models were developed by Cellink and TeVido. Microfluidic instrumentation for Organ-on-Chip approaches is available from Elveflow.
What Can IP Landscape Analysis Tell Us About IP Origin and Dynamics?
The following graphs provide an overview of the IP trends covering tissue engineering topics in terms of legal status, filing dynamics, and R&D countries.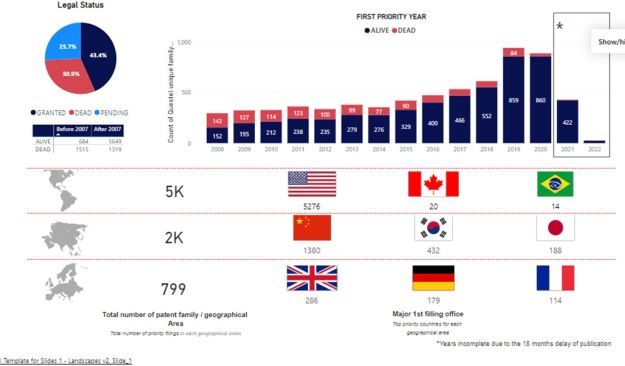 Key findings include:
The domain has shown sustained growth with a 33% compound annual growth rate (CAGR) between 2016 and 2019.
North America (NOAM) is the leading continent in terms of patent filings mainly driven by US players (>5,000 patent families), followed by Asian (70% from China) and European (36% from the UK) players. (Please note that non-extended Chinese patents are not taken into account in this analysis.)
Almost 3% of the patents were opposed or litigated showing a significant aggressiveness of the players in this field.
IP Landscape: Markets and Investments
The below map displays the number of patent families covering each country.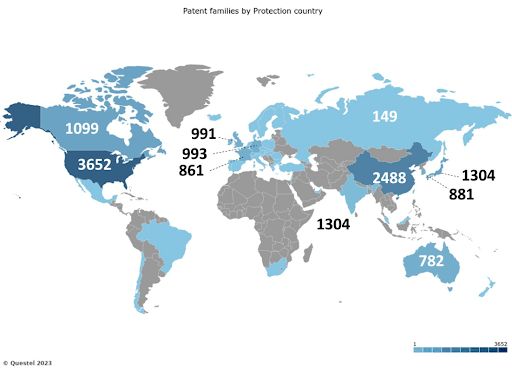 Patent geographic coverage is worldwide for the US (56%) and European patents, with a similar trend for France with 83% of extended patents. Asiatic countries show oppositions with worldwide Japan (67%) or regional China (5% extension), Korea (34%) strategies.
Institutional funding is high (around US$30m per year) and steady (3%).
IP Landscape: Major Players
The following graph shows the top 15 actors in the field by number of patent families. It shows the filing dynamic as well as the current protection level of a patent portfolio (percentage of granted patents) and the dynamic of a field for a company (percentage of filed patents since 2017).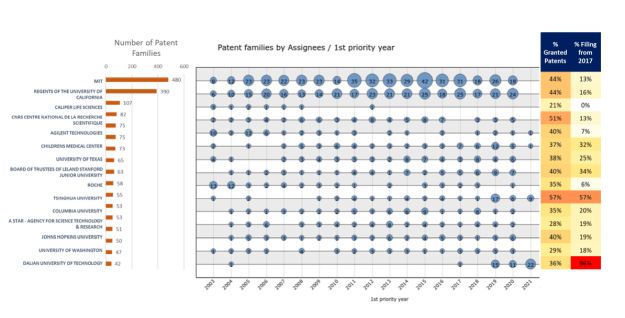 80% are academic actors, pointing out the emerging status of the tissue engineering field in industry.
Caliper, Agilent, and Roche are the industrial actors in this top 15 ranking.
IP Landscape: Patent Portfolio Value
Below, a valuation of the patent portfolio of the top actors is displayed in the left panel regarding patent strength score and number of patent families per company. The right panel shows a highlight of MIT, University of California, CNRS, Agilent, and Caliper portfolio valuation.

This outlines the high value of US university portfolios compared to CNRS and individual biotech companies.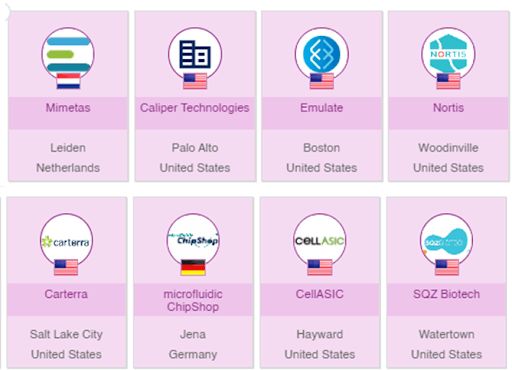 Our top eight ranking of biotech companies for tissue engineering is pictured below. The selection is based on scientific production IP, networks, projects, clinical trials, and visibility of the start-ups.
IP Landscape: Networks and Collaborations
This graph illustrates the number of citations between applicants. This information identifies portfolios that have strong interactions with each other.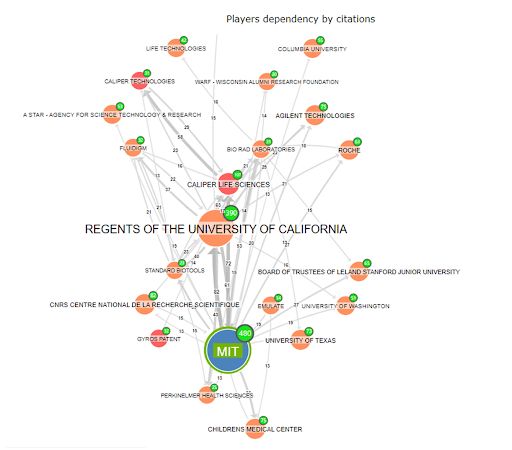 A portfolio that is strongly cited by most players is likely to be a pioneering or a blocking portfolio.
As expected, basic research institutions are the main contributors of scientific collaborations from US universities (including MIT and Univ. of California) and CNRS.
Life science companies (Caliper, Bio-Rad, Roche, Agilent, PerkinElmer, Fluidigm, Emulate) are interestingly found in the top collaborating industrial partners in the tissue engineering field.
IP Landscape: Technology, Concepts, and Applications
This graph provides the most-used concepts in tissue engineering. This can be a source of ideation for new developments or identification of protected technologies in a new field.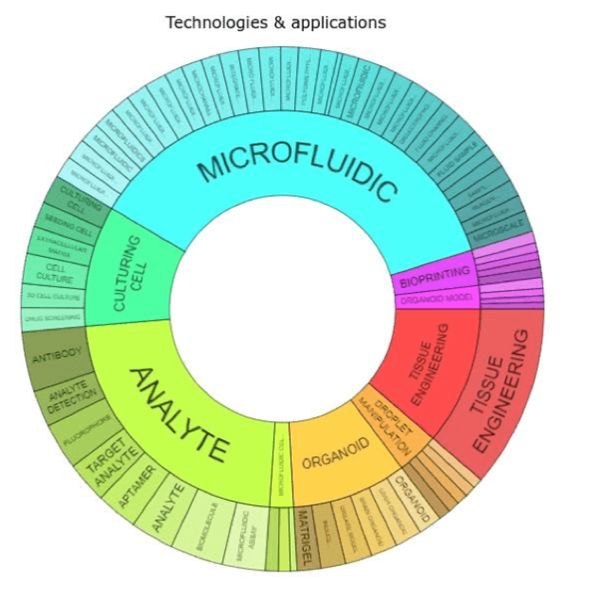 Microfluidic, Analytes, Organoids, Cell Culture, and Bioprinting are the key concepts associated with patents related to the tissue engineering field.
With an originality rate of 87%, the innovation process of this technology is considered disruptive. And, analyzing portfolio distribution, the innovation cycle is only beginning.
IP Landscape: Positioning of Key Players
This graph identifies the possible technology clusters protected from the overall tissue engineering patent corpus (gray). Targeted key players are color-coded (MIT, Thermo Fisher, Roche, Agilent, Caliper) displaying their field of interest. Each point corresponds to a patent family, and the location is calculated according to the similarity between the different documents.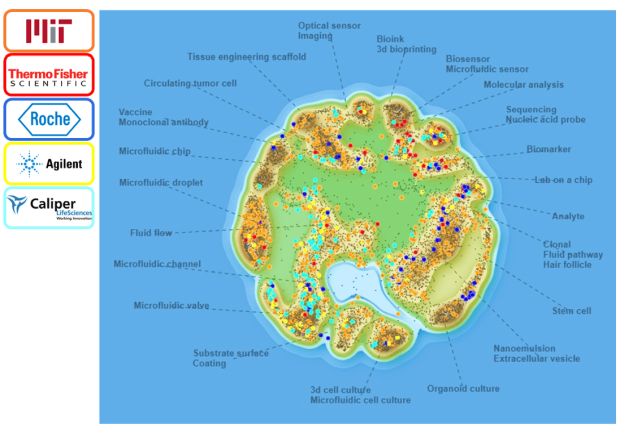 Similar to other basic research institutions, the MIT portfolio (orange) shows a broad diversity regarding the overall technologies clustered.
However, life sciences companies, such as ThermoFisher (red) and Roche (dark blue) show complementary technologic differentiation regarding Biosensor/Biomarker and Stem Cells interest respectively. Other ones like Agilent (yellow) and Caliper (light blue) show a similar interest in microfluidic-related technologies.
Originally published July 19, 2023
The content of this article is intended to provide a general guide to the subject matter. Specialist advice should be sought about your specific circumstances.