A recent survey made by the Belgian Economic Inspection comes to the conclusion that an average of 4,66% of the prices mentioned on receipts in Belgian stores differ from the listed prices.
This result is worse than previous results and has made the Belgian Economic Inspection decide to deal more severely with "incorrect receipts," according to reliable press sources.
The Belgian Federal Minister of Economic Affairs has already publicly expressed its full support for this initiative.
As of Oct. 1, 2012, the Belgian Economic Inspection would apply the following phased approach: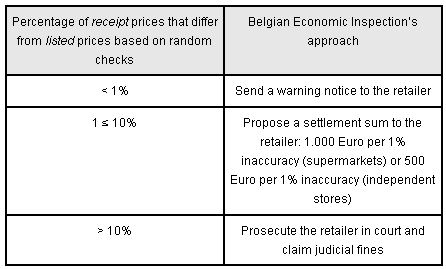 The same approach would apply whether the inaccurate receipt is in favor of the customer or not.
At this stage, no official guidelines have been published confirming the Belgian Economic Inspection's new approach.
The content of this article is intended to provide a general guide to the subject matter. Specialist advice should be sought about your specific circumstances.