In 2019, Belgian artist Christian Silvain was informed by a gallerist in Amsterdam that a Chinese artist named Ye Yongqing was creating artwork very similar to his own.
Major artist of the contemporary scene, Christian Silvain was born in Eupen (Belgium) in 1950. In his 50 years of career, Silvain has taken part into no less than 450 exhibitions. His works are part of more than 70 museums around the world.
Ye Yongqing is a well-known Chinese artist, born in 1958 in a remote part of China's southwestern Yunnan province. Ye is part of the first generation of Chinese artists to be exposed to Western modernism, one of many influences that he has brought together to create his style.
As a young man, he studied painting from books and learned from the decorative styles of the older artists of the region. In 1978, he was admitted to the Sichuan Fine Arts Institute in Chongqing, where he's now a professor.
It was at an exhibition that Ye discovered the original works of Silvain and was inspired by them to the point of copying them, as he himself admitted.
When Silvain discovered Ye Yongqing's work, he realised that the Chinese artist had been copying his work for more than 30 years.
The style but also many symbols characteristic of Christian Silvain's paintings can thus be found in Ye Yongqing: Sometimes only a few details differentiate the two artists. Both use square structures, graffiti, and some notable symbols such as red crosses, red dots, nests, birds and birdcages, children and planes, all appear in both of their works.
Silvain was also surprised to discover that the price difference between the two was almost 40 times. In Sotheby's or Christie's auctions, a painting signed by Ye Yongqing was sold for 400,000 euros, while Silvain's paintings were priced at only 5,000-15,000 euros.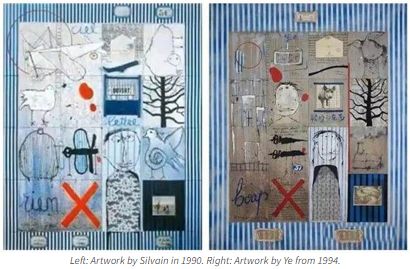 Therefore, in 2020 Silvain filed for copyright infringement against Mr. Yongqing.
As a signatory to the Berne Convention, China is obliged to protect such works as work of art.
In China's current judicial practices, Copyright Law protects works of applied art as a type of works of fine art.
Chinese copyright law protects the original expression of the author, but not the thoughts reflected in the work itself. As a works of applied art, only its artistic quality is protected, that is, the original artistic shape or artistic pattern on the art, or in other words, the structure or form of the work of art.
An author that wants to protect a work of art under China Copyright Law shall not only meet the general constitutive elements of works, but also meet the conditions that their practicality and artistry can be separated from each other.
However, if practicality and artistry cannot be separated, the work of art cannot be protected by Copyright Law.
Christian Silvain argued that Ye Yongqing's paintings had a number of identities and similarities that, overall, constituted plagiarism as they were created later than Silvain's.
Christian Silvain claims in the lawsuit are the following:
1. to order Ye Yongqing to immediately stop reproducing, distributing, and exhibiting his paintings; to stop reproducing his paintings on derivatives; and to destroy unsold infringing copies.
2. to order Ye Yongqing to publish a statement of apology to him in a prominent position on the homepage of Sina, Sohu, Tencent, Netease, Phoenix, Pengye, and other websites, as well as in the center-section of the People's Daily, the Legal Daily, and the Global Times, and other national newspapers and magazines to apologize and eliminate the influence.
3. Order Ye Yongqing to compensate him RMB 54 million (of which, RMB 42 million is the unlawful profit, RMB 12 million is presumed to be the unlawful profit, and fixed compensation).
4. Order that the litigation costs, notary preservation costs and other reasonable costs of this case be borne by Ye Yongqing.
In 2020, although Ye has admitted that he had been influenced by Silvain, he responded to the backlash by suing for defamation at a Belgian court, accusing him of violating his right to reputation; on 15 October 2020, the People's Court Newspaper published the 'People's Court Bulletin', urging Ye Yongqing to appear in court: 'If he refuses to appear in court at that time without a justifiable reason, the court will hear the case in absentia in accordance with the law."
On September 9, 2021, the Beijing Higher People's Court of the People's Republic of China issued a civil ruling indicating that Silvain sought damages of more than 50 million yuan from Ye Yongqing.
The "Facts and Reasons" section of the ruling states that Ye Yongqing has been continuously infringing Silvain's copyrights since he came into contact with Silvain's works in the early 1990s.
After this first ruling, Ye Yongqing appealed on the grounds of "objection to jurisdiction", which was rejected by the Beijing Higher People's Court and the original ruling was upheld.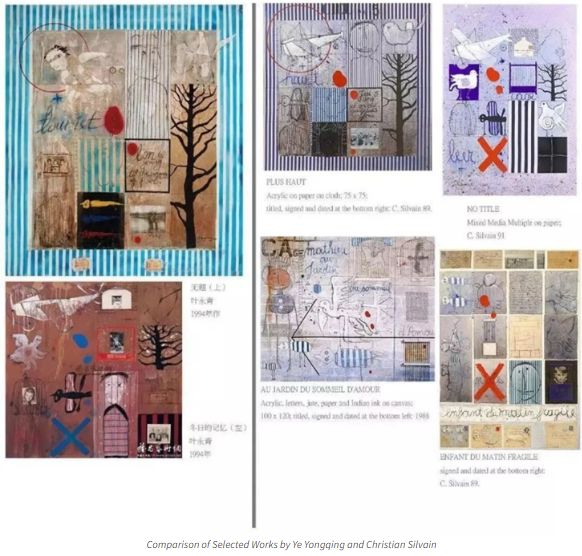 Indeed, on August 24, 2023, the Beijing Intellectual Property Court announced a ruling for Belgian artist Christian Silvain against Sichuan Academy of Fine Arts Professor Ye Yongqing.
The Court ruled that Ye infringed the copyright of Silvain in his paintings and ordered Ye to pay Silvain 5 million RMB (640,000 euros), publish an apology in the Global Times newspaper and cease infringement apologizing to the plaintiff Silvain and eliminating the impact.
Beijing IP Court, however, dismissed the plaintiff Silvain's other litigation requests. If not satisfied with this judgment, both parties may appeal to the Beijing Higher People's Court.
This is believed to be the highest damages award in China in a fine-arts case and currently both artists did not file any appeal yet.
The content of this article is intended to provide a general guide to the subject matter. Specialist advice should be sought about your specific circumstances.