Mapear el estado del sistema familiar
Identificar intereses – objetivos de miembros
Visualizar futuro de la empresa
Acordar estrategia de sucesión : perdurabilidad – venta
Decisiones que tomar
Tipo de sucesión
Sucesión Gerencial y Patrimonial
Cuando se opta por la perdurabilidad de la empresa familiar:
Reglas claras para la entrada y salida miembros, educación, funciones.
Registrar quien puede tener propiedad – quien solo trabajo.
Planificar el tiempo: definir momento de sucesión- alistar al sucesor.
Objetivos comunes
Visión global – crecer y perdurar en el tiempo
Incrementar la productividad
Retos
Aceptar que los fundadores deberán retirarse en algún momento
Diseñar e implementar un plan de sucesión
Encontrar dentro o fuera de la familia el sucesor idóneo
Consenso de socios – familia
Cómo generar una sucesión exitosa?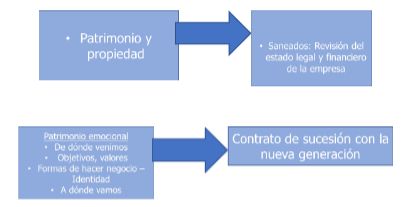 Factores clave
Trabajo conjunto generación saliente con nueva generación
Transmisión de información
Gestión continua
Acompañamiento legal para instrumentar y perfeccionar, mediante fórmulas jurídicas idóneas y económicamente eficientes, las decisiones tomadas para la gestión empresarial.
Este este un artículo netamente informativo. Si desea recibir asesoría sobre éste u otros temas legales, por favor, no dude en contactarnos.
The content of this article is intended to provide a general guide to the subject matter. Specialist advice should be sought about your specific circumstances.