Welcome to the January/February 2023 newsletter prepared by Arnold & Porter's AdTech and Digital Media group. This newsletter includes regulatory and case law developments relevant to the AdTech and Digital Media industries, and the state of venture activity in the AdTech and MarTech industries.
FTC Developments
FTC Uses Multiple Enforcement Tools Against GoodRx. On February 1, 2023, the Federal Trade Commission (FTC) filed its first complaint under the agency's Health Breach Notification Rule (HBNR), which was promulgated more than a decade ago pursuant to the Health Information Technology for Economic and Clinical Health Act (HITECH Act), as well as Section 5 of the FTC Act, which prohibits deceptive and unfair conduct that harms consumers. According to the FTC, GoodRx, which operates a digital health platform offering health services such as telehealth visits and prescription drug discounts, shared individually identifiable health information of patients without their knowledge, including with social media companies such as Facebook, including for advertising purposes. Under a proposed order, GoodRx will pay a $1.5 million civil penalty and will be prohibited from sharing its users' individually identifiable health data with any third parties for advertising purposes. For additional details on this FTC action, see our blog here.
Litigation Under Section 230 of the Communications Decency Act
In Re: Social Media Adolescent Additional/Personal Injury Products Liability Litigation. A master complaint was filed on February 14, 2023 by attorneys representing almost 100 plaintiffs in product liability actions against certain social media companies based on allegations of their "addictive and dangerous social media products" causing various mental health-related harms, and contributing to sexual exploitation and abuse of children. The individual actions have been consolidated into a multidistrict litigation in the US District Court for the Northern District of California. The master complaint is a procedural device that can be incorporated into short form complaints containing additional fact-specific allegations. The product liability claims are an attempt to avoid Section 230's immunity shield that protects social media companies against being treated as the publisher of third party content they host, by basing the claim instead on allegations of design defects and failure to warn. Judge Rogers, who is overseeing the case, has stated that, while the defendants can file a motion to dismiss based on Section 230, she will not issue any ruling on the Section 230 issue until after the Supreme Court has weighed in, given the pendency of Gonzalez v. Google and Twitter v. Taamneh.
Woodhull Freedom Foundation v. USA. Oral argument was held on January 11, 2023 before a three-judge panel for the District of Columbia Circuit. The case involves a First Amendment challenge to the Allow States and Victims to Fight Online Sex Trafficking Act of 2017 (FOSTA), which was intended to remove the immunity shield under Section 230 for "websites that promote and facilitate prostitution." FOSTA does this in part through making it a federal crime, under new 18 U.S.C. § 2421A, to own, manage, or operate an interactive computer service (as defined in Section 230) "with the intent to promote or facilitate the prostitution of another person," and then amending Section 230 to remove the immunity shield in connection with certain sex trafficking claims or charges, including those brought under state law that would also violate the FOSTA criminal provisions. The plaintiffs' complaint challenging FOSTA on various constitutional grounds was dismissed by the US District Court for the District of Columbia for lack of standing, reinstated by the DC Circuit Court in 2020, and then dismissed by District Court on summary judgment in 2022.
At the January 11th hearing, the judges aggressively probed certain aspects of the government's position, including that Section 2421A should be read as an "aiding and abetting" statute, which Judge Edwards rejected given that FOSTA does not use those terms, stating that it "immediately tells me the government's got great concern that the statute, as actually written, has problems." The judges also probed the actus reus under Section 2421A, and expressed concern that the statute appeared to make it a crime to merely own, manage, or operate a website with bad intent. The judges were also critical of the potentially broad, and problematic under the First Amendment, meaning of the word "promote," and whether website promotion of prostitution could be deemed to include website advocacy that prostitution should be legal.
No timetable has been set for the DC Circuit Court to issue its ruling.
Ratermann v. Pierre Fabre USA, Inc. In early January 2022, model and entrepreneur Patty Ratermann brought suit against Pierre Fabre USA, Inc., Walgreens Co., QuickFrame, Inc., and other retailers in the Southern District of New York, for using her picture, image, and likeliness online and on physical and in-store advertisements of defendant Pierre Fabre's Avène-branded products more than one year after she entered into a single-use license agreement with defendant QuickFrame in 2020. On January 17, 2023, US District Judge Jesse M. Furman held that the retailers were shielded by Section 230. Under Section 230, online platforms are protected from liability stemming from third-party content, with certain exceptions, including intellectual property claims.
First, Judge Furman, held that Amazon, Walmart, and Ulta Beauty satisfied the three elements of the Section 230 defense and were shielded from liability. Specifically, the court held that (1) each of these retailers easily fell within the definition of a provider or user of an interactive computer service; (2) Ratermann's claim was based on information provided by another information content provider, i.e., Pierre Fabre or QuickFrame; and (3) the claim would treat the defendant as the publisher or speaker of that information, i.e., Ratermann was trying to hold the retailers liable for "exploiting her likeness for advertising purposes" and "commercial gain," when in fact, the court found the retailers did nothing but "disseminat[e] her likeness and nothing more." Then, answering a question of first impression, Judge Furman held that Ratermann's claims under New York Civil Rights Law Sections 50 and 51 were right of privacy claims, not intellectual property claims that fall outside the scope of the retailers' Section 230 protection. Ultimately, Judge Furman dismissed all of Ratermann's claims except for her claim under Sections 50 and 51 against Pierre Fabre and her breach of contract claim against QuickFrame. It remains to be seen if this holding is limited to New York given the particular way in which its right of publicity statute was written or if courts will adopt similar reasoning under the laws of other states.
US Supreme Court Update
As indicated in our October newsletter, Netchoice v. Paxton involves a First Amendment challenge to Texas law HB 20, which creates civil liability for social media platforms (with more than 50 million monthly active users) that moderate, remove, or label users' content based on their "viewpoints," unless the content is considered illegal or the platform's action is "specifically authorized" under federal law. A pending certiorari petition asks the Supreme Court to take up the question whether States can prevent social media companies from moderating certain types of political speech; it asks the Court to review the Fifth Circuit's ruling reversing the district court's grant of a preliminary injunction, which conflicts with an Eleventh Circuit decision that struck down a similar antimoderation law in Florida. On January 23, 2023, the Supreme Court asked the US Solicitor General for the Biden Administration's views on whether to grant the petition. As a result of this request, the case will not be heard during the Supreme Court's current Term, but is likely to be heard during its next Term, which begins in October.
On February 21, 2023, the Supreme Court heard argument in Gonzalez v. Google, which raises the question whether Section 230 of the Communications Decency Act immunizes platforms from liability when they recommend content posted by content-providers (such as platform users). The decision in that case, which is expected before the Court recesses for the summer in late June, may affect the issues in Netchoice as well as the Court's decision whether to grant the petition.
Other
DOJ v. Google. On January 24th, the DOJ and several State Attorneys General filed a civil antitrust suit against Google for monopolizing multiple digital advertising technology products in violation of Sections 1 and 2 of the Sherman Act. The DOJ's press release is available here. The response from Google is available here.
Getty Images Inc. v. Stability AI Inc. On February 3, 2023, Getty Images (US), Inc. brought copyright and trademark infringement claims, among others, against Stability AI, Inc. in the District of Delaware for its alleged unauthorized copying of more than 12 million Getty Images photographs, captions, and metadata in connection with Stability AI's creation of an image-generating AI model called Stable Diffusion. Getty Images operates a website that maintains a large database of copyrighted images that Getty Images either itself owns or for which it is a licensee. These images are typically accompanied by unique captions and metadata that allow end-users to search for specific images. Getty Images alleges that Stability AI's unauthorized use of millions of its images to create Stable Diffusion constitutes copyright infringement, that Stability AI's removal or alteration of copyright management information stored in the images' metadata violates the Digital Millennium Copyright Act, and that Stable Diffusion's inclusion of modified versions of Getty Images' trademarks in its generated images constitutes trademark infringement and dilution under federal and Delaware state law. Getty Images is seeking money damages and injunctive relief against Stability AI.
This lawsuit follows closely on the heels of a similar proposed class action suit filed on January 23, 2023 in the Northern District of California against Stability AI Ltd., Stability AI, Inc., Midjourney, Inc., and DeviantArt, Inc., alleging that defendants have engaged in unauthorized copying of their artworks to train the Stable Diffusion model and the unauthorized creation of derivative works. The claims in the proposed class action are similar to Getty Images' claims against Stability AI, including copyright infringement, trademark infringement, and violation of the DMCA.
Video Privacy Protection Act Put to Work for a New Purpose. The Video Privacy Protection Act (VPPA) was enacted more than four decades ago to protect the privacy or records of individual's rentals of videotapes (yes, we used to have to go to a video rental store so we could watch movies at home!). Now it is having a new run at a completely different type of "record": online tracking tools that may reveal what video content a consumer may have streamed from the web.
Congress passed the VPPA in 1988 in response to the impact on the consideration of US Supreme Court nominee Robert Bork of press coverage of Judge Bork's video cassette rental history, which a journalist had obtained from the judge's video rental store. The VPPA prohibits "video tape service providers" from knowingly disclosing a consumers' personally identifiable information to a third party without the consumer's consent. A "video tape service provider" is defined in the statute broadly to include any business engaged in the "rental, sale, or delivery of prerecorded video cassette tapes or similar audio visual materials." This definition has been used in dozens of class actions filed in the past year against entities using online tracking technologies.
Indeed, in 2022, more than 80 VPPA claims were brought at the state and federal levels against not only what would generally be considered typical video streaming providers, but also newspapers, radio networks, healthfocused websites, and even manufacturers of retail products whose businesses are not generally associated with video content at all. In making these claims, the various plaintiffs assert that (1) the defendants hosted video content on their websites or mobile applications and (2) the defendants deployed web beacons, pixels, and/or website cookies to capture a consumer's identity and information about the video content the consumer streamed, and that information was shared with a third party, such as a social media site or online advertising network. And although the VPPA provides an exception from its consent requirement for a video tape service provider to share "the subject matter" of the videos that a person obtained "if the disclosure is for the exclusive use of marketing goods and services directly to the consumer," according to the plaintiffs in the pending cases, the sharing of the tracking information with online advertisers is enough to violate the VPPA. The outcome of these cases will be a sign of how broadly statutes passed at a time when online tracking and advertising was nonexistent can be used to discipline those activities now.
Markets
Based on data provided by PitchBook, both the aggregate capital invested and the deal count for venture investments in AdTech & MarTech in the US peaked in Q4 2021 and then dropped significantly in 2022, levelling off somewhat towards the end of 2022 (see Figure 1 below). A similar pattern occurred for the US, Europe, and Asia combined (see figure 2 below).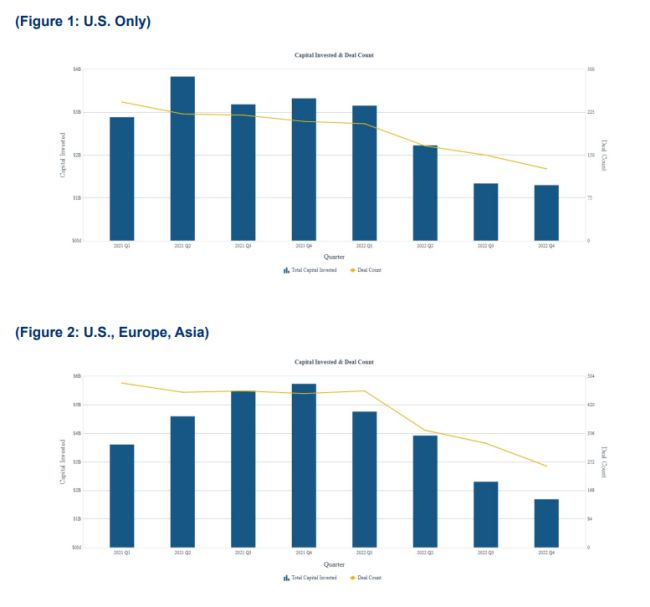 The content of this article is intended to provide a general guide to the subject matter. Specialist advice should be sought about your specific circumstances.