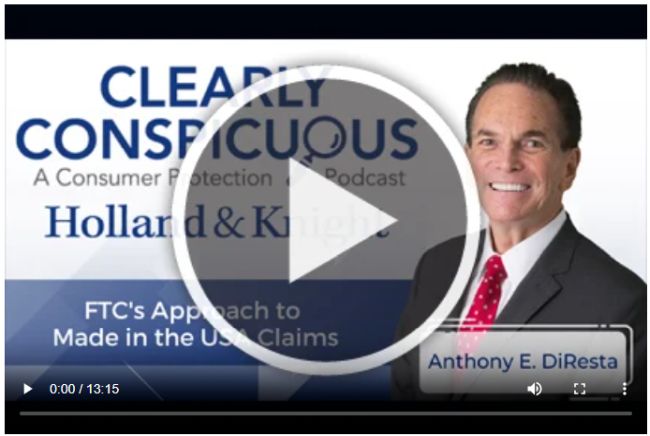 In this episode of his "Clearly Conspicuous" podcast series, "FTC's Approach to Made in the USA Claims," consumer protection attorney Anthony DiResta takes another look at issues surrounding Made in the USA claims, based on insight from Federal Trade Commission (FTC) attorney Michael Ostheimer. Mr. DiResta reviews the FTC's rules on these claims as well as recent enforcement actions regarding dark posting, unsolicited emails and junk fees. He also covers standards for consumer and employee reviews, promotional tools and sweepstakes, and factors that lead the FTC to commence an investigation.
Listen to more episodes of Clearly Conspicuous here.
Podcast Transcription
Good day and welcome to another podcast of Clearly Conspicuous. It's a privilege to be with you today, as always. Today we continue to talk about social media advertising, the rules of the road. In this session, we're going to focus on what we heard straight from the FTC in terms of a conversation that my law partner Da'Morus Cohen and I had with Michael Ostheimer, who's a senior attorney in the FTC's Division of Advertising Practices. Let's once again look at the claims involving Made in the USA. And this was of interest to Mr. Ostheimer, so that's why I'm raising this issue again even though it was the subject of a previous podcast. But here's what Michael was telling us.
Increased Prosecution of Deceptive USA Origin Claims
The FTC has increasingly prosecuted more deceptive USA origin claims under Section 5 of the FTC Act since the start of the COVID-19 pandemic than in the previous decade. This uptick in administrative enforcement increases the cost of compliance surrounding Made in the USA claims, and companies should take notice regarding any origin claims they intend to make. Companies should expect consequences for deceptive Made in the USA claims, as revealed in the FTC action against Battering. In 2021, the FTC adopted the Made in the USA Labeling Rule, which codifies and clarifies the FTC's long-standing position and guidance on U.S. origin claims. The rule establishes the FTC's ability to pursue potentially strict punishments for those who violate the rules and mandates related to product labeling. The FTC has educational materials and set up an email where brands may inquire about compliance. This includes compliance with all or virtually all standards for Made in the USA claims.
Dark Patterns and Dark Posting
Now let's take a look at dark posting and dark patterns. The FTC discourages the use of dark patterns, or those deceptive and misleading user interfaces that trick users into acting or clicking, that calls users to make unintended and potentially harmful selections. Companies should ensure that user interfaces do not create false beliefs and do not bury fees or terms in dense documents or places where a consumer is unlikely to see before purchasing. The FTC has brought several enforcement actions against companies engaged in harmful dark patterns and dark posting, including those regarding the following disguised ads that appear to be independent contact comparison sites that are actually ranked on compensation and countdown timer that create a false sense of urgency.
Unsolicited Emails to Consumers, Cancellations and Junk Fees
The FTC sued FN Ads for sending unsolicited emails to consumers that included front lines that falsely claimed that they were coming from various news organizations, additional links in an email sent to the consumers to websites pitching FN Ads work from home scams, also difficulty in canceling subscriptions or recurring charges, including those made without consent. The FTC sued ABCmouse claiming that it was extremely difficult to cancel free trials and subscription plans despite promising easy cancellation, overbearing key terms and junk fees, including fees that are hidden or obscured through varying junk fees or material terms in money from manufacturers in exchange for higher rankings on the brand's website.
Consumer Reviews
So now what about consumer reviews? Consumer reviews are essential, but come with their own set of obligations. It is important for marketers to understand what is required when a brand induces consumers to leave reviews, including material disclosures, and giving consumers the ability to read accurate, truthful and nondeceptive reviews. Also, there is a question of whether brands are required to perform some diligence to determine that a review is from a consumer who actually purchased the products or verified purchaser reviews. While this point is subject to debate, there remains an obligation on brands to ensure any reviews that are not accurate, truthful and not deceptive. This includes removing fake reviews, if possible, depending upon the platform, not discouraging posting of negative reviews and not bearing fake reviews. Consumers should be able to trust and rely upon brand reviews to make informed decisions.
Employee Reviews
And now what about employee reviews? As with the consumer reviews, employee reviews are also subject to regulation and must comply with the general notion that they are accurate, truthful and nondeceptive. In addition, it may not be adequate to merely state staff review before an employee's review. A more fulsome disclosure is likely required, and to do so may subject the company to liability, according to the FTC's assignment. Specifically relating to social media, posting hashtags such as employee and my employer may be sufficient under certain circumstances, but brands are reminded that certain trendy marketing campaigns using employees may be disfavored by the FTC if the consumer is unable to immediately ascertain that the marketing communications are being delivered by an employee of the company. Brands may also not pay or solicit their employees to leave misleading, deceptive, vague or untruthful reviews. The FTC has recently enforced and received hefty monetary relief against several companies whose employees were instructed to leave fake reviews for the brand's products. Brands cannot censor less than favorable reviews. That's the bottom line. It's the law as outlined in the Consumer Review Fairness Act. Then there's the issue of user-generated content. When a user simply likes or loves a product for what it is, there is no need for that user or the brand to disclose the connection when that user truthfully and genuinely posts or comments on the product. If the review is organic and not incentivized, then there's nothing that needs to be disclosed.
Promotions and Sweepstakes
Then there are promotional devices. Brands must carefully manage their promotional devices and social media, such as sweepstakes and contests. Promotional devices are useful tools to engage consumers and trigger clicks. But brands are reminded that information disseminated related to the promotional device must be accurate, truthful and nondeceptive. And viewers should know that a post, for example, will enter the viewer into a sweepstakes by stating that Brand A's sweepstakes or similar. In addition, state law also provides various requirements for promotional devices, including registration, depending upon the approximate value of the prize to be awarded or the frequency with which a brand is conducting such promotional devices. In addition, best practices dictate that the preparation of official rules and other documents to inform consumers of the material terms of the promotional device, including method of entry, promotional period and applicable limitations. Lastly, social media platforms have their own requirements relating to the use of their platforms to promote promotional devices, including specific disclosures.
Factors That Cause the FTC to Start an Investigation
Now, let's just take a 30,000-foot perspective and talk about FTC enforcement. There are several factors that lead the FTC to commence an investigation, according to Michael Ostheimer, including consumer complaints monitoring by the FTC staff themselves, a high number of reviews for complaints, whistleblowers, competitors, news stories, congressional inquiries, sweeps of industry practices by the FTC, claims that are clearly not likely to be substantiated and referrals from non-regulatory bodies such as the National Advertising Division, the NAD, and the Better Business Bureau. The FTC considers whether health and safety is involved, whether egregious conduct is at play, the extent of consumer injury, the geographic impact, the method of dissemination of deceptive advertising and whether the deception entails an emerging industry. Because the NAD conducts its own investigations and due diligence into claims, the FTC weighs the NAD's decisions, conclusions and referrals heavily, and may indeed formally investigate referrals from the NAD. Please remember this. It is not enough to merely have a social media policy in place. That policy must be implemented and monitored for effectiveness, and it must be enforced. The FTC is highly concerned about native advertising, as detailed in its enforcement policy statement on deceptively formatted advertising.
FTC Enforcement Mechanisms
So now thinking about the FTC and enforcement, there's the issue of enforcement release. Monetary relief is now considered in almost every investigation. Brands are subject to hefty monetary penalties for noncompliance, and the FTC looks into what various civil penalties are available. This includes determining whether the content at issue violates a civil rule, whether new rulemaking should be had, including with Made in the U.S. claims, and whether Section 2 of five synopses should issue to brands notifying them a potentially illegal conduct. The FTC actively works with other law enforcement partners to monitor social media advertising and enforce compliance, such as state attorneys general and other federal agencies, including the Consumer Financial Protection Bureau, the CFPB. The FTC is coordinating even more closely with state AGs, given the FTC's loss of its ability to seek disgorgement following the Supreme Court's ruling in AMG Capital Management.
Conclusion
We've covered quite a bit in the last two podcasts on social media advertising and marketing. There are alerts and publications that I and my colleagues at Holland & Knight have authored on the topic, and please feel free to reach out to me if you have any questions or would like any further information. So ladies and gentlemen, stay tuned for further programs as we identify and address the key issues and developments and provide strategies for success. I wish you continued success and a meaningful day. Thank you.
The content of this article is intended to provide a general guide to the subject matter. Specialist advice should be sought about your specific circumstances.