In a case brought by consumers against the manufacturer of American Spirit cigarettes, a federal district court has ruled that use of the terms "natural," "organic," and "additive-free" in advertising to describe cigarettes may be deceptive to consumers.
Even though the product packaging includes a disclaimer that says that American Spirit cigarettes are no safer than other cigarettes, the court still found that consumers could be misled into believing otherwise because consumers are likely to associate the terms "natural," "organic," and "additive-free" with healthy products. The court also found that labeling menthol cigarettes "additive-free" could be misleading since menthol is added to the cigarette filter.
The court rejected the plaintiffs' claim, however, that use of these terms could mislead consumers into believing that the tobacco is not processed during production.
* * *
https://tushnet.com/2017/12/29/natural-organic-cigarette-claims-might-be-deceptive-with-bonus-first-amendment-talk/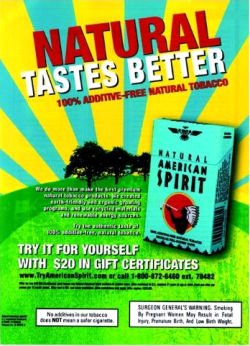 This alert provides general coverage of its subject area. We provide it with the understanding that Frankfurt Kurnit Klein & Selz is not engaged herein in rendering legal advice, and shall not be liable for any damages resulting from any error, inaccuracy, or omission. Our attorneys practice law only in jurisdictions in which they are properly authorized to do so. We do not seek to represent clients in other jurisdictions.