Background
As detailed in a number of previous Information Notes, there are several different UK visa options available to non-EEA nationals, to come to the UK to live and work.
What is a 'Representative of an Overseas Business Visa'?
The "Sole Rep Visa" as it is informally known, is a route designed for senior employees who are non-EEA nationals, enabling them to move to the UK and establish the first UK presence for a overseas business.
It is an option for senior and experienced individuals to gain an initial 3 year visa (possibly extending for a further 2 years) by relocating to the UK and setting up a branch or subsidiary of an overseas company. After 5 years in the UK, it is possible to apply for settlement or Indefinite Leave to Remain (ILR).
Ultimately the individual and their dependants (partner and children under the age of 18) can gain British Citizenship, if all of the criteria are met, at each stage.
The United Kingdom's Immigration Rules are extended to the Isle of Man, with the Isle of Man making modifications to reflect its different constitution and requirements.
General Application Requirements
Please see appendix 1, below, detailing the steps that an individual needs to take, to gain UK Sole Rep status. The first step is to make an application for Entry Clearance (3 years), then to apply for Leave to Remain (2 years), and then, finally, an application for ILR.
Important Points to Remember
When considering an Entry Clearance application, the UK Home Office will be expecting to see genuine business activity by the overseas entity.
At the Leave to Remain stage the higher the level of business to business activity, the more favourably the application will be evaluated.
For an ILR application, under the Sole Rep category, the individual cannot be absent from the UK for more than 180 days during

any

12 month period within the previous 5 years.
Additional Information
For additional information regarding the Sole Rep Visa and a potential move to the Isle of Man please refer to: IN529 Representative of an Overseas Business and the Advantages Available when Moving to the Isle of Man.
Appendix 1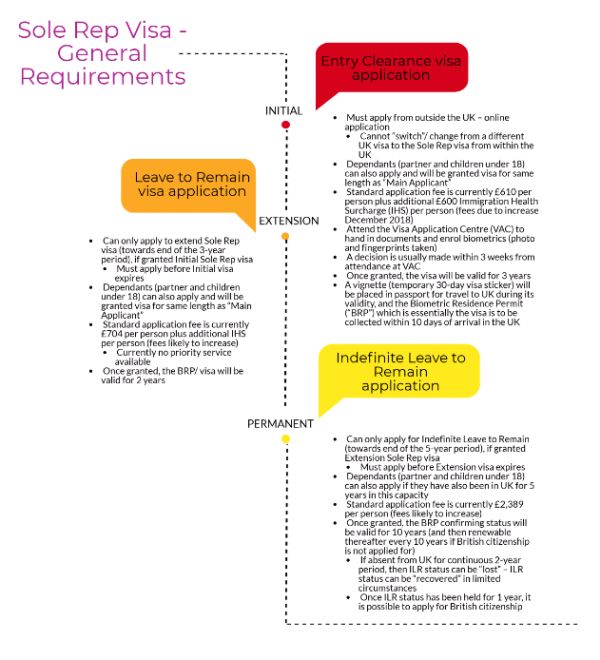 The content of this article is intended to provide a general guide to the subject matter. Specialist advice should be sought about your specific circumstances.