Taylor Swift is a music icon, but you already know that. What you perhaps don't know is that there is a business called The Folklore (established in 2018) that helps African clothing designers access international markets. In the words of the fashion magazine InStyle, what The Folklore does is seek to "amplify underrepresented African and African diaspora designers." The lady behind The Folklore is Amira Rasool, and there is apparently a trade mark registration for The Folklore.
Taylor Swift recently released an album called Folklore. For reasons that are unclear, the branding on this album featured the term "The Folklore" rather than simply Folklore, as well as design elements that are similar to those used by the business, The Folklore. Rasool became aware of this when people started enquiring whether she had collaborated with Taylor Swift. She hadn't, and she was shocked by what had taken place, "Initially I was so shocked, I'd heard of some many different black women in particular who had been ripped off by large corporations, by celebrities. and I just couldn't believe it was happening to me."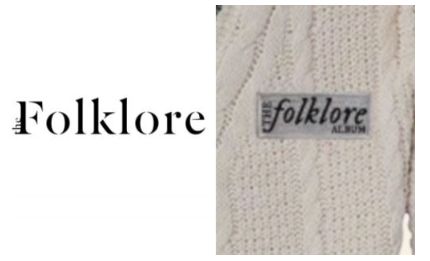 Rasool company's logo is an immediate hit on Google Images. She said, "It's just very hard to believe that (Swift's team) didn't come across it. And if they did come across it - which I believe they did - for them to model Taylor's merchandise on our logo, especially having seen what our company is about, is especially disheartening to me."
Taylor Swift, who has apparently thrown her weight behind the Black Lives Matter movement, responded quickly by making all the right noises: "Amira I admire the work you're doing and I'm happy to make a contribution to your company and to support the Black in Fashion Council with a donation." This somewhat placated Rasool, who reponded "I commend her team for recognizing the damage it caused to our brand. I recognize that Taylor has been a strong advocate for women protecting their creative rights, so it was good to see her team is on the same page. It was a great first step and we are in conversation now with Taylor's team about the next steps to make this situation right."
The "The" has been removed from the branding on the album and it does seem that an amicable settlement is on track. So, hopefully a quick resolution to a problem that had the potential to be rather difficult for both parties, especially for the global music icon, who would have had to explain why she felt the need to copy the design elements of a small Africa-focused company, something that clearly has the potential to create, if it didn't already, negative publicity.
One can't discount the possibility that the adoption of "The Folklore" was no more than incompetence on the part of a junior designer. Even so, that may not assist in mitigating the negative publicity. A swift and amicable resolution of this matter will stand in stark contrast to much of the incredibly bitter, expensive and time-consuming litigation that takes place in IP, where matters are finally "resolved" years after anyone can remember what they were actually all about.
Reviewed by Gaelyn Scott, head of ENSafrica's IP department.
The content of this article is intended to provide a general guide to the subject matter. Specialist advice should be sought about your specific circumstances.