The electronics sector in India witnessed a meteoric rise since the Government introduced the Make in India and the Digital India initiatives. Over the last five years, the domestic production of electronics has outweighed imports, and government impetus is the major driving force behind this change.
In April 2020, the government announced three additional schemes which were notified by the Ministry of Electronics and IT (MeitY) allocating a sum of INR 479.9 billion (~ USD 6.39 billion) as incentives under the schemes. These incentives are expected to bolster the local production of electronics and promote anchor companies in the major electronics clusters in India.
The three Schemes are:
Production Linked Incentive (PLI)
Scheme for promotion of manufacturing of components and semiconductors (SPECS)
Electronic Manufacturing Clusters (EMC 2.0)
In the past, the Government of India had provided an impetus to the electronics sector in India through various policies such as the National Policy of Electronics (NPE 2019), Phased Manufacturing Programme (PMP), Preferential Market Access (PMA), etc. Along with these Central incentive schemes, several states also introduced specific policies or incentives specific to the electronics sector in their State Industrial Development Policy, to further augment the manufacturing and demand of electronics in India. Many major states consider this sector as a focus sector which has been briefed in the document in ensuing sections.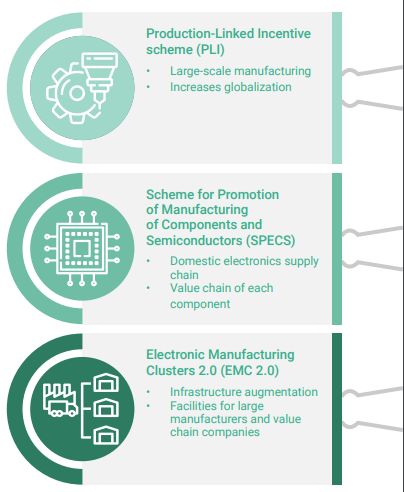 Production Linked Incentives (PLI) Scheme
The objective of this scheme is to attract global investment to scale electronics manufacturing through sales incentives.

Threshold eligibility criteria under the PLI Scheme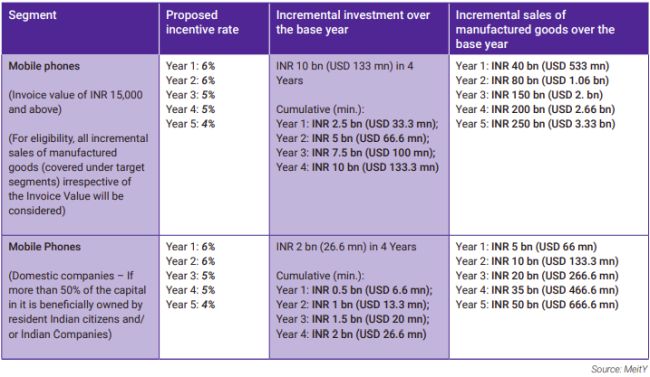 To view the full article click here
The content of this article is intended to provide a general guide to the subject matter. Specialist advice should be sought about your specific circumstances.