« Pourquoi devrais-je respecter les contraintes du RGPD alors que plusieurs de mes concurrents n'ont pas pris cette peine !  »
Cela vous rappelle-t-il quelque chose ?
Le respect de la réglementation sur la protection des données a en effet rencontré de nombreux freins depuis 1978 et l'adoption de la loi « informatique et libertés » : difficulté de compréhension d'un texte technique, rareté des contrôles et des sanctions, méconnaissance des contraintes applicables, pression de la technologie, absence de prise en compte des effets positifs de la conformité en termes d'image et de gouvernance etc.
Or, il est clair que le jeu concurrentiel trouve une place importante dans nombre de résistances opposées à la démarche de conformité. La raison est simple : respecter les contraintes du RGPD a un impact financier direct sur la structure que ce soit au niveau des coûts induits par la démarche de gouvernance de la donnée ou que ce soit au niveau des effets opérationnels immédiat de cette gouvernance sur les traitements envisagés (durée de conservation, principe de limitation etc.).
Dans un champ concurrentiel présentant de plus en plus de tensions, force est de constater qu'un concurrent qui agirait en violation du RGPD pour traiter par exemple des données personnelles de clients ou de prospects pourrait être regardé comme bénéficiant d'une prétendue1 performance commerciale accrue.
La distorsion de concurrence a en réalité une autre origine : la situation illégale et l'absence de dépenses obligatoires.
C'est précisément ce que nous apprend la jurisprudence de ces dernières années.
Qu'est ce qu'un acte de concurrence déloyale ?
A l'occasion d'une décision en date du 12 février 2020, la chambre commerciale de la Cour de cassation a amorcé la réflexion selon laquelle tout acte permettant de s'épargner une dépense en principe obligatoire du fait du respect d'une réglementation attribue à l'acteur économique en situation illégale un avantage concurrentiel indu.
Par la suite, la Cour de cassation est venue préciser par une décision du 17 mars 2021 que le non-respect d'une réglementation en vigueur dans l'exercice d'une activité commerciale constitue un acte de concurrence déloyale, en ce que cet irrespect confère un avantage dans la concurrence au préjudice des personnes qui se conforment à la réglementation.
Le non-respect du RGPD est qualifié de concurrence déloyale
Plus récemment encore, et dans la lignée des arrêts précédents de la Cour de cassation, le Tribunal judiciaire de Paris a le 15 avril 2022 confirmé ce principe en évoquant directement la réglementation applicable en matière de protection des données à caractère personnel.
Était en cause une société dont il était estimé que les produits qu'elles vendaient portaient atteinte à des droits de propriété intellectuelle et ne respectait pas diverses réglementations applicables à son site internet parmi lesquelles les obligations imposées par le RGPD.
Le site litigieux ne comportait aucune politique de confidentialité alors que des données étaient bien collectées en son sein et ne fournissait aux utilisateurs aucune information sur les conditions des traitements réalisés en dehors d'un bref paragraphe présent dans l'onglet « mentions légales ».
Considérant que la société non-conforme s'est rendue coupable d'actes de concurrence déloyale au préjudice de son concurrent, celle-ci est, au-delà de sa condamnation en contrefaçon, condamnée à 15 000 euros de dommages et intérêts.
La Cour d'appel de Paris a également eu l'occasion de se prononcer sur la question le 9 novembre 2022 dans le cadre d'un litige relatif à une atteinte portée à un réseau de distribution sélective.
Le requérant reprochait à la société défenderesse d'avoir porté atteinte à l'étanchéité du réseau mais également d'avoir réalisé divers faits de concurrence déloyale parmi lesquels plusieurs manquements au RGPD et à la Loi Informatique et Libertés.
Pour étayer son argumentation, la requérante se fonde sur la condamnation récente par la CNIL de la société mise en cause pour un montant de 500 000 euros ayant trait à l'irrespect des obligations issues du RGPD parmi lesquelles celles applicables à la prospection commerciale.
Considérant que l'irrespect de cette réglementation a permis à la société concurrence de bénéficier d'un avantage concurrentiel indu, la Cour d'appel condamne la mise en cause à des dommages et intérêts s'élevant à la somme de 200 000 euros sur le fondement de la concurrence déloyale et du parasitisme.
De cette manière, la société se retrouve sanctionnée une première fois par la CNIL sur la base de manquement au RGPD puis une seconde au niveau judiciaire au visa de la concurrence déloyale.
La mise en conformité au RGPD, un atout pour les entreprises
La conformité aux réglementations telles que le RGPD est souvent perçue de manière défensive par les décideurs : source de coûts et de contraintes, freins à l'activité.
Or, cette vision s'avère aussi réductrice que dépassée.
En effet, la démarche de conformité au RGPD présente, lorsqu'elle est directement connectée aux impératifs stratégiques de l'entreprise, de nombreux aspects positifs dépassant très largement la seule sécurité juridique : renforcement de la confiance des clients et partenaire, consolidation des principes de gouvernance, optimisation des procédures et visibilité accrue sur l'activité des différents services ; gains indéniables en termes d'image en sont des exemples. Un lien intrinsèque existe en outre entre conformité et valorisation de la donnée de telle sorte que la conformité au RGPD viendra directement conditionner la capacité de l'entreprise à monétiser la donnée et créer de la valeur à partir de celle-ci.
Ces aspects positifs, souvent méconnus des décideurs, ne doivent pas occulter un autre aspect essentiel reconnu aujourd'hui en jurisprudence : l'utilisation de la conformité comme une arme sur le plan judiciaire afin de voir sanctionner des concurrents profitant d'une situation illégale.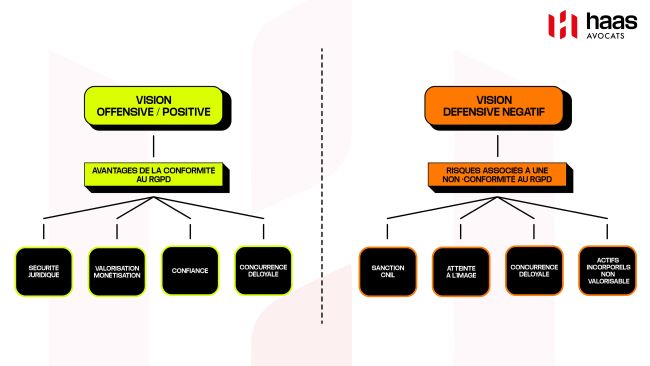 The content of this article is intended to provide a general guide to the subject matter. Specialist advice should be sought about your specific circumstances.