Foreign entrepreneurs in Canada face complexity in navigating Business Immigration programs and the Start-up Visa program. They require a clear understanding of the complexities involved in each pathway. This article clarifies the differences between Business Immigration and the Start-Up Visa program, helping immigrants choose the right path based on their goals, risk tolerance, and circumstances. Sobirovs Law Firm offers customized immigration guidance to allow you to achieve your entrepreneurial goals. Schedule a 1-hour strategy meeting today to learn which immigration program is right for your business.
Investment Immigration: an Overview
In investment immigration, two distinct pathways unfold before many foreign entrepreneurs wishing to immigrate to Canada:
business immigration (federal and provincial), and
startup visa program, which is a federal program.
These pathways cater to diverse audiences, each with unique objectives and circumstances. However, there needs to be more clarity about both paths.
The main misconception is that one or the other path can fit all applicants. The further confusion is that applicants may use one of the paths contrary to its original intent. It is crucial to emphasize the importance of recognizing that one size does not fit all when dealing with immigration for entrepreneurs, and one should use each of the immigration pathways for its original purpose.
Business Immigration vs. Start-up Visa
While both paths are great ways for foreign entrepreneurs to come to Canada, the best way is the one that best fits a specific foreign entrepreneur.
Aspiring foreign entrepreneurs need to reflect on their motives for pursuing Canadian immigration and be clear about what they are trying to achieve and their level of risk tolerance. There are some critical differences between business immigration programs and the Start-Up Visa Program described below.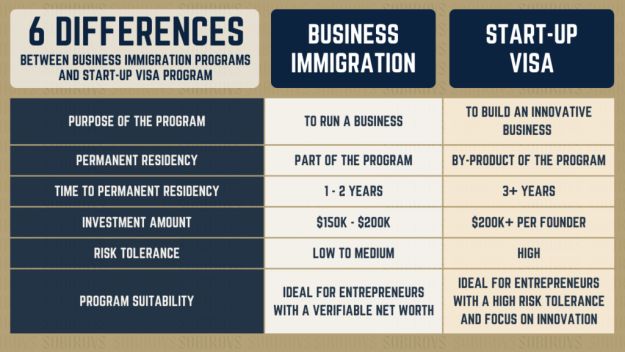 Business Immigration for Permanent Residence
If the primary goal is obtaining permanent residence (PR) in Canada, business immigration programs designed explicitly for PR-seeking entrepreneurs are more suitable. Among all of the business immigration programs, only the Provincial Nominee Programs aim at converting foreign entrepreneurs into permanent residents of Canada.
To use the IRCC wording:
"This [PNP] program is for workers who
have the skills, education and work experience to contribute to the economy of a specific province or territory
want to live in that province and
want to become permanent residents of Canada."
All other business immigration programs serve Canada's interests by bringing entrepreneurship and new businesses into the country and creating value and opportunities for Canadians. Permanent residence is only a by-product of such programs, not their primary objective.
Therefore, if a foreign entrepreneur chooses a business immigration program other than a PNP, his/her primary focus should be running a business in Canada, not getting permanent residence.
Start-Up Visa for Permanent Residence
The Start-up Visa program is geared towards those genuinely looking to build innovative, scalable and competitive businesses in Canada.
It is not a permanent residence program, per se. Its reason for existence is, as clearly stated on the IRCC website:
"Canada's Start-up Visa Program targets immigrant entrepreneurs with the skills and potential to build businesses in Canada that:
are innovative
can create jobs for Canadians
can compete on a global scale."
Its purpose is not "to bring foreign entrepreneurs who want to become permanent residents in Canada" or "to serve as a pathway for foreign entrepreneurs who run a business in Canada to obtain permanent residence."
Permanent Residence as a By-Product of the Start-up Visa Program
Permanent residence in Canada could only be described as "a possible by-product" of the Start-Up Visa Program. Some may describe it as a "reward" (not an entitlement) for foreign entrepreneurs who create innovative, job-fostering, and competitive Canadian businesses. If a foreign entrepreneur, through his hard work and efforts, gets that "reward", it is never taken away, regardless of the success or failure of the startup business.
Therefore, from a practical sense, Start-Up Visa applicants must focus on creating and running the startup venture rather than being fixated on the "reward".
Suppose a foreign SUV applicant is fixated on obtaining PR. In that case, there's a high risk that the progress in the startup becomes secondary and "artificial transactions", as described under section 89(b) of the Immigration and Refugee Protection Regulations, become dominant. The primary purpose of the startup then becomes acquiring a status or privilege for its founders under Canadian laws. Startup founders would be focused on creating an illusion of a genuine startup just to pass the scrutiny of Canadian immigration authorities. That approach has been criticized by both reviewing Visa Officers and the Federal Court of Canada in the past.
Putting PR at the front and centre of the SUV program is neither prudent nor practical and can create unrealistic expectations and subsequent disappointment for startup founders.
Investment Requirements: Business Immigration vs. SUV Program
In reality, business immigration programs and the SUV program require investment.
Money Required for the Start-Up Visa Program
Any startup demands significant capital injection after the initial seed investment, making a budget of around $200,000 per founder a realistic benchmark within the first 3 years of the startup's existence.
This financial commitment supports innovative ventures' development, growth, and sustainability. Plus, in the SUV program, the founders may be required to pay for the ideation, research, prototyping and other preparatory work associated with the "pre-pitch activities" of a startup.
Many startups undergo an incubation process, and designated incubators may also require participation fees for their incubation programs. Legal costs associated with incorporating a new company in Canada, possible trademark or patent applications and other immigration paperwork will be extra.
In short, the startup founders will spend their money before even applying for the SUV program. The money spent before the startup reaches a revenue-generating stage has no return guarantees.
Money Required for Business Immigration Programs
In the business immigration realm, $150,000 to $200,000 can be enough to purchase or establish a business in Canada, depending on its scale, complexity and location. Buying a running business in Canada would require immediate purchase price payment. Still, it would bring the foreign entrepreneur closer (if not certainly) to a stage where the acquired business generates revenue, even at a break-even level.
Choose the Right Immigration Program for Your Future
Start-up ventures carry higher risk, with over 90% of startups ultimately failing. A robust risk tolerance is necessary for navigating this volatile landscape. On the flip side, business immigration ventures involve the usual market risks and business uncertainties but require a lower to medium risk tolerance.
One needs to understand these levels of uncertainty and risk associated with each immigration pathway. If you are not ready to lose your investment with 90% certainty, then going with the business immigration pathway is more prudent.
One can ask the following questions when choosing between the Start-Up Visa program and other business immigration programs, assuming that a person wants to obtain permanent residence in Canada:
What is my English/French language proficiency?
Proficiency in English or French, particularly at the CLB 7, opens doors to various business immigration streams, including tech and traditional business avenues.
If you have CLB 7, then consider business immigration pathways seriously.
What is my current verified or verifiable net worth?
Provincial business immigration programs (PNPs) in Canada require a certain amount of net worth. It's better to have at least $300,000 CAD in net worth.
If you don't have CLB 7 but have a minimum of $300,000 CAD in verifiable net worth, then a PNP option should be considered seriously.
The SUV could be an option if you don't have CLB 7 and the minimum net worth but are ready to lose money in an innovative business startup.

In that case, be prepared to deal with other co-founders in your startup.
What is my risk tolerance?
As noted above, the risk aspect may help you determine the most suitable path.
If you are not a high-risk taker, consider a traditional business immigration pathway. It involves a step-by-step process and running an active business in Canada. Still, you can minimize your risks by buying an existing business with a decent history and client base.
The SUV program could suit you if you are a risk taker and can tolerate monthly cash burn for at least a few years.
What is my urgency in obtaining PR in Canada?
Foreign entrepreneurs should realize that getting PR status in Canada is a process and can take some time. The right efforts can accelerate this process if a suitable immigration program is chosen. All immigration programs aimed at foreign entrepreneurs and business owners involve first coming to Canada on a work permit. The entrepreneur's family may accompany him/her to Canada and start living the Canadian life before becoming permanent residents.
If you can wait 37 months for a PR status (SUV PR processing time as of September 26, 2023) and spend your money to move your startup forward continuously, then the SUV program could be an option.

Remember that the Canadian immigration authorities want to see progress in your startup venture. Sitting and waiting for PR is not advisable.
If you want to get to the PR status faster than 3 years, establishing a new or purchasing an existing business in Canada could be a better option.
In this scenario, you need to have a good level of English/French, run your business in Canada and put money into your business to improve it (as necessary).
This option could include such business immigration programs as the PNP Entrepreneur Streams, the C-11 Significant Benefit work permit, or the Owner-Operator work permit.
How Sobirovs Law Firm Can Help You
You deserve a solid, well-thought and tailored immigration strategy! Not a cookie-cutter solution.
As you can see, a foreign entrepreneur needs to analyze his/her situation, qualifications and assets in advance and ask the right questions. This brainstorming can be done independently or with experienced business immigration lawyers.
The immigration landscape is intricate, demanding meticulous consideration and careful planning. Whether you are driven by innovation or wish to establish a traditional business, Sobirovs Law Firm is here to guide you through the complexities. Remember, the choice between business immigration and the Start-Up Visa program hinges on your objectives, risk tolerance, language qualifications, urgency and financial capacity. Sobirovs encourages open dialogue when determining the right immigration strategy, ensuring your immigration journey aligns seamlessly with your goals.
If you want a transparent, honest, personalized consultation and expert guidance, book your 1-hour Strategy Meeting with our lawyers.
The content of this article is intended to provide a general guide to the subject matter. Specialist advice should be sought about your specific circumstances.