1 Relevant Authorities and Legislation
1.1 Which entities regulate what type of gambling and social/skill gaming activity in your jurisdiction?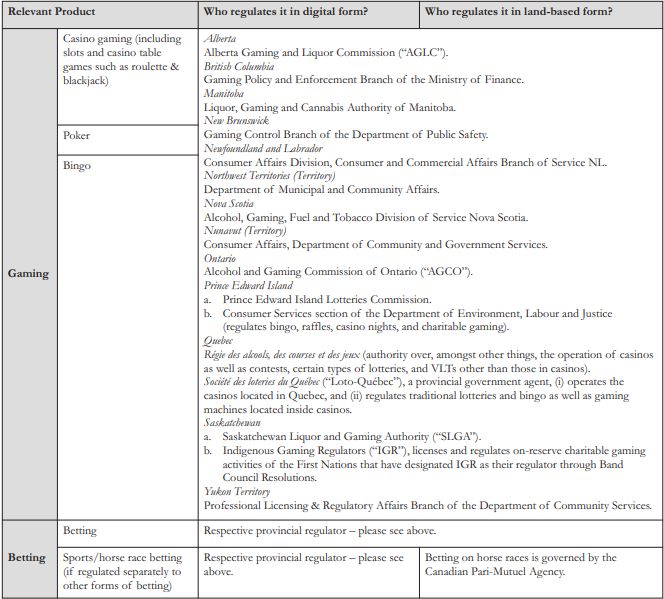 1.2 Specify: (i) the law and regulation that applies to the Relevant Products in your jurisdiction; and (ii) – in broad terms – whether it permits or prohibits the offer of Relevant Products to persons located in your jurisdiction.
(a) Gambling law and regulation
The overarching statute that governs gambling activity in Canada is the federal Criminal Code (the "Code"). Sections 201 through to and including section 206 make all types of gambling, betting and lotteries illegal throughout Canada, with very limited exemptions such as pari-mutuel betting on horse races (provided for in section 204). While the federal Code is the applicable prohibitory statute, all of the regulatory statutes (and regulators) are provincial with the one exception being pari-mutuel betting on horse races which is governed by the federal Canadian Pari-Mutuel Agency
The operation or provision of casinos, bingo, ticket lotteries, betting (other than pari-mutuel betting), poker and other card games, electronic games such as slot machines and video lottery terminals ("VLTs") are activities that constitute gambling unless they fall within one of the few exceptions in the Code. This is true whether the activities are provided in a land-based facility or digitally.
There are a number of activities that are prohibited by the Code but may not be thought of as "gambling" in the colloquial sense of the word. For example, a competition or draw for a prize may fall into any one of a number of baskets depending on its structure. For example, if no consideration is payable in order to enter the competition, Canadian case law has made it clear that any person hosting or offering such a competition is not illegally operating a common gaming or betting house. Furthermore, the Code, and the little case law there is on the subject, draw fine distinctions between games of pure skill, games of pure chance, and games of mixed chance and skill. As a result, a number of idiosyncratic "rules" have evolved, the best example being the "mathematical skill-testing question" which is added to contest rules in order to transform a competition from an illegal contest of pure chance to a legal contest of mixed chance and skill. In sum, any competition for a prize must be examined through the lens of section 206 of the Code in order to determine whether it might constitute an illegal lottery.
Games of pure skill (that is, skill games and competitions with no element of chance) do not fall within the definition of an illegal lottery in section 206(1) of the Code and so can be legally provided without the consent of a regulator or any other government body. It is important to note that Canada's highest court, the Supreme Court of Canada, has made it clear that if there is any element of chance built into the structure of a game, it will be considered a game of mixed chance and skill and not a game of pure skill. The concept of a "dominant factor" is not recognised by the courts in this country. Poker, for example, is considered to be a game of mixed chance and skill as there is an element of chance in the game flowing from the dealing of cards. Games of chance, and games of mixed chance and skill, are considered illegal lotteries unless no consideration is paid to enter, play or win a prize. Based on generally accepted interpretations of section 206, it is possible nonetheless to structure a game of either nature so as to render it legal.
The conduct of fantasy sports or shares competitions is not currently addressed by any federal or provincial statutes or regulations. There is presently an active debate amongst gaming regulators and Canadian lawyers about the legality of daily fantasy sports, some taking the position that competitors are merely engaged in a form of betting and therefore engaging in illegal conduct, while others take the position that it is a game of pure skill and therefore a legal competition. Having said that, it is generally agreed that if a person other than a competitor bets on the outcome of a fantasy competition, that constitutes illegal betting
Social gaming with no prize in money or money's worth is not regulated per se by any government body although, like any other consumer product, they are subject to review and regulation by provincial consumer protection ministries and the federal Competition Bureau.
Set out below are the national and provincial statutes that apply to activities that are generally agreed to constitute gambling.
National
At the federal level, the Code is the primary legislation that impacts gambling in Canada, as it contains both the primary prohibitions and exceptions respecting gambling and the federal penal law concerning proceeds of crime including money laundering (Part XII.2) and the financing of terrorism (sections 83.02, 83.03, and 83.04).
The Competition Act is the only federal statute that is applicable to contests and competitions. Section 74.06 of the Competition Act prohibits any promotional contest that does not disclose the number and approximate value of prizes, the area or areas to which they relate, and any important information relating to the chances of winning such as the odds of winning. Any person who is found to have contravened this section is liable to a fine.
To view the full article click here
Originally Publish by ICLG
The content of this article is intended to provide a general guide to the subject matter. Specialist advice should be sought about your specific circumstances.