Mon billet précédent décrivait certains facteurs qui ont habituellement une incidence sur les choix faits par les clients en matière de tarification, et présentait un guide pratique pour l'évaluation des tarifs. Dans le dernier billet de cette série en trois parties, j'aborde le défi grandissant lié à la tarification des services juridiques automatisés.
Services juridiques automatisés : choix de tarification
La multiplication des nouvelles technologies juridiques sur le marché a créé des occasions nouvelles d'automatiser et de productiser les services juridiques. Ces nouvelles occasions s'accompagnent de nouvelles difficultés. L'une des plus évidentes est de trouver la meilleure manière possible d'évaluer et de tarifer les nouveaux services juridiques qui combinent automatisation et travail humain. C'est une démarche qui demande du temps, de l'expérience et de la confiance entre les équipes juridiques internes et externes. L'objectif est de trouver des structures de tarification équitables qui incitent les deux parties à rechercher l'innovation et l'efficacité, tout en leur permettent d'engranger les bénéfices des améliorations.
Comme c'est toujours le cas quand on innove, la recherche de solutions entraîne inévitablement des essais et des erreurs, qui peuvent nous en apprendre autant que nos succès. Voici certaines pistes de réflexion sur la manière dont les équipes juridiques internes et externes peuvent commencer à aborder ensemble les questions de tarification.
Désassembler les composantes des services juridiques automatisés ou productisés
Même s'il est tentant de considérer que l'automatisation fait des miracles, il faut beaucoup d'intervention humaine pour parvenir à mettre en Suvre et intégrer harmonieusement la technologie et l'automatisation dans les services juridiques offerts au client. Ce constat s'applique tout autant à la technologie commerciale prête à l'emploi qu'à la technologie faite sur mesure. Il y a essentiellement trois composantes potentielles dans tout service juridique dont certains volets sont automatisés, dont chacune peut être évaluée distinctement :
L'achat ou l'élaboration de la technologie sous-jacente.
L'application de la technologie sous-jacente à l'automatisation d'un produit ou d'un processus de travail juridique particulier au moyen d'une combinaison de compétences en programmation et de savoir juridique.
L'adaptation et l'intégration du produit ou du processus nouvellement automatisé à la mission dans son ensemble, par des conseils, des avis et des services produits par l'humain, adaptés aux circonstances et aux besoins du client.
Première composante : tarification de la technologie sous-jacente
Cet élément est probablement le plus difficile à appréhender dans l'abstrait pour les équipes juridiques internes et externes qui ont toujours employé des taux horaires. Toutefois, il existe un certain nombre de pratiques sur le marché, particulièrement dans d'autres domaines professionnels.
Les technologies juridiques « prêtes à l'emploi » qu'un cabinet a le droit d'utiliser en vertu d'une licence ont un coût déterminable. En ce qui concerne certaines technologies utilisées pour tous les clients et par tous les avocats, comme un logiciel de vérification de documents, les clients s'attendent à ce que le cabinet en intègre le coût dans ses frais généraux de manière à valoriser le taux horaire des professionnels du cabinet. En ce qui concerne les autres technologies propres à certains clients ou dossiers, les coûts en sont souvent imputés au client, comme les frais d'investigation informatique et de stockage des données.
On observe souvent dans la pratique que les cabinets comptables et actuariels comptent soit un « supplément technologique » égal à un pourcentage du compte total, doit des frais à l'unité, par page ou par document. Il s'agit de méthodes possibles que les avocats internes et externes doivent explorer afin de retenir la plus sensée dans les circonstances particulières du dossier.
En ce qui concerne les technologies exclusives élaborées par un cabinet, on trouve divers mécanismes de tarification sur le marché. On peut par exemple imposer au client des droits de licence ou d'abonnement, lui compter des frais fixes qui s'ajoutent à chaque dossier où la technologie est utilisée ou encore intégrer l'élément technologique dans la convention d'honoraires globale. Comme toujours, le client et l'avocat doivent discuter pour établir si le client veut se servir d'une technologie particulière en vue d'automatiser une partie du travail juridique, auquel cas il faudra attribuer une valeur convenable à l'élément technologique.
Deuxième composante : tarification du processus d'automatisation
Alors que certaines technologies sont conçues pour être utilisées dès leur installation, comme les outils de gestion de clôture ou les outils de vérification diligente au moyen de l'IA, d'autres exigent beaucoup de temps et d'expertise de la part des avocats et informaticiens pour être adaptées à l'application juridique recherchée. L'ampleur de l'investissement en temps et en connaissances spécialisées devient évidente en pratique quand on constate qu'un cabinet acquiert un produit technologique prêt à l'emploi avec un clic de souris, mais qu'il faut de nombreuses heures à ses experts pour déployer la technologie servant à automatiser un service juridique pour un client. Les services productisés génériques mis à la disposition d'un large éventail de clients, comme les outils de services-conseils spécialisés sur une question juridique précise offerts sur abonnement, sont des exemples de services automatisés proposés par les cabinets. À l'autre extrémité du spectre, on trouve les éléments automatisés sur mesure pour un client, comme l'automatisation d'une suite de documents adaptés au client.
On peut évaluer la composante du processus d'automatisation qui requiert de la main-d'Suvre de plusieurs façons :
Recours aux taux horaires applicables aux informaticiens et avocats qui travaillent sur l'automatisation;
Intégration du processus d'automatisation dans les frais fixes ajoutés à chaque dossier dans lequel le produit ou le service automatisé est utilisé;
Inclusion de l'élément automatisé dans la convention d'honoraires globale.
La dernière solution est souvent considérée comme un frein à l'innovation, mais peut s'avérer efficace lorsque le cabinet se voit confier un volume élevé de mandats similaires.
Troisième composante : tarification du travail humain nécessaire à l'adaptation et à l'intégration de la technologie et du produit automatisé et à la prestation de service
Dans de nombreux mandats, même si la technologie ou le produit juridique automatisé peut être facilement intégré au mandat global, une grande part du travail consiste en services-conseils donnés au client par un avocat en qui il a confiance. Par exemple, la vérification diligente au moyen de l'IA peut rendre la vérification plus efficace, mais elle n'élimine généralement pas le besoin de faire revoir, analyser et évaluer le résultat par un avocat. De même, lorsque le cabinet automatise les documents utilisés à répétition par un client, un avocat doit quand même passer en revue et personnaliser les documents, gérer la tranche non automatisée du processus, communiquer avec le client pour obtenir les précisions nécessaires, fournir des avis juridiques et veiller à la qualité des services fournis pour en assurer l'excellence.
Ce volet du service global est le plus facile à évaluer, car il nous est déjà familier, de sorte qu'il est possible d'avoir recours aux méthodes usuelles comme les taux horaires, les prévisions budgétaires ou d'autres conventions d'honoraires alternatives.
Cliquez ici pour accéder au guide infographique qui illustre certaines situations et options de tarification habituelles où les produits technologiques sont intégrés au travail juridique.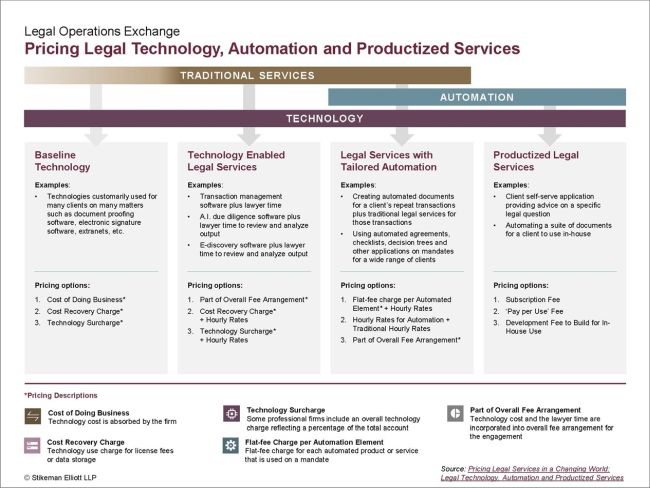 Établir un prix équitable
Le travail juridique automatisé est un phénomène assez nouveau et, d'après notre expérience, encore peu répandu, mais les « cas d'usage » sont en progression. La tarification de mandats nouveaux ou inconnus est toujours difficile, mais comme c'est souvent le cas dans le monde juridique, la solution se trouve dans la communication. Comme nous l'avons exposé dans le 2e billet, il est essentiel d'avoir une « conversation sur la valeur » dans toute discussion sur la tarification, qui aborde les points suivants :
Quel serait un résultat positif du mandat selon le client ?
Quelle valeur le client accorde-t-il à ce résultat ?
Le cabinet d'avocats peut-il atteindre ce résultat de manière rentable selon la valeur que le client est prêt à lui attribuer ?
Lorsqu'il est question de services juridiques automatisés, un autre élément s'ajoute à la conversation sur la valeur :
Un volet technologie et automatisation doit-il être prévu ? Le cas échéant, quelle valeur doit-on accorder à ces éléments ?
Certains facteurs dont les clients et les avocats externes tiennent généralement compte pour évaluer la valeur des services automatisés par rapport aux services classiques sont la vitesse, la qualité du produit, la facilité d'utilisation pour l'équipe du client, la disponibilité d'autres solutions non automatisées et le coût. Les avocats internes et externes qui discutent expressément de la valeur de l'automatisation réussiront sans doute à nouer un dialogue qui nous mènera au fil du temps à des solutions pratiques, susceptibles d'améliorer la qualité des services juridiques pour nous tous.
Faites-nous part de vos expériences – en qualité d'utilisateur ou de concepteur de services juridiques automatisés – et de vos opinions à propos de la valeur et de la tarification.
Autres lectures et ressources
Mohanbir Sawhney, « Putting Products into Services », Harvard Business Review, (septembre 2016)
Eisha Armstrong, Turning Customized Services into Scalable Products: Where to Start (billet de blogue)
Eisha Armstrong, The 3 Cs of Cannibalization: A Product Strategy Primer (billet de blogue)
2019 Law Firms in Transition (sondage d'Altman Weil)
Investment Trends in Legal Technology (HSBC 2018)
Rob Mattern, Cost Recovery Strategies that Work for the New Legal Market (lawtechnologytoday.org – 20 janvier 2015)
Simon Chester, « Technology and the Hourly Billing Challenge », LawPro Magazine (été 2008)
The content of this article is intended to provide a general guide to the subject matter. Specialist advice should be sought about your specific circumstances.