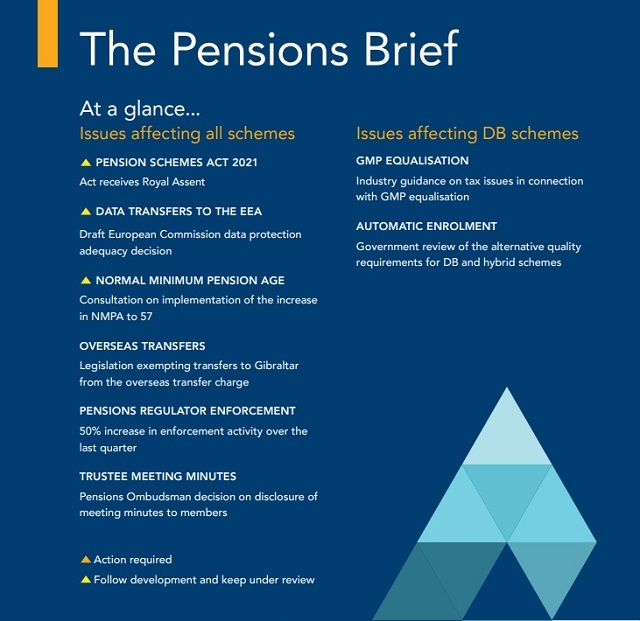 Issues affecting all schemes
Pension Schemes Act 2021
The Act has now received Royal Assent. It introduces important changes including:
Enhanced Pensions Regulator enforcement powers (including new criminal offences).
Additional DB scheme funding requirements.
Changes to transfer rights.
New climate change-related governance and reporting requirements.
A structure for a pensions dashboard service.
A framework for collective money purchase pension schemes.
For more information, please see our legal update. The government plans to consult on regulations implementing the Act's provisions over the course of this year.
Action
Employers and trustees should keep the progress of implementation of the Act's provisions under review.
Data protection – transfers of data to the EEA
Data protection – transfers of data to the EEA
The European Commission (EC) has now published a draft adequacy decision in favour of the UK with the aim of completing the adoption process by 30 June 2021. If the draft adequacy decision is adopted within this timeframe, then when the further transitional period ends, transfers of personal data to and from controllers and processors in the UK and EEA will be able to continue as they do currently, i.e. as if the UK were still an EU member state.
However, if the draft decision is not adopted by 30 June 2021, and no alternative bridging mechanism is put in place, EEA-based third parties will be required to implement an appropriate transfer mechanism under the EU GDPR for transfers of personal data to the UK after that date (although UK pensions schemes would be able to transfer personal data to the EEA without additional transfer mechanisms). If this were to be the case, trustees would need to take steps to ensure transfer mechanisms required under the EU GDPR are put in place with EEA-based third parties.
For more information, please see our legal update.
Action
Trustees should keep the progress of the EC's adoption of the draft adequacy decision under review.
To read the full article click here
Visit us at mayerbrown.com
Mayer Brown is a global legal services provider comprising legal practices that are separate entities (the "Mayer Brown Practices"). The Mayer Brown Practices are: Mayer Brown LLP and Mayer Brown Europe – Brussels LLP, both limited liability partnerships established in Illinois USA; Mayer Brown International LLP, a limited liability partnership incorporated in England and Wales (authorized and regulated by the Solicitors Regulation Authority and registered in England and Wales number OC 303359); Mayer Brown, a SELAS established in France; Mayer Brown JSM, a Hong Kong partnership and its associated entities in Asia; and Tauil & Chequer Advogados, a Brazilian law partnership with which Mayer Brown is associated. "Mayer Brown" and the Mayer Brown logo are the trademarks of the Mayer Brown Practices in their respective jurisdictions.
© Copyright 2020. The Mayer Brown Practices. All rights reserved.
This Mayer Brown article provides information and comments on legal issues and developments of interest. The foregoing is not a comprehensive treatment of the subject matter covered and is not intended to provide legal advice. Readers should seek specific legal advice before taking any action with respect to the matters discussed herein.