Introduction
The market for green loans, sustainability-linked loans (SLLs) and social loans (collectively, ESG Loans1) is growing rapidly. However, it is moving so quickly that it can be hard to get a grip on market trends. We have developed an online platform which helps provide a more complete, and data-driven, picture of the market.
Early in 2022, we started gathering and structuring key data on the ESG Loans our EMEA offices have advised on. We worked with our innovation programme (known as NRF Transform) to develop an online platform to collect, store and analyse the data.
We are now ready to share our first insights based on the data we have gathered in over 50 ESG Loans across Europe, the Middle East and Asia-Pacific. We plan to provide further and more in-depth insights as our data set grows.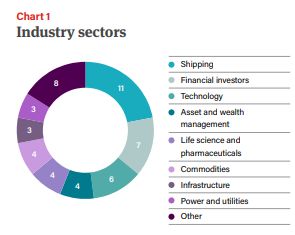 As a large law firm, we work in a wide variety of sectors. As we would expect, given the ubiquity of ESG and sustainability in recent years, we are seeing ESG Loans across all industry sectors.
It is notable that shipping and financial investors are the most common sectors in our data set. Clients in both of these sectors have embraced the opportunity to borrow ESG Loans to show their sustainability credentials and to de-carbonise their businesses. For both sectors, the vast majority of these ESG Loans were SLLs. This makes sense given the fact that SLLs do not have a "use of proceeds" requirement, so are more readily accessible than green loans.
Based on our data, we have seen lower number of ESG Loans from resource-intensive industries (commodities, power and utilities and oil and gas), but we expect that to increase as transition plans for companies in these sectors develop.
Green loans in particular are being utilised in the renewables sector and SLLs and social loans are of interest to those in the commodities sector, particularly for supporting low income farmers and producers in improving crop yields (which is one SLL we have worked on).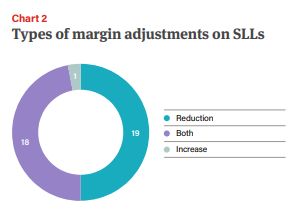 The Sustainability-Linked Loan Principles (SLLPs) provide that a key characteristic of an SLL is that an "economic outcome" is linked to whether the relevant sustainability targets are met. The SLLPs do not specify what that "economic outcome" should be. In practice, in the vast majority of cases, that outcome is an adjustment to the Margin.
In the early days of SLLs, we generally saw downward-only Margin adjustments. This made SLLs popular with borrowers because there was no risk of a price increase, regardless of their sustainability performance. However, in the last year or so, we are increasingly seeing lenders insist on Margin increases for bad performance along with Margin decreases for good performance (known as two-way Margin adjustments). While this is not required by the SLLPs, lenders are using two-way Margin adjustments in an effort to bolster the integrity of SLLs Our data set shows a fairly even split between as a whole. "downward-only" and two-way Margin adjustments*. As our data set grows, we hope to track changes in Margin treatment in SLLs over time. We expect to see more two-way Margin adjustments in future.
To view the full article please click here.
Footnote
1 The term specifically refers to financing transactions that adhere to the principles set by the key loan associations under their Sustainability-linked Loans, Green Loans and Social Loans principles.
* The "increase only" ESG Loan included in Chart 2 was due to the particular circumstances of that loan. Essentially, the transaction was structured so that the Margin would not be adjusted if the sustainability targets were met, but would increase if they were not met.
The content of this article is intended to provide a general guide to the subject matter. Specialist advice should be sought about your specific circumstances.