It is always great when the popular press reports on a story relating to the infringement of intellectual property rights. Whether it is Marks & Spencer's Colin the Caterpillar being copied by Aldi or Ed Sheeran being accused of taking a rift from Marvin Gaye, these cases have a number of common themes and some lessons to learn about intellectual property rights.
Here are a couple of recent cases to illustrate the issues which arise when a party copies the market leader or when a market leader is accused of copying.
Marks & Spencer -v- Aldi – Christmas Gin bottle
The first thing to say is that there is no such thing as the "change 7 things" rule in intellectual property cases. If you start with someone else's product and try to imitate it, you are likely to find yourself in trouble.
Copying names, get-up and design features are all problematic. The use of mood boards can send designers down the wrong path because they can't shake the inspiration from their heads. You should also bear in mind that adding different embellishments or wording to try and differentiate the products probably won't help either.
The designs in issue in the M&S gin bottle case were: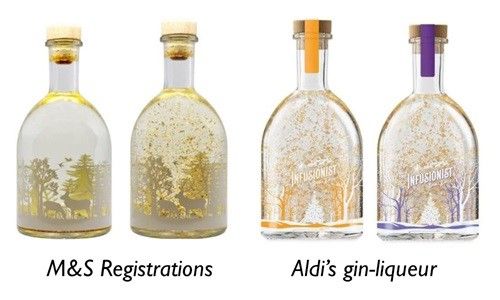 What did the court decide? Despite the differences, because of a number of common features including the snow effect, integrated light and wintry-design, Aldi infringed M&S' registered design rights.
Key take aways: Don't copy protected features of designs and don't rely on additions to differentiate your product from the market leader.
At the other end of the scale, we often hear of a market leader being accused of taking another's idea. Often such cases involve a little-known person whose work has gained virtually no exposure.
Another golden rule of intellectual property is that in copyright, if you haven't "copied" you cannot infringe anyone's rights. That was Ed Sheeran's successful defence and so the court also held in the case of the John Lewis Christmas advert which featured the dragon "Excitable Edgar" (the one on the right below).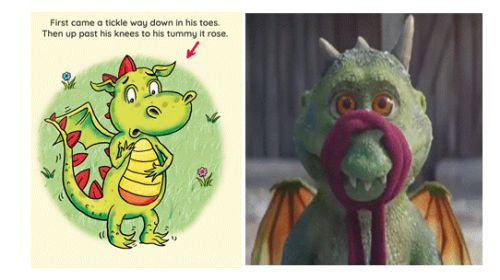 What did the court decide? No infringement. The "copied" elements could be attributed to hundreds of stories about dragons or other characters from literature. Importantly, there was no evidence of copying not least because the book, "Fred the fire-sneezing dragon", had sold only 120 or so copies and the preparatory steps for the John Lewis advert began in 2016 before the book was published in 2017.
Key take aways: It is possible to come up with a very similar ideas independently and not infringe copyright.
The content of this article is intended to provide a general guide to the subject matter. Specialist advice should be sought about your specific circumstances.