Hundred Year Anniversary of the Turkish Republic
The Turkish Government has planned and initiated a set of infrastructure investments both as public investments and PPP projects before the hundred year anniversary of the Turkish Republic in 2023.
A total of c.USD 325 bn is expected to be invested in CP&I projects within the following 7-8 years period.
Key Growth Areas
The main focus of the Government is to extend the motorway and divided road network, establish a wide range high speed train network, continue the healthcare campus projects to raise quality of the healthcare services across the nation.
In addition, to maintain the hub role in the region, high capacity port and airport investments are also key growth areas of the Government.
Total installed capacity of the power plants will be increased to secure the power supply through renewable, local coal and nuclear power plant investments.
Turkish telecoms sector is also one of the key growth areas in Turkey, which is mainly driven by the investments of private telecom companies rather than Government spending.
Potential in Further Areas
In addition to the 2023 target sectors, the following sectors are also considered to be developed through further CP&I investments;
Education; The Government is planning to invest in Education Campus PPP projects in the following years in a similar structure with Healthcare PPP projects.
Water Treatment and Sewage systems: The water treatment and sewage systems are within the responsibility of the municipalities in Turkey, where there is lack of sufficient systems especially in rural areas of Turkey.
Natural gas pipelines; Being in a strategic location between the natural gas producer and consumer geographies, Turkey is acting as a bridge for the transmission of natural gas and with existing and future pipeline projects.
Total CP&I spending is estimated to be c.USD325 bn until 2023 for the selected sectors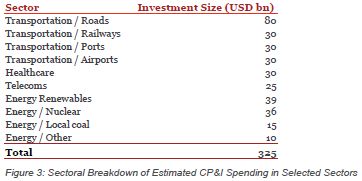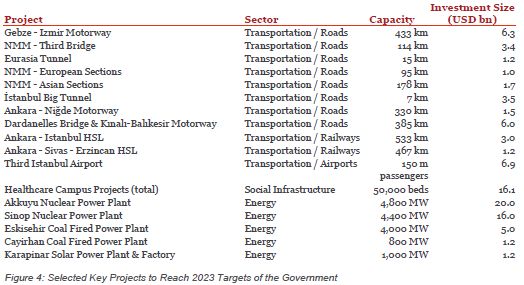 The content of this article is intended to provide a general guide to the subject matter. Specialist advice should be sought about your specific circumstances.