On International Women's Day, it's our pleasure to share this conversation with playwright JOT Agyeman who has just finished the script for "Yaa Asantewaa", his play depicting the story of how one of Africa's most iconic women in history defied the odds to fight for Ghana's freedom from British colonial rule. In this conversation, JOT speaks about his inspiration, his approach to his craft and Ghana's performing arts industry more broadly.
JOT, it's great to exchange with you once again.You've just finished writing a script for a new play you've crafted on the story of the Ghanaian heroine, Yaa Asantewaa. We've just emerged from Black History Month, Ghana Independence (or re-independence) and today is International Women's Day. How relevant is the story of Yaa Asantewaa for us today? How universal would you say her story is?
Yaa Asantewaa's story is a timeless story. In a world where inequality still exists, it reminds us of the courage and boldness of one woman against imperial domination. Today's issues may not be about imperialism or colonial domination but the issues of inequalities against women, against minority groups, against political dictatorship all exist. From the shores of the United States of America where African Americans are still struggling for equality to the xenophobic injustices against other Africans in South Africa, the world is inundated with many issues that need a Yaa Asantewaa of today.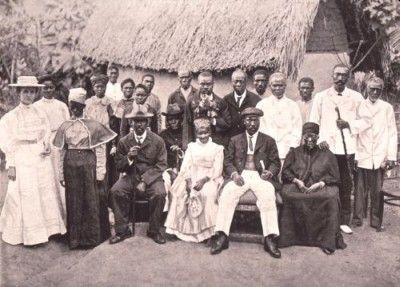 King Prempeh, Nana Yaa Akyaa and Yaa Asantewaa (in white, third from right, first row). Basel Missionaries Archives. https://www.bmarchives.org/
You manage to bring real texture to the characters you portray- their voices, posture, emotions are so palpable, even when reading the script, so I have no doubt that once it's staged, it really will be transportive. What was the process you had to go through to be able to bring these characters (back) to life?
I try in my writings to be true to history. My research sends me deep into thought in my character development process. I take on the role of each character and immerse myself into the time period. As a student of history, I learn the times and seasons in which these characters lived. Their names are real. They were alive and played significant roles during the period. For most of them, oral tradition exists on who they were. What I do is to find as much as possible as I can and then recreate their 'world' within the period. It is also important to say that a lot of the tradition still exists today and a number of the locations represented also exists.
You've written a number of books and scripts- the creative arts flows through your veins. Even though creative expression visibly comes to you naturally, exposing your talent, putting yourself 'out there', is a vulnerable position to be in. How do you overcome that feeling, if you do ever feel it? Or how could you advise others who may be hesitant to go full force in embracing their creative genius for fear of judgement?
It is a rather lonely journey to be a creative person. It is important to know that your work will be judged, appraised and criticized by those who were not on the journey with you. I like to think that it is a calling. I believe in what I do and though the rewards are little at this time, I do not do it for the reward. For me, posterity is my reward. I know that sounds a little out of place but it is true to say that when I embark on a journey of discovery, I hope to leave footprints for others to follow.
What are the various stages involved in showcasing a play in Ghana- the supply chain if you will – and what are the costs involved?
Playwrights do most of the work on their own. There are no creative structures for the development of plays in Ghana. With the exception of the School of Performing Arts and other Universities where theatre is taught, there are practically no theatres available to stage plays. The National Theatre is the only space where you can be assured of a proper theatre space. There are no producers and funding is always by who you know. Costs for plays at the National Theatre including Artiste fees, set design, sound, costume and other can reach about 100K in cedis. Theatre production is not for the faint-hearted.
In what way do you feel that the creative industries in Ghana, particularly theatre, can be better supported in Ghana/ Africa? Where do the gaps truly lie?
Ghana has always been blessed with great playwrights. Greats such as Efua Sutherland, Ben Abdallah, Martin Owusu, Yaw Asare, Efo Kodjo Mawugbe, Ama Ata Aidoo, Daniel Appiah-Adjei have all written plays that are lasting legacies of their craft. Though some of them have sadly left us, there are others still writing and plodding along hoping for a breakthrough which never comes. Publishing is a headache and performing your plays is sometimes even more daunting. There is no funding for theatre. The National Theatre should be given the mandate to source and fund the best plays from Ghana every year but they are also poorly funded and though they do their best to partner with theatre producers, it is not enough. In the West End and Broadway, one play can run for years, in Ghana, a play runs for just a day.
How has the industry evolved over the lifespan of your career?
There has been quite a lot done by individuals. During the 80's and 90's theatre died during the revolution era. In recent times playwrights like Ebo Whyte challenge the status quo and we saw a revival of theatre. Now there are a handful of directors and producers plying their trade mostly at the National Theatre in Accra. The rest of the county is still fallow ground when it comes to theatre with the exception of the theatre schools in Legon, Winneba and Cape Coast.
What's next for you after Yaa Asantewaa?
There are so many stories to tell. We have been blessed as a people. Our history is rich and our culture dynamic. We have not even scratched the surface of what we can do as playwrights and theatre practitioners. My focus now is to have a production of Yaa Asantewaa on stage and then possibly into a film for the world to see and appreciate. In the meantime, I continue to write stories both on history and on contemporary issues.
The content of this article is intended to provide a general guide to the subject matter. Specialist advice should be sought about your specific circumstances.