Le 14 avril 2022, à la surprise générale, Elon Musk patron de Tesla et de Space X, formulait une offre généreuse pour acheter le réseau social Twitter.
Son ambition n'était pas de réaliser une opération financière rentable, mais bien d'acquérir la plateforme pour y abolir la censure. Défenseur d'une liberté d'expression à l'américaine Elon Musk considère la modération comme une forme de censure et entend faire de Twitter un réseau social sur lequel la parole sera quasiment totalement libre.
Par d'habiles manSuvres juridiques, Elon Musk avait réussi à contraindre le conseil d'administration de Twitter à accepter son offre. Le 25 avril dernier, au terme d'un suspense inexistant, l'offre de 44 milliards de dollars avait finalement été acceptée.
Cette annonce a suscité, à travers le monde, tantôt inquiétude tantôt enthousiasme, mais a surtout permis à Elon Musk d'occuper la sphère médiatique mondiale, chose qu'il semble affectionner particulièrement.
Cependant, le 13 mai 2022, coup de tonnerre. Le milliardaire annonce dans un tweet que le rachat est suspendu en raison d'un manque de clarté sur le nombre de faux comptes et spams sur Twitter. Elon Musk dévoile au grand public qu'il conditionne l'achat du réseau social à ce que le nombre de faux comptes ne dépasse pas 5% de la totalité des utilisateurs.
En réaction à cette annonce, l'action de Twitter a plongé de 9,7% à Wall Street, témoin que la bourse commence à douter, elle aussi, du futur de l'opération.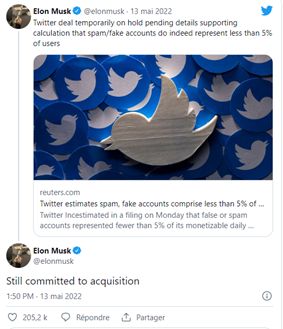 L'acquisition de Twitter est suspendue de manière temporaire dans l'attente de détails sur le fait que les spams et les faux comptes représentent bien moins de 5% du nombre d'utilisateurs. Toujours engagé dans l'acquisition.
Pourquoi Elon Musk fait-il volte-face ?
Le patron de Tesla et SpaceX, n'a jamais caché ses ambitions dans la mesure où il les communique via Twitter. En effet, l'une de ses priorités a toujours été de supprimer les faux-comptes et les spams, notamment en mettant en place une procédure d'authentification de la personne physique par un processus encore inconnu.
Début mai, lors de la présentation de ses résultats trimestriels, Twitter a indiqué compter, en moyenne de janvier à mars, 229 millions d'utilisateurs quotidiens "monétisables", sujets à de la publicité. Le réseau social lui-même, a avancé que moins de 5% de ces millions d'utilisateurs étaient des spams.
Pourquoi cette proportion de faux comptes est-elle si importante ?
Le chiffre des spams revêt une importance capitale pour Elon Musk, car il s'agit d'un indicateur clé pour mesurer d'éventuels revenus publicitaires. Le nombre précis de personnes qui tweetent réellement permet de calculer les futurs revenus issus de la publicité ou des abonnements payants.
Le recueil de cette information est légitime pour un investisseur qui cherche à rentabiliser son acquisition. Pourtant, on sait que la priorité d'Elon Musk n'est pas, en apparence, le profit. Pour preuve, il a formulé une offre d'achat bien supérieure à la valeur réelle du réseau social, à 54.20$ par action contre 37.39$ de valeur à la clôture de la bourse le 16 mai 2022.
Dès lors, quel serait l'objectif d'Elon Musk ?
Elon Musk cherche-t-il à négocier à la baisse le prix de vente ? Est-ce une manSuvre pour occuper l'espace médiatique ? Se rend-il coupable de manSuvres dilatoires ? Nul ne le sait pour l'instant.
20% de faux comptes, plus de 4 fois ce que prétend twitter, et cela pourrait être encore supérieur. Mon offre était fondée sur la validité de la déclaration faite par Twitter à la SEC (AMF américain). Hier le PDG de Twitter a publiquement refusé de prouver les 5%. L'achat ne pourra pas avancer tant qu'il ne le fait pas.
En tout état de cause, Elon Musk fait la pluie et le beau temps chez les actionnaires de Twitter en se cachant derrière des prétentions quelque peu sibyllines. Le Milliardaire, tel un chef d'orchestre a réussi la prouesse de manipuler la bourse par l'intermédiaire de ses tweets.
La réaction en demi-teinte de Twitter
Pour prouver que le nombre de faux-compte était de 20%, Elon Musk a indiqué que son équipe avait procédé à un calcul sur un échantillon de 100 comptes Twitter. S'il a choisi ce nombre, c'est parce que c'est le même échantillon utilisé par Twitter pour estimer le pourcentage de faux comptes et spams. Elon Musk a donc rendu publique leur méthode de calcul.
La réaction de Twitter ne s'est pas fait attendre. Le réseau social affirme qu'en rendant public cet échantillonnage, M.Musk a violé une clause de confidentialité. C'est le principal intéressé lui-même qui a rendu cette information publique dans un tweet provocateur.
A l'heure où ces lignes sont écrites, Twitter n'a pas intenté d'action en justice contre Musk pour ce qu'elle considère comme une violation d'une clause de confidentialité.
Vers un dénouement proche pour Twitter/ Musk
Le 6 juin 2022 Elon Musk, par le biais de ses avocats, a mis en demeure Twitter de lui communiquer les données sur les spams et faux comptes du réseau social.
Le patron de Tesla offre plusieurs garanties au conseil d'administration pour les convaincre de lui transmettre les données de calcul des faux comptes :
L'ensemble des personnes ayant accès à ces informations seront liées par un accord de confidentialité (Non Disclosure Agreement / NDA) ;
Elon Musk ne saurait conserver et utiliser ces données si la transaction venait à ne pas se réaliser.
L'offre de rachat acceptée par Twitter
Les avocats ajoutent qu'ils suspectent Twitter de résister activement à l'exercice du droit à l'information de M.Musk, qui est pourtant prévu dans le protocole d'achat, en refusant de communiquer ces données.
Cependant, sous la pression médiatique et financière, le conseil d'administration a fini par flancher le 20 juin 2022. Selon le New York Post1, la proposition de rachat évaluée à 44 milliards de dollars a finalement été approuvée à l'unanimité par le conseil d'administration.
L'insistance de la communication des données par Elon Musk
Cela signe-t-il la fin de la saga du rachat de Twitter ? Rien n'est moins sûr, car désormais la balle est dans le camp du milliardaire.
En effet, Elon Musk s'est exprimé sur le déroulé des opérations au Forum Economique du Qatar le 22 juin. Il a rappelé que les données sur les faux comptes et les spams sont indispensables à sa prise de décision dans le rachat de Twitter.
S'il semble clair qu'Elon Musk cherche à gagner du temps pour faire baisser le prix, il pourrait être rattrapé par la SEC, le gendarme américain des marchés financiers, qui pourrait le contraindre de payer au prix convenu, en vertu de l'accord unanime du conseil d'administration.
Ce scénario a déjà été observé Outre-Atlantique. LVMH, plus grande entreprise française, avait menacé, en 2020, d'annuler son offre de rachat de l'entreprise Tiffany & Co, si le prix n'était pas revu à la baisse. Cette méthode s'était révélée payante, puisque le prix était passé de 16.2 Mds$ à 15.8 Mds$ accusant une baisse de 425 millions de dollars.
En tout état de cause, le dénouement semble proche pour Twitter comme pour Elon Musk qui aura, avec une grande habileté, su occuper le devant de la scène médiatique et user de son influence pour faire pression sur le conseil d'administration et les pousser à accepter ses conditions.
Footnote
1. New York Post - Board unanimously approves Elon Musk's $44B Twitter takeover bid – 21 juin 2022
The content of this article is intended to provide a general guide to the subject matter. Specialist advice should be sought about your specific circumstances.