September 21, 2023, marked the sixth anniversary of the significant amendments to the Patented Medicines (Notice of Compliance) Regulations (Regulations). This article provides an update on activities in the sixth year following the amendments, including new actions and Court decisions, both on the merits and procedural (our fifth anniversary update is available with links to prior year updates).
Status of actions under the Regulations
From September 21, 2022 to September 20, 2023, approximately 29 sets1 of actions (41 total actions) under section 6(1) were started. A comparison to previous years is provided below: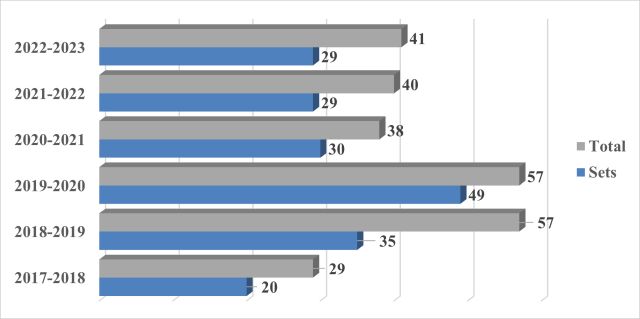 Of the approximately 262 actions started since the amendments, the majority continue to be resolved prior to completion of trial (181, in grey below).
No new decisions on the merits have been released, therefore the results remain the same as last year: twenty-six actions were pursued to a decision on the merits; the innovator was successful in 12. As the Court issued a single set of reasons for some actions heard together, there are 15 decisions on the merits, nine of which were in favour of the innovator. Appeals are pending from five decisions on the merits; six trial decisions were affirmed on appeal.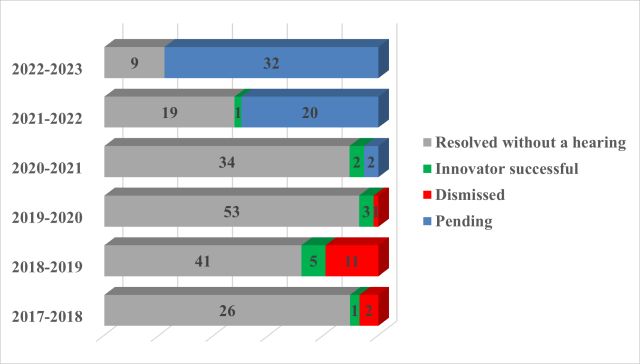 The following 20 drugs have at least one action ongoing (although some of the actions may be stayed or adjourned pending appeal, or have been tried and a decision is under reserve):
adalimumab (AbbVie's HUMIRA)
aflibercept (Bayer's EYLEA)
bimatoprost (Allergan's LUMIGAN RC)
brexpiprazole (Otsuka's REXULTI)
carfilzomib (Amgen's KYPROLIS)
cladribine (EMD Serono's MAVENCLAD)
dexlansoprazole (Takeda's DEXILANT)
eculizumab (Alexion's SOLIRIS)
empagliflozin (Boehringer's JARDIANCE)
emtricitabine, rilpivirine, tenofovir alafenamide (Gilead's ODEFSEY)
eslicarbazepine acetate (Sunovion's APTIOM)
linagliptin (Boehringer's TRAJENTA)
macitentan (Janssen's OPSUMIT)
nilotinib (Novartis's TASIGNA)
nintedanib (Boehringer's OFEV)
paliperidone palmitate (Janssen's INVEGA SUSTENNA)
sacubitril/valsartan (Novartis' ENTRESTO)
selexipag (Janssen's UPTRAVI)
tenofovir alafenamide/emtricitabine (Gilead's DESCOVY)
tenofovir alafenamide (Gilead's VEMLIDY)
In the last year, Pharmascience was the most active patent challenger (defendant in eight new actions relating to seven drugs), followed by Apotex (defendant in five new actions relating to five drugs).
Section 8.2 actions: In the past year, eleven actions were commenced under section 8.2 (for a total of 23 commenced since the amendments to the Regulations). Section 8.2 permits a first person/patentee to bring an infringement action asserting an unaddressed patent once served with a Notice of Allegation (NOA). Eleven actions are ongoing, relating to aflibercept (Bayer's EYLEA) and brexpiprazole (Otsuka's REXULTI).
In general, trials of section 8.2 proceedings have been scheduled approximately three to four months after the trial of the section 6 proceedings. None have yet proceeded to trial.
Section 8.1 actions: Biosimilar manufacturers have also commenced actions seeking declarations of invalidity and non-infringement of patents either before filing a new drug submission or pursuant to section 8.1 of the Regulations. Section 8.1 deems a person who files a submission for a notice of compliance who has reasonable grounds to believe the drug might be alleged to infringe a patent, an 'interested person' who may bring an action for a declaration of patent invalidity. In the last year, Samsung Bioepis and Amgen have commenced actions seeking declarations of invalidity of a patent relating to eculizumab (Alexion's SOLIRIS), and Amgen has commenced an action seeking to invalidate patents relating to aflibercept (Bayer's EYLEA).
Decisions on the Merits
There were no decisions on the merits from the Federal Court (no trial or summary judgment/trial decisions relating to infringement or invalidity) in the past year. The Federal Court of Appeal dismissed appeals from two trial decisions:
Teva Canada Limited v Janssen Inc (paliperidone palmitate, INVEGA SUSTENNA) – The FCA dismissed Teva's appeal on direct infringement and obviousness of claims relating to dosing regimens in a section 6(1) action under the Regulations and allowed Janssen's cross-appeal on inducing infringement. On the latter, the FC's test was too stringent; its finding that the capable, approved and intended use for the Teva product incorporated all the dosing and administration elements of the product claims inevitably leads to the conclusion that Teva would induce infringement.
Janssen Inc. v. Apotex Inc (abiraterone acetate, ZYTIGA) – The FCA dismissed Janssen's appeal on obviousness of claims relating to treatment of prostate cancer in humans by co-administration of abiraterone acetate and prednisone.
Decisions on Procedural Matters
In addition, a number of decisions were released in the past year which provide interpretation on aspects of the Regulations:
In addition, in actions under the Regulations, the Federal Court provided guidance on aspects of the Federal Courts Rules:
Boehringer Ingelheim (Canada) Ltd v Jamp Pharma Corporation (empagliflozin, JARDIANCE) – The Federal Court dismissed a motion for an order requiring the Plaintiffs to (i) produce inventor employees for examination, (ii) provide better contact information for the inventors, and (iii) make certain inventor employees available for a one-hour videoconference. The Court ruled that neither the Federal Courts Rules nor Regulations provide a basis for such orders.
Boehringer Ingelheim (Canada) Ltd v Sandoz Canada Inc (empagliflozin, JARDIANCE) – The Federal Court held that counsel for the patentee may attend the examination of an inventor and object on the record, even if they do not act for the inventor, and that the Court cannot compel the Plaintiffs to provide answers from an inventor to questions refused during such discovery. However, the Court ordered the Plaintiffs to make "best efforts" to try to obtain answers from the inventors to proper questions.
Boehringer Ingelheim (Canada) Ltd v Sandoz Canada Inc (empagliflozin, JARDIANCE) – The Court declined to require the Plaintiffs to serve fact evidence pertaining to the invention story of their patents, including any inventor evidence, one month before in-chief expert reports on invalidity. The Court declined to vary the usual order for introduction of evidence, which requires the party challenging the validity of a patent to introduce evidence first.
Section 8
To date, there have been no amended section 8 decisions on the merits, and no new actions pursuant to section 8 of the Regulations in the past year. Section 8 proceedings brought by Dr. Reddy's and Apotex against Janssen regarding their abiraterone acetate products (Janssen's ZYTIGA) were scheduled for consecutive trials in June 2023, but were discontinued. Three other section 8 actions remain pending:
fampridine (commenced by Pharmascience and separately Taro Pharmaceuticals)
abiraterone (commenced by Pharmascience) – trial scheduled for May 2025.
The Ontario Superior Court of Justice dismissed Apotex's claim for damages under pre-amended section 8 relating to atomoxetine (Eli Lilly's STRATTERA) finding that Apotex had not sustained any damages.
Footnotes
1. Actions between the same parties regarding the same innovator reference drug are considered one "set". The counts are provided as of the six-year anniversary, September 21, 2023.
Should you have any questions, please do not hesitate to contact a member of the  Pharmaceutical Litigation group.
The preceding is intended as a timely update on Canadian intellectual property and technology law. The content is informational only and does not constitute legal or professional advice. To obtain such advice, please communicate with our offices directly.