Keywords: pre-Salt round, October 2013, CNPE
The Pre-Salt Round 1 will be promoted in accordance with the production sharing regime in force in Brazil since the issuance of Law No. 12.351/2010.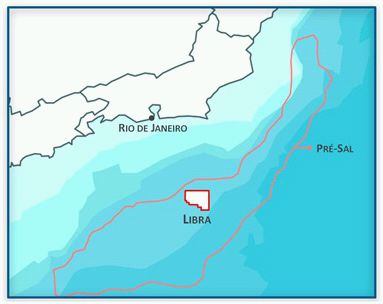 The bid, which was initially scheduled to be held in November, will occur in the second half of October and will exclusively offer the prospect of Libra, located in Santos Basin (as shown in the image). The bidding round for exploratory blocks with potential for unconventional gas, which was initially announced for October, was postponed until November.
ANP´s studies pointed out that the prospect of Libra has a potential in situ of between 26 and 42 billion barrels of oil, with a recoverable volume estimated between 8 and 12 billion barrels of oil. Due to such exceptional results, the government decided to limit the first round only in the prospect of Libra.
According to ANP´s general director, Magda Chambriard, "Marlim, which is the largest producing field in Brazil, has a recoverable volume of 2 billion barrels. The Roncador field has 2.5 billion barrels. The area that will be offered is huge and speaks for itself. It is equivalent to those two fields and others that exist in the country, together".
Although the Pré-Sal Petróleo S.A (PPSA), a public company that will be responsible for the management of the production sharing agreements, is still not completely organized, the general director understands that ANP may temporarily represent the government until the organization of PPSA is concluded.
The relevant tender protocol is expected to be published next week.
Originally published May 24, 2013
Learn more about our Energy practice.
Visit us at Tauil & Chequer
Founded in 2001, Tauil & Chequer Advogados is a full service law firm with approximately 90 lawyers and offices in Rio de Janeiro, São Paulo and Vitória. T&C represents local and international businesses on their domestic and cross-border activities and offers clients the full range of legal services including: corporate and M&A; debt and equity capital markets; banking and finance; employment and benefits; environmental; intellectual property; litigation and dispute resolution; restructuring, bankruptcy and insolvency; tax; and real estate. The firm has a particularly strong and longstanding presence in the energy, oil and gas and infrastructure industries as well as with pension and investment funds. In December 2009, T&C entered into an agreement to operate in association with Mayer Brown LLP and become "Tauil & Chequer Advogados in association with Mayer Brown LLP."
© Copyright 2013. Tauil & Chequer Advogados, a Brazilian law partnership with which Mayer Brown is associated. All rights reserved.
This article provides information and comments on legal issues and developments of interest. The foregoing is not a comprehensive treatment of the subject matter covered and is not intended to provide legal advice. Readers should seek specific legal advice before taking any action with respect to the matters discussed herein.