The Singapore Food Agency (SFA) aims to raise awareness on food security issues by focusing on the Singapore Food Story. In doing so, SFA has launched a new local produce logo which will be found on packaging and selected marketing collateral to promote local produce. The "SG Fresh Produce (SGFP)" logo was created in consultation with more than 30 local farmers, retailers and industry associations. The finalised label won almost 70% of the votes in an online exercise that over 2,200 people were invited to pick their favourite logo designs. The logo is expected to draw local support from consumers when they shop.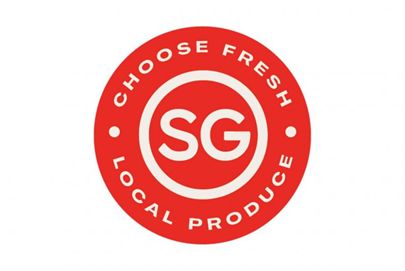 Launching a brand new logo to support "Growing Local" is one of the key strategies in the SFA's approach towards making Singapore a food secure nation and helping local businesses expand their operations overseas and export food produced in Singapore.
According to the statistics, fish, leafy vegetables and eggs are the three most commonly consumed food items in Singapore. Last year, local farms produced 14 per cent of leafy vegetables, 26 per cent of eggs and 10 per cent of fish consumed in Singapore. Singapore aims to hit a 30 by 30 goal, i.e. to grow enough food locally to meet 30% of its nutritional needs by 2030.
The SGFP logo incorporates the 3 key attributes of freshness, supporting local and the SG Brand mark. Please see below the Usage Eligibility:
If you are a farmer

If you are a Distributor/Supermarket Retailer

 

Eligibility:

Must be SFA-Licensed Farm

Eligibility:

Local produce distributed must be from SFA-Licensed farm(s) in Singapore

Logo can be used on:

1. Packaging of primary produce, i.e. fresh produce grown/cultivated in Singapore.

2. Marketing collaterals* promoting local produce.

*If the SFA-Licensed Farm carries both local and imported produce, the SGFP logo can only be used in association with the former i.e. local produce item(s) e.g. on farm's retail website, the SGFP logo should only be featured next to the local produce item and not imported produce.

 

Logo can be used on:

1. Packaging of primary produce, i.e. fresh produce grown/cultivated in Singapore.

2. Point-of-sale and any relevant marketing materials promoting local produce.

IMPORTANT NOTE:

1. Requestors must send in ALL draft artwork where the SGFP logo will be featured for SFA's clearance BEFORE actual use.

2. For usage areas not specified above, requestors must seek SFA's consideration and approval for use. Approval for usage will be granted on a case-by-case basis.

3. SFA reserves the right to impose additional conditions on logo usage if required.
Originally published by GALA, August 2020
The content of this article is intended to provide a general guide to the subject matter. Specialist advice should be sought about your specific circumstances.