As discussed in our previous blogpost, in Rimini I Oracle sued Rimini Street ("Rimini") in the District Court of Nevada asserting a number of claims including copyright infringement. The court found on summary judgment that the process to provide maintenance services that Rimini used prior to 2014 exceeded the scope of Rimini's customers' licenses. The case then went to trial and Rimini lost to Oracle, although the jury did not find that Rimini was a willful copyright infringer. The district court issued an injunction, which was largely affirmed by the Ninth Circuit. Here's how Rimini described the Rimini I litigation in a recent legal filing.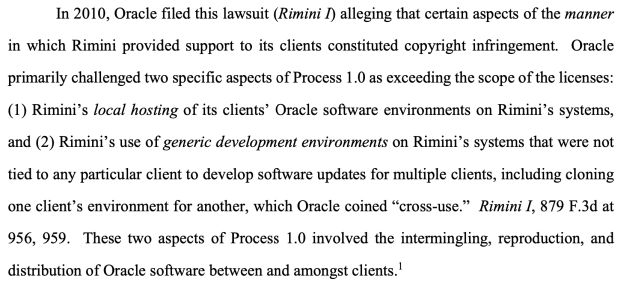 Rimini sued Oracle in a separate lawsuit in the District of Nevada seeking a declaration from the court that the new Process 2.0 Rimini instituted to provide support & maintenance did not violate Oracle's licenses. Recently Oracle has attempted to claim in the Rimini I case that Process 2.0 also constitutes copyright infringement and is seeking to hold Rimini in contempt by claiming that Process 2.0 also violates the injunction. Rimini has filed a motion to preclude Oracle from litigating issues involving Process 2.0 in the Rimini I litigation. Instead, Rimini claims that such issues are rightfully decided only in the Rimini II litigation and were not actually litigated in Rimini I. According to a recent Rimini filing:
Download >> Oracle Contends Rimini Can't Legally Access Its Support Website Without Oracle's Permission
The content of this article is intended to provide a general guide to the subject matter. Specialist advice should be sought about your specific circumstances.