December was a quiet month in the world of recalls for two reasons. First, there were only 19 product recalls—the second lowest number of monthly recalls in 2019. Second, the partial federal government shutdown has forced the CPSC along with other agencies to close until President Trump and Congress can resolve their well-publicized funding dispute.
The most noteworthy CPSC news this month concerns updated voluntary safety standards for window coverings. This action comes on a decades-long history of infant entanglement with window covering cords that gained attention for alleged underreporting as early as 1997. By 2018, a study published in Pediatrics reported that more than 16,000 children in the United States were treated in emergency departments for injuries caused by window blinds between 1990 and 2015, an average of almost two children every day. According to the study, most of those children (93 percent) were not seriously injured, but 271 children died during that time period from cord entanglement incidences. In response to mounting attention and after years of collaboration among the Window Covering Manufacturers Association, the window coverings industry, the safety community, and the CPSC, the American National Standards Institute approved an updated window covering safety standard (ANSI/WCMA A100-2018) which requires window coverings to be cordless or have short cords (eight inches or less). In addition, the standard encourages default to a wand instead of a cord and provides for more robust warning tags emphasizing the strangulation hazard that cords pose to small children. This safety standard took effect on December 15, 2018. The CPSC encourages consumers who have corded blinds to replace them with cordless blinds and follow safety tips provided at the CPSC's Window Covering Safety Education Center.
Civil penalties and the arrival of new commissioners top the list of CPSC changes in 2018. The CPSC assessed five civil penalties totaling $38.6M in 2018—higher than any other calendar year on record. Notably, one of these civil penalties was for a record-breaking $27.25M, which stands as the largest in CPSC history. In addition, two new faces appeared at the Commission. President Trump nominated and the U.S. Senate confirmed Dana Baiocco and Peter Feldman as two commissioners, restoring the CPSC's number of commissioners to five. After those two confirmations, the only political business unresolved is the appointment and confirmation of the CPSC Chairman. Observers should expect in 2019 that President Trump will again nominate Acting Chairman Ann Marie Buerkle for the vacancy.
Lawyers from Hunton Andrews Kurth LLP's Insurance Coverage practice provide an update on a previously reported recall insurance dispute:
The insurer in the Pharmavite recall coverage dispute pending in New York state court has filed a motion to dismiss due to alleged spoliation of the contaminated dietary supplements, which the insurer alleges were destroyed without notice or opportunity to perform independent testing. As previously reported on this blog, the coverage lawsuit, filed in January 2018, alleged that Pharmavite's insurer, Crum & Forster, wrongfully denied benefits under a recall insurance policy related to loss incurred by Pharmavite in connection with the withdrawal, destruction, and disposal of tainted products following an FDA recall in June 2016.
In its spoliation motion, Crum & Forster asserts that the issue of whether the products were contaminated is central to the coverage claims in dispute and that it has been severely prejudiced by the destruction of such "crucial" evidence. Pharmavite had initiated a voluntary recall of the supplement products in January 2016 and provided notice of the recall to Crum & Forster several months later. As Crum & Forster conducted its investigation of the insurance claim, Pharmavite was in contact with the FDA about the status of the voluntary recall, the termination of the agency's investigation, and the destruction of the recalled products. In the interim, Crum & Forster posed numerous information requests and potential coverage defenses under a reservation of rights, including the contention that the products were not "contaminated."
In December 2016, the FDA notified Pharmavite that it would be terminating its investigation and told the company to "[p]lease proceed with the destruction" of the recalled products. Pharmavite responded to Crum & Forster's outstanding reservation of rights letters a week later and destroyed the products in January 2017. Two weeks later, Crum & Forster denied coverage on the ground that there was no "Insured Event" triggering coverage, which was based in part on its belief that there had been not testing of the products to confirm that they were, in fact, "contaminated." In the ensuing litigation, Crum & Forster seeks dismissal of the suit due to what it calls a "textbook case of spoliation."
Pharmavite has yet to respond to Crum & Forster's motion, but the spoliation motion highlights the potential conflict between product recalls and insurance claims, where companies strive to resolve any recall incidents as quickly and efficiently as possible (including by listening to directives from the FDA), while simultaneously preserving insurance coverage by facilitating what can be cumbersome and time-consuming requests from the insurer without any guarantee of coverage. In the Pharmavite dispute, Crum & Forster had proceeded under a reservation of rights without making a coverage determination nearly a year after receiving notice, and when faced with the FDA's directive to "proceed with the destruction," Pharmavite complied with the agency's request.
Total Recalls: 19
Hazards: Fire/Burn/Shock (3); Violation of Federal Standard (3); Choke (3); Laceration (3); Injury (2); Fall (1); Impact (1); Entrapment (1); Crash (1); Carbon Monoxide (1)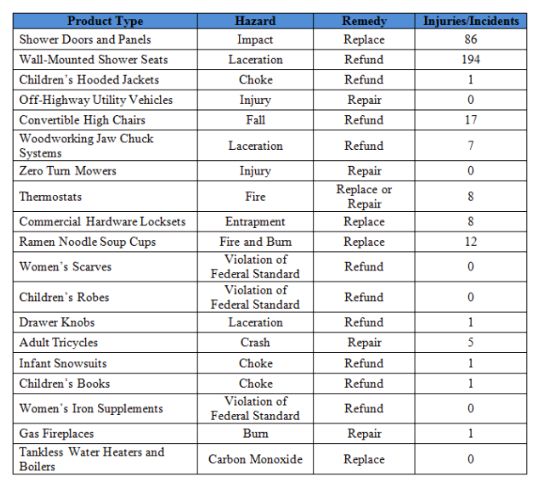 The content of this article is intended to provide a general guide to the subject matter. Specialist advice should be sought about your specific circumstances.