On May 19, 2023, the U.S., in coordination with the G7 and other international partners, released a new tranche of sanctions and other restrictive economic measures to further target Russia's capacity to continue its aggression against Ukraine. In a multi-agency effort, the U.S. designated over 300 new sanctions targets, added 71 entities to BIS's Entity List and introduced new restrictions on companies and individuals doing business with Russia's architecture and engineering sectors and on the export of certain goods to Russia, Belarus or Ukraine.
These latest measures highlight the U.S. government's continued focus on the Russian defense, technology, energy and financial sectors, and on third-country individuals and entities that provide support to Russia's war efforts or enable Russia's sanctions and export control evasion networks. The actions also re-emphasize the role financial institutions can play in preventing and reporting sanctions and export control violations by "urging financial institutions to be vigilant" through increased reporting requirements on Russian sovereign assets in the possession of U.S. persons and additional guidance on export control evasion tactics.
These measures build upon the prior U.S. sanctions on Russia described in our recent updates on August 10, 2022, and February 25, 2023.
Department of the Treasury's Office of Foreign Assets Control (OFAC)
OFAC expanded the application of existing sanctions authorities to target new sectors of Russia's economy and sever Russia's access to new categories of services, designated 22 individuals and 104 entities across more than 20 countries or jurisdictions targeting those attempting to circumvent or evade sanctions and other economic measures against Russia, the channels Russia uses to acquire critical technology, its future energy extraction capabilities and Russia's financial services sector.
Sectoral Sanctions. OFAC imposed new sectoral sanctions and prohibitions of U.S. persons providing services to persons in Russia related to architecture and engineering.
OFAC issued a determination, pursuant to section 1(a)(i) of E.O. 14024, that authorizes sanctions to be imposed on any individual or entity determined to operate or have operated in the architecture, engineering, construction, manufacturing and transportation sectors of Russia's economy.
OFAC issued a determination pursuant to E.O. 14071 prohibiting the exportation, re-exportation, sale or supply, directly or indirectly, from the U.S., or by a U.S. person, wherever located, or architecture services or engineering services to any person located in Russia. This prohibition is set to take effect at 12:01 a.m. EDT on June 18, 2023.
SDN Designations. OFAC also imposed sanctions on 22 individuals and 104 entities, targeting procurement networks; technology and electronics suppliers; Russia's future extractive capabilities and energy revenue; private equity, corporate structuring and asset management companies; and the Foreign Intelligence Service of the Russian Federation (SVR). Sanctioned targets include:
Third-country sensitive technologies and equipment procurement networks, including ones based in Switzerland, Liechtenstein and the Netherlands;
Russia's suppliers of foreign-made semiconductors and other microelectronics necessary for the maintenance and development of the Russian military-industrial complex, such as the Russia-based Ostec Group;
Training grounds for Russia's future energy specialists and the Russian research institutes where new extraction technologies are developed, such as Gazprom Vniigaz OOO, the main research center for PJSC Gazprom, which is subject to prohibitions pursuant to Directive 4 of E.O. 13662 and Directive 3 of E.O. 14024, Russian companies that facilitate drilling and mining operations and firms that attract and advise on investment in Russia's energy industry; and
Third-country financial services companies supporting Russia's use of the international financial system to continue to fund its war in Ukraine.
In conjunction with this action, OFAC issued the following three general licenses and an update to an existing general license: GL66, authorizing the wind down of transactions involving PJSC Polyus prior to August 17, 2023; GL67, authorizing certain transactions related to debt or equity of, or derivative contracts involving, PJSC Polyus prior to August 17, 2023; GL68, authorizing the wind down of transactions involving certain universities and institutes prior to July 18, 2023; and GL13E, authorizing certain administrative transactions prohibited by Directive 4 under E.O. 13024 prior to August 17, 2023.
Reporting Requirements. OFAC also amended Directive 4 under E.O. 14024, which imposes prohibitions on transactions involving Russia's Central Bank, National Wealth Fund and Ministry of Finance, to require U.S. persons to report to OFAC any property in their possession or control in which the Central Bank, National Wealth Fund, or the Ministry of Finance has an interest. U.S. persons must submit a report to OFAC on or before June 18, 2023, and annually thereafter. This reporting requirement, consistent with similar measures globally, is designed to provide additional information on the Russian sovereign assets immobilized in G7 jurisdictions.
Department of State
The State Department designated or identified as blocked property almost 200 individuals, entities, vessels and aircrafts, including: (1) targets across Russia's defense and related material, technology and metals and mining sectors; (2) entities and individuals involved in expanding Russia's future energy production and capacity; (3) entities and individuals allegedly engaged in the systematic and unlawful deportation of Ukraine's children and the theft and transportation of stolen grain from Ukraine; and (4) an international network of entities allegedly engaged in the procurement of components for the Russia-based entity responsible for the manufacture of the Orlan drone.
Department of Commerce's Bureau of Industry and Security (BIS)
BIS issued two new rules expanding the territorial reach and categories covered by its export controls and adding 71 entities to its Entity List, primarily for supporting Russia's military and defense sectors, with the goal of preventing Russia from accessing goods it needs for its war in Ukraine. These rules implement:
Changes to the Export Administration Regulation (EAR) to (1) add as controlled items a variety of electronics, instruments and advanced fibers for the reinforcement of composite materials, including carbon fibers; (2) add certain additional chemicals to the EAR; (3) expand the list of foreign-produced items that require a license when destined to Russia, Belarus and Iran; and (4) apply the existing Russia/Belarus foreign-direct product rule, which regulates the reexport and transfer of foreign-made items manufactured with U.S. technology or software, to the Crimea region of Ukraine.
Addition of 69 entities in Russia to the Entity List for providing support to Russia's military and defense sector, and one entity each in Armenia and Kyrgyzstan for preventing the successful accomplishment of end-use checks and posing a risk of diversion of items subject to the EAR to Russia.
BIS and FinCEN Joint Supplemental Alert. Additionally, BIS, in conjunction with FinCEN, issued a Joint Supplemental Alert ("Supplemental Alert") urging continued vigilance for potential Russian export control evasion. The Supplemental Alert builds upon FinCEN and BIS's First Joint Alert, issued in June 2022, and the March 2023 DOJ, Commerce and Treasury Joint Compliance Note, (see Shearman & Sterling's summary here) in highlighting common tactics used by illicit actors to evade sanctions and export controls. The Supplemental Alert also reinforces ongoing U.S. government enforcement actions, engagements, and initiatives designed to further constrain and prevent Russia from accessing needed technology and goods to supply and replenish its military and defense industrial base.
The Supplemental Alert (1) provides financial institutions with additional information on the new BIS export control restrictions relating to Russia and details evasion typologies; (2) identifies additional transactional and behavioral red flags to assist financial institutions; and (3) and strongly encourages financial institutions to conduct due diligence when encountering one of the nine newly listed High Priority Items for possible evasion efforts, identified in the below chart.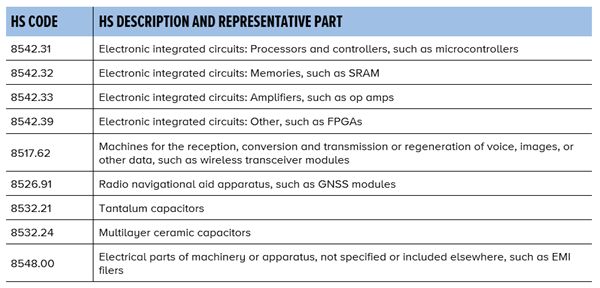 Lastly, the Supplemental Alert reminds U.S. financial institutions of their relevant obligations to file a suspicious activity report under the Bank Secrecy Act, if they know or suspect that the financial institution is being used to facilitate criminal activity, including sanctions or export control evasion.
Key Takeaways
This new tranche of sanctions and export controls targeting Russia continues to show that the U.S. and its allies are not slowing down in their continued efforts to support Ukraine and debilitate Russia's economy and military-industrial complex.
Accordingly, companies should keep abreast of likely new developments and, in particular, the increased targeting of third-country individuals and entities that provide technology and financial support to Russia or enable Russia's sanctions evasion networks. Specifically:
Foreign persons should be cognizant of OFAC's increased willingness to impose secondary sanctions for conducting business with Russian technology and electronics companies in evaluating existing and future business relationships.
Financial institutions should consider enhancing their due diligence processes to ensure they capture any potential sanctions or export-control evasion tactics that are highlighted by the U.S. government in the Supplemental Alert and prior Compliance Note.
U.S. financial institutions should also consider whether they have any property in which the Central Bank, National Wealth Fund or the Ministry of Finance has an interest in their possession that they would be required to report under the amended Directive 4.
Companies should consider the potential for new sanctions designations in the architecture, engineering, construction, manufacturing and transportation sectors of Russia's economy and monitor possible additional designations in these sectors.
Companies should consider how the new prohibitions relating to the provision of architecture services or engineering services to persons located in Russia may impact their business.
Finally, companies exporting items to Russia, Belarus or Ukraine should consider whether the new changes to the EAR may affect their business and how to comply with the new restrictions.
The content of this article is intended to provide a general guide to the subject matter. Specialist advice should be sought about your specific circumstances.