The automotive industry slowed considerably in the first quarter of 2019 as global sales, earnings and stock prices stalled and economic uncertainty and declining consumer confidence continued to be prevalent in major markets around the globe. However, electric vehicles have built a stronger foothold globally as Chinese and U.S. sales opened to record market share levels. Despite global economic concerns and a string of restructuring announcements, investments were made around the globe in electric vehicles and related parts, anticipating an increasing demand in coming years.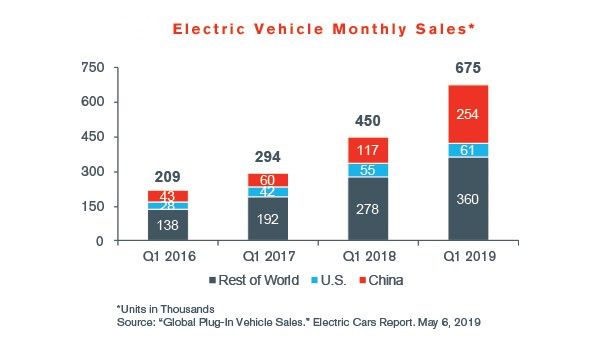 Global light vehicle sales declined 7.4% in Q1 2019 relative to the same period in 2018 as steep declines in China drove the market. In the U.S., light vehicle sales declined 3.1% year over year to 4.0 million units in the quarter.1 In March 2019, U.S. light vehicle sales reached 17.48 million units at a seasonally adjusted annual rate (SAAR), in line with recent historical periods.2

Interest rates on consumer installment loans for new automobiles reached 5.50% in February 2019 in the U.S., up from 4.74% in February 2018 and 5.30% in November 2018, creating further headwinds for the industry.3

In Q1 2019, auto sales in China declined 18.7%, compared to the same period in 2018. Despite this decline, commercial vehicle sales increased 2.4%.4,5

In Europe, decreases in new passenger registrations occurred throughout Q1 2019, culminating in a 3.9% decline in March 2019 relative to March 2018.6

M&A activity in the automotive sector experienced a significant increase in the first quarter of 2019 compared to the final quarters of 2018. Deal count in Q1 2019 consisted of 13 deals transacted, an increase over the two in Q4 2018, and the most since Q2 2018.7

Public company equity performance in the Automotive Original Equipment Manufacturer (OEM), Dealer, Aftermarket and Supplier sectors all trended upward in the first quarter of 2019, rising from a market trough at the end of 2018.7


Sources:
1 "Global Light Vehicle Sales Update." LMC Automotive Public Data. December 2018
2 "U.S. Light Vehicle Sales." WardsAuto Public Data.
3 Federal Reserve Economic Data (FRED).
4 China Association of Automobile Manufacturers.
5 "Passenger Car Registrations: +0.1% in 2018; -8.4% in December." European Automobile Manufacturers Association. January 16, 2018.
6 S&P Global Market Intelligence.
7 McDonald, Loren. "10% of New Vehicles Purchased in California are EVs." Clean Technica. November 12, 2018.
Automotive Industry Insights Early Summer 2019.pdf (1.3) MB
The content of this article is intended to provide a general guide to the subject matter. Specialist advice should be sought about your specific circumstances.