It is not news that the members of the famous "Trapp Family" and their story have been known since "The Sound of Music". Can the logo above however be registered as a trade mark for film and music?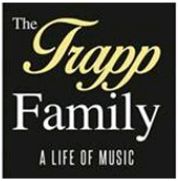 No, says the Vienna Court of Appeal, dismissing an appeal of a German TV company trying to register the logo for its production "The von Trapp Family – A Life of Music".
The Austrian ruling considered that without the need for reflection the applied for logo would be connected with the Trapp Family, whose lives are discussed in the film "Sound of Music" and who have been devoted to music and to the learning of music. Thus, the Vienna Court confirmed the PTO's refusal to register the "Trapp Family" for film and music as well as education and training" stating that there are also numerous publicly unknown persons who are called "Trapp" or "von Trapp".
It is not known whether the German applicant could possibly have submitted evidence of a secondary meaning or even evidence of a well-known trademark. In this context it is to be noted that a reputation outside of Austria is relevant according to academic writing, although there is no Austrian case law known yet which embraces this concept explicitly.
Case 34R74/16a
The content of this article is intended to provide a general guide to the subject matter. Specialist advice should be sought about your specific circumstances.