Transformation is ambitious and when done right, promises great benefits for your organisation. However, it's also often complex, challenging and can be quite daunting.
There are a few key things that need to be considered if you really want to achieve the right outcomes:
Ambition and objectives
Leadership and commitment
Skills and experience
Delivery approach.
Successful transformation doesn't need just one but ALL of these ingredients to come together - to build the will and the means, as well as create the clarity and capability.
It doesn't matter where you are on your journey - whether you're just getting started or well underway - but these four ingredients will be key in creating your recipe for successful transformation.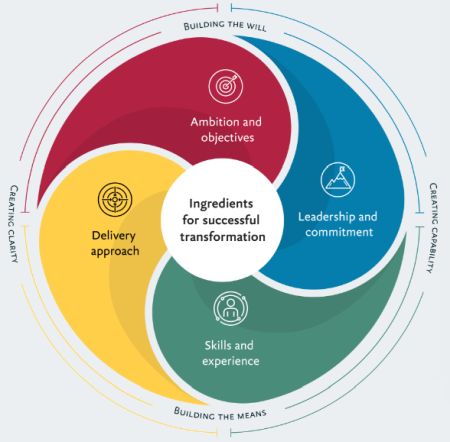 Ambition and Objectives
A lack of ambition or objectives creates confusion.
We help organisations shape what good looks like, create strategies and mould measurable objectives - all of which respond to the challenges they face and create a compelling case for change.
Leadership and Commitment
Without leadership and commitment you'll face resistance.
We help leaders create the headspace for transformation and unite organisations behind a set of goals and priorities.
We empower teams and make transformation real for everyone involved.
Skills and Experience
It's frustrating for everyone if you don't have the skills and experience.
We help organisations build and retain high performing teams, ensuring leaders, individuals and external partners have the right skills to deliver.
Delivery approach
Not having the right delivery approach can lead to chaos.
We help organisations define the best approach to change, breaking it down into manageable portions to reduce bureaucracy, build confidence, support innovation and accelerate delivery.
The content of this article is intended to provide a general guide to the subject matter. Specialist advice should be sought about your specific circumstances.