The opportunity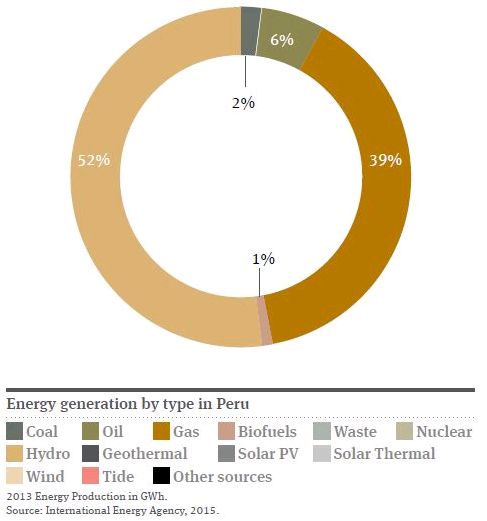 Peru's rising attractiveness for renewables investment is illustrated in the EY Renewable Energy Country Attractiveness Index. The country joined the index only very recently in May 2013, and by March 2015 was ranked 26th. It was also ranked 11th in the Climatescope 2014 Clean Energy Investment and Climate Financing league table, because of the impressive volume of financing received in 2013 in the small hydro and wind sectors. Several international players, including the IFC, BBVA, KfW, FMO, IDB and Corporación Andina de Fomento, have already entered the Peruvian renewables market, most notably through participation in hydropower projects. According to the Ministry of Energy and Mines (MINEM), energy demand in Peru is projected to grow at ten per cent annually, propelled primarily by industrial growth. Accordingly, it is estimated that in 2017 total required energy capacity is expected to increase to almost 8GW, which would require significant investment in power generation. Depleting oil and gas resources are a major concern and have contributed to the growth of renewable energy investment. The Law to Promote Investment in Electricity Generation with Renewable Resources (LRER) was approved in May 2008. It includes biomass, wind, geothermal, solar, tidal and hydropower in its ambit and promotes renewable energy as a national priority. The LRER also contained a non-binding target of up to five per cent of national electricity consumption to be met by renewable energy sources during the 2008–2013 period. This target was missed by a wide margin. Recently, the government has announced a renewable energy target of 60 per cent of national consumption to be met by renewable energy sources by 2025.
Potential
Peru is considered to have a 'high' potential for wind, solar, hydro and geothermal, a 'high-medium' potential for biomass, and an 'unknown' potential for ocean-based RETs. There is a significant gap between this potential and its realisation, and the 2014 statistics shown below illustrate that the country can do a lot more to harness alternative energy sources.
| | | |
| --- | --- | --- |
| Recourse | Total power potential (MW) | Installed capacity (MW) |
| Hydroelectric | 70,000 | 3,118 |
| Wind | 22,000 | 142 |
| Solar | | 80 |
| Biomass | 450 | 27,4 |
| Geothermal | 3,000 | 0 |
In the near future, it is likely that the solar industry will provide the greatest opportunity for energy export growth and rural-electrification, particularly for communities in the Amazon region. Consequently, several off-grid project tenders have also been floated.
In the wind sector, future investment depends on the success of several projects presently under construction. In April 2014, the first wind farm park in Peru, Marcona, became operational. It was developed by the Spanish concern Cobra Energia. The Talara and Cupisnique sites (110MW) are also scheduled to become operational this year, and their performance will have a positive impact on future support for such projects.
Decree No. 020-2013-EM, enacted in June 2013 under the umbrella of the LRER, deals specifically with off-grid supply of electricity. Under this Decree, the government carried out an auction in the end of 2014, awarding the energy developer Ergon Power with a contract for the construction of PV systems to 500,000 users in off-grid regions of the country.
The systems will be installed in the northern, central and southern regions of Peru and electricity services will be provided to homes, schools and health centres for a period of 15 years.
Support regimes
The LRER promotes the sale of renewable energy through public tenders. Its current applicable rules (RLRER) were approved through Supreme Decree No. 012-2011-EM in March 2011. This legislation establishes the regulation for the renewable energy tendering process and includes incentives such as priority for the dispatch of electricity and access to the transmission and distribution network, long term stable tariffs through bidding and guaranteed purchase of the total electricity produced. In addition, Decree No. 1058 allows for the accelerated depreciation (for income tax purposes) of up to 20 per cent of the investments in machinery, equipment and civil construction for renewable energy generation.
Several projects (60 in total) have been funded through the United Nations' Clean Development Mechanism, including El Platanal Hydropower Plant, which is located near the country's capital Lima.
Obstacles/challenges
Low prices
The main obstacle is the government and private sector emphasis on developing natural gas resources rather than renewable energy. For example, tax incentives make gas-fuelled power more favourable than hydropower. Government subsidies for natural gas extracted from Block 88 of the famous Camisea project have created exaggeratedly low prices for natural gas since pricing for the block does not include the exploration cost incurred. This creates market distortions which further set back profitability in renewable generation. When current resources are depleted (which is likely in 20–30 years), natural gas from other blocks will command a far higher price which may provide a fillip to installed renewable energy projects.
Approval of projects
The onerous environmental assessment requirements are a frequent source of delay and several prescribed procedures are suited to the oil and gas industry rather than renewable energy projects.
Transmission infrastructure
Whereas the potential of renewable energy development in the Amazon and Andes regions is high, these regions do not possess the concomitant transmission infrastructure to distribute electricity nationally. Investment in large-scale renewable energy projects may therefore involve significant investment in transmission infrastructure upfront.
The future
In total, three public auctions have taken place, the latest being in August 2013. These tenders have been successfully implemented by MINEM with four local Peruvian banks providing funding. In 2014, 24 mini-hydro projects have been awarded a PPA for a total installed capacity of 180MW along with 4 wind power projects and 5 solar power projects for a total installed capacity of 232MW and 96MW respectively. Finally, four biomass PPAs were awarded for a total installed capacity of 29.4MW. The government is currently accepting offers for public auction for PPAs of wind, solar photovoltaic (PV), biomass and small hydro capacity.
COP21
Peru has been playing an important role in relation to the Conference of the Parties to the United Nations Framework Convention on Climate Change. In 2014 Peru was the host country of the COP 20, held in Lima, in which there was a shift in the UN's emphasis away from attempting to reach hard universal targets. Instead, a new mechanism was adopted, under which individual nations would report their current status and make measurable national commitments, and the loss and damage element would be respected. Since the COP20 was held, the UN has worked on the improvement of the Peru draft treaty and in October 2015 it released a new draft which is a step forward for the talks, slimming down the text from more than 90 pages to just 20. The new draft will be subject to negotiation between the participant countries of the COP21.
The content of this article is intended to provide a general guide to the subject matter. Specialist advice should be sought about your specific circumstances.