In January 2021, in addition to revising the Self-Care Advertising Code (see our article here), the Irish Pharmaceutical Healthcare Association (IPHA) released the latest edition (edition 8.5) of its Code of Practice for the Pharmaceutical Industry (Code), which will take effect on 1 March 2021 and applies to prescription-only medicines.
Various scandals within the pharmaceutical industry over the last few years involving pharmaceutical companies, doctors and hospitals, sparked a push to strengthen the existing Code.
KEY CHANGES
The Code has adopted new provisions and enhanced existing ones. Here are some of the most notable changes:
1. INCLUSION OF THE EFPIA ETHICAL PRINCIPLES
As a member of the European Federation of Pharmaceutical Industries and Associations (EFPIA), the IPHA has incorporated the EFPIA's ethical principles into the revised Code.
2. TRANSFERS OF VALUE DISCLOSURES
Since 2016, interactions between IPHA member companies, healthcare professionals (HCP) and healthcare organisations (HCO) must be publicly disclosed. Such interactions include direct/indirect financial support (Transfers of Value (ToV)), whether for promotional purposes or otherwise, in connection with the development and sale of prescription-only medicines. The revised Code: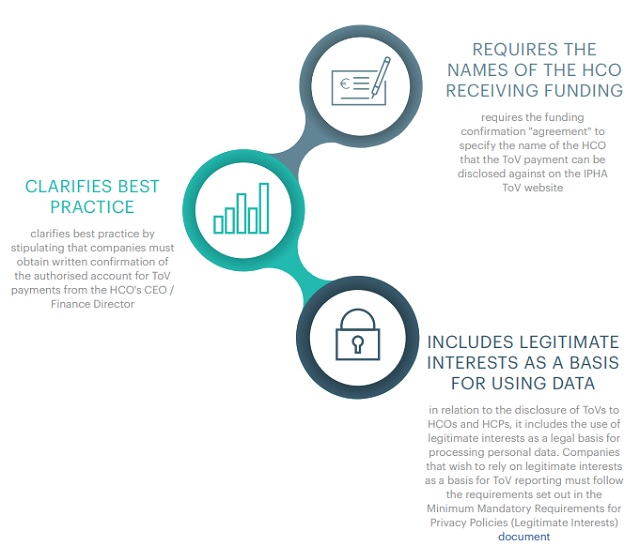 3. FURTHER REQUIREMENTS REGARDING PATIENT ORGANISATION (PO) FUNDING
Where IPHA member companies provide support (financial and non-financial) to patent organisations, the Code states that: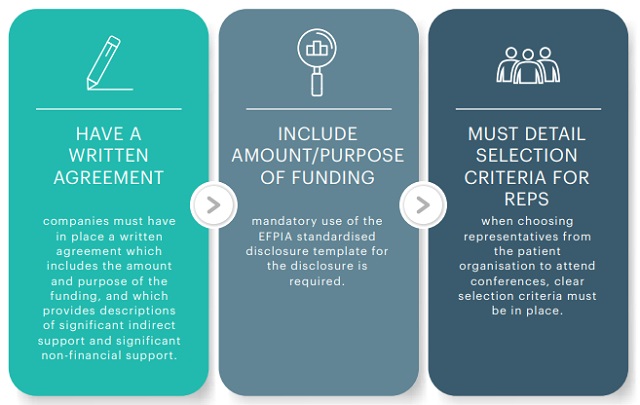 4. DEFINITIONS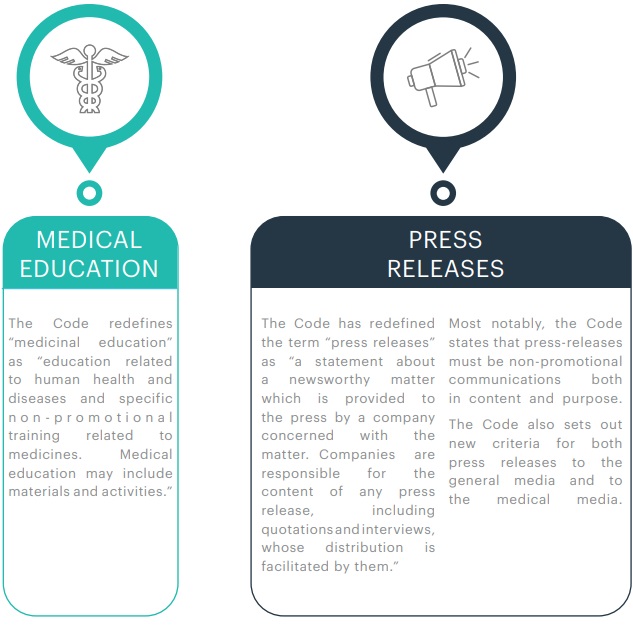 5. OTHER KEY CHANGES
Publication of the findings of the Code Council and the Appeals Board (i.e. the number and context of complaints & referrals) will now include upheld and nonupheld complaints. Upheld decisions will be published in full, whereas unless requested by the respondent nonupheld decisions will not.
Companies hosting recordings on digital platforms must ensure any product claims made by speakers are "adequately substantiated" and that references are available upon request.
The Code includes a new annex on the organisation and conduct of Advisory Boards.
EFFECT OF THE CODE
While not a legally binding document, abiding by the Code is considered best practice. All members of IPHA, as a condition of their membership of the Association, are signatories to the Code. NonIPHA member companies may also choose to become signatories to the Code.
Where a person or body is concerned that the promotional activities of any signatory to the Code may be in breach of the Code, a complaint may be submitted to IPHA for consideration.
Given the imminent implementation of the revised Code, we recommend those companies involved with promotional activities and interactions with HCOs and HCPs under the Code's remit, familiarise themselves with its revisions.
The content of this article is intended to provide a general guide to the subject matter. Specialist advice should be sought about your specific circumstances.