Blessed with natural resources Ecuador has booming mineral, energy, and agriculture industries. Positioned as a strategic gateway to the Pacific and Andean regions, it grants unparalleled access to expansive markets in South America. Start your business in Ecuador now!
It offers vast opportunities for foreign investment which is why it's the perfect time to start your business in Ecuador. The presence of enticing government incentives further enhances its allure as an attractive destination for new business ventures.
This article provides compelling reasons for starting a business in Ecuador while shedding light on the latest investment opportunities.
See also:Company formation in Ecuador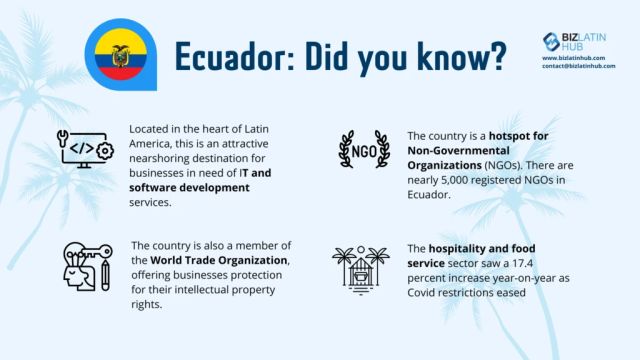 Know these facts before looking to start your business in Ecuador
Why is Ecuador a Good Place to Start Your Business?
Ecuador is open for business, with the government actively seeking to attract an influx of foreign investment amounting to 30 billion dollars over the next four years. President Guillermo Lasso remains dedicated to streamlining trade and investor procedures, fostering an environment that encourages international business engagement.
As an export-orientated economy with a highly qualified workforce, Ecuador provides the ideal setting to start a business. It also has over 20 treaties to avoid double taxation.
5 reasons why Ecuador is worth investing in
Excellent infrastructure
Strategic location
Welcomes foreign investment
Growing talent pool
Easy business setup
Here are five compelling reasons why Ecuador is an exciting place to do business in 2023.
Excellent infrastructure - Ecuador boasts a comprehensive port system comprising seven state ports and ten private docks. Key ports of significance include Guayaquil Port, Manta Port, Esmeraldas Port, and Bolívar Port. Ecuador is well-connected to neighboring countries through an advanced transportation system and an extensive network of roads, encompassing a total of 43,197 kilometers of highways. Furthermore, airlines such as Tame, LATAM, and Avianca connect Ecuador with other countries.
Strategic location - Located on the Pacific coast of South America, Ecuador enjoys the advantage of direct access to the Pacific Ocean, thanks to its strategic position. Furthermore, Ecuador has one of the world's most productive agricultural areas, benefiting from stable climate conditions and abundant daylight hours.}
Welcomes foreign investment - Both local and foreign investors are guaranteed the same rights under Ecuadorian law, ensuring equal and impartial treatment. Plus, the laws of Ecuador actively promote private investment in the economy and safeguard the freedom of entrepreneurship.
Growing talent pool -Ecuador's talent pool is expanding rapidly, with several highly skilled professionals in diverse fields such as engineering, software development, and finance. This influx of talent has played a significant role in the country's economic growth and has enticed global companies to establish their presence in Ecuador.
Easy business setup - Establishing a business in Ecuador is straightforward, and foreign individuals can own 100% of an Ecuadorian company. Discover more about this process by clicking the link under the introduction of this article.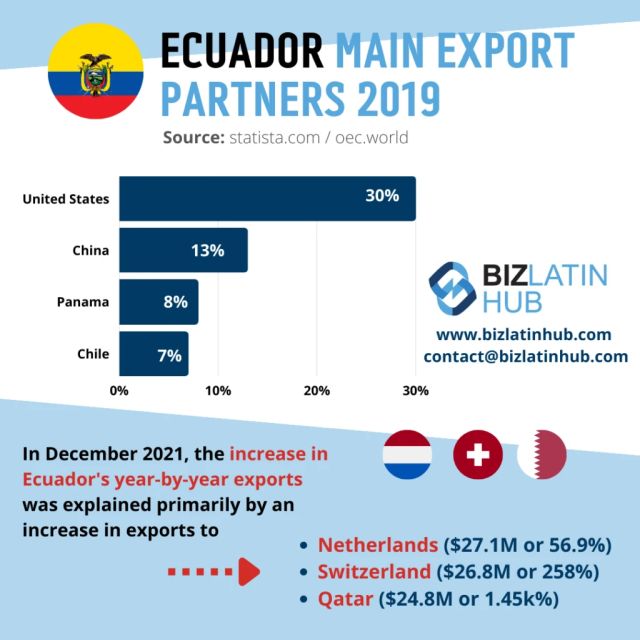 Start your business in Ecuador knowing the country's main export partners
What are the top business industries in Ecuador?
Today, the Ecuadorian government proactively encourages foreign investment by enacting more adaptable investment regulations. Equal treatment of local and international investors is a crucial component of this strategy.
When you start your business in Ecuador, you are granted the same rights of entry into any market as its citizens. Below are the top five industries in the country:
1) Mining: Ecuador's mining sector has significant potential for expansion. Currently, only 7% (or 2 million hectares) of the country's potential land is under concession. Among the concessioned area, 54% is allocated to large-scale miners, 21% to small miners, 10% to medium-sized companies, and the remaining percentage to other entities. This indicates that there is ample room for further development and growth in Ecuador's mining industry.
2) Public-Private Partnerships: These serve as an investment mechanism that enables private companies to participate in public projects. This approach provides a range of advantages, incentives, and favorable conditions for all involved stakeholders. Strategic sectors in Ecuador include telecommunications, energy, transportation, water, biodiversity, and more.
3) Agroindustry: Ecuador benefits from diverse micro-climates, ample water resources, and highly fertile lands, all of which result in favorable agricultural conditions. With 12 hours of sunlight throughout the year, the country enjoys the advantage of productive harvests annually. 4.2 million hectares of Ecuador's total agricultural land area are devoted to cultivating a variety of crops.
4) Tourism: Ecuador has invested heavily in infrastructure, including roads, connectivity, hydroelectric power generation, and healthcare, aiming to improve the quality of life for its people and visitors from around the globe. Despite its relatively small size of 283,561 square kilometers (which is just 0.2% of the total land mass), Ecuador is renowned for its incredible biodiversity, making it one of the most mega-diverse countries per square meter in the world.
5) Energy: Ecuador has set an ambitious plan to derive 93% of its energy from clean and renewable sources, harnessing the potential of water, solar, and wind resources. With this initiative, the country aims to phase out polluting energy production.
The content of this article is intended to provide a general guide to the subject matter. Specialist advice should be sought about your specific circumstances.