Launch of 'Make in India'(hereinafter referred to as "MII") Campaign on 25th of September 2014 was a national program launch by the Government of India, which intended to facilitate investment, foster innovation, enhance skill development and protect Intellectual Property Rights (IPRs) of the manufacturing industry. One primary objective of this industry was to be able to attract investments from other parts of the world in order to strengthen the manufacturing sector. MII's logo is the shadow of a lion on a prowl, made completely of cogs, to symbolise manufacturing strength and national pride 1: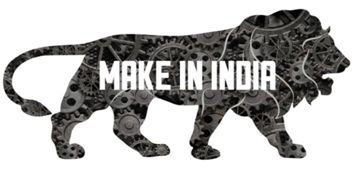 (Image taken from makeinindia.com)
Make In India's scheme led by the Department of Promotion of Industry and International Trade (DPIIT) primarily focuses on 25 sectors- automobiles, automobile components, aviation, biotechnology, chemicals, construction, defence manufacturing electrical machinery, electronic systems, food processing, IT & BPM, leather, media and entertainment, mining, oil and gas, pharmaceuticals, ports and shipping, railways, renewable energy, roads and highways, space, textile and garments, thermal power, tourism and hospitality and wellness. When a business uses MII's logo in whole or in part, it is an acknowledgment of the approval of DPIIT with that business/body, since the logo cannot be used without their approval 2.
In 2016, DPIIT in affiliation with Make in India had launched a Start-up India flagship initiative, where around 25 start-ups are recognised each day. By May 2019, 18,000+ start-ups were recognised by DPIIT, among which 8993 start-ups were recognised in 2018 alone 3. Even Hike Messenger marketed with the 'Make in India' scheme/logo in their adverts to boast of their origin: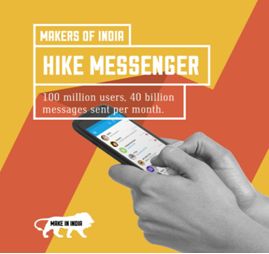 (Image take from the 'MakeInIndia' twitter page)
Some other prominent examples of the investments made in the Make In India campaign are- In the Telecom sector in the year 2016 Spice Group had invested Rs. 500 Crores in setting up manufacturing units in UP. Huawei launched a 5000 seater R&D unit in Bangalore and invested around 1050 crores. In May 2015, Samsung had signed an agreement with the micro, small and medium enterprises ministry to open MSME-Samsung Digital Academy. In August 2015, India's first home-made smart phone of Xiaomi was rolled out from the Andhra Pradesh Tamil Naidu border. Further, Foxconn, Lenovo and Optiemus-Wistron have also made investments 4.
In the Automobile Sector in the year 2015, General Motors signed a letter with the Maharashtra Government to invest Rs. 6400 crores at its existing Talegaon facility in Pune. 5
In the Railway Sector, General Electric and Alstom Transport in December 2015 signed two joint ventures with Indian Railways for setting up two locomotive factories in Bihar with a 40,000 crore investment.  6
In the Aviation and defence Sector, Wayne Burt Group entered into several MOUs in 2015 with GE Aviation and the investment in this venture was estimated to be approximately $25 Million estimated to generate a revenue of 50 million in 3 years. LH Aviation-OIS set up a manufacturing plant in India to manufacture drone. HAL in 2016 produced 174 Su-30 MKI aircrafts under India's for Russia's Irkut Corp Make in India Scheme. Boeing in October 2015 purchased 22 AH-54E Apache attack helicopters and 15 CH-47 Chinook multi-mission heavy lift helicopters. Reliance Defence signed a manufacturing and maintenance deal worth 6 billion (approx) with Russia's Almaz-Antey. Rostech State Corp tied up with HAL for the manufacturing on 200 Kamov 226T light helicopters in a deal estimated to be 1 billion under the MII scheme. 7 Even Lockheed Martin have agreed to build F16 Fighter Jets' wings in Hyderabad: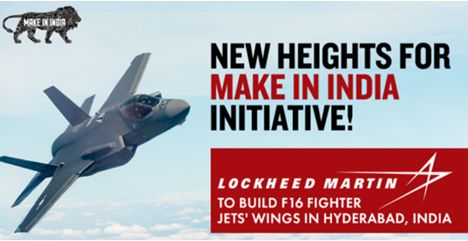 (Image take from the 'MakeInIndia' twitter page)
Now that the success of the MII scheme has been illustrated, this brings us to the part of the article discussing how to go about applying for the use of the 'Make in India' logo.
The Procedure for acquiring permission for the use of MII logo:
All requests are to be approved by the (Secretary) JS (BE-III) of DPIIT and will be considered on the basis of these guidelines and merit. The DPIIT may ask for additional information for Events, Publications, Websites/Portals, and all requests for the use of the logo for programmes on electronic media needs to be received by the DPIIT 30 days in advance, along with the complete details as per the guidelines. Certain applications would be considered on the basis of merit of each case, keeping in mind that visibility, impact and the extent of manufacturing or its related aspects by the committee that has been constituted. All applications should be in the given format. 8
That being said, DPIIT reserves the right to withdraw permission for the use of the MII logo by giving sufficient notice. Further, they also reserve the right to view the proposed design and layout of MII prior to finalisation of the same.
Who can use the MII logo?
The logo can be used by various Government/Semi-Government/Private authorities.
Who does not need permission to use the MII logo?
Any office, officer or establishment of DPIIT
Central Government Ministries/Departments, State Government department/ministries, UT Administrations for the use in programmes organised by them.
Indian Embassies/Missions for events, brochures, publicity material and advertisements promoting MII sponsored by the Embassies/Mission.
Who can use the MII logo, but only with permission?
Central Government Ministries/Departments/PSUs, State Government department/ministries, UR Administrations for the use in programmes conducted in association with CII/FICCI/ASSOCHAM/PHDCCI etc.
Events that are financially supported by DPIIT
For a specified period, for events organized by private bodies that promote the "Make in India" initiative.
Use of the MII Logo for Events, Publications, Websites/Portals
In cases of events that are financially supported by DPIIT or events organised for a specific period by private bodies emphasis to be given to:
Nature and importance of the event
Profile/track record of the organisers
Profile of the Participants and the delegates
Exhibition space, distribution of DPIIT's publicity material in the delegates kits, etc
For the use of MII in publications, websites/portals will be considered only if the publications, websites/portals are related to approved industries. All cases to be considered on the merit basis.
In case of requests for the use of MII by individuals would be considered in the they help in promoting the MII cause. All cases to be considered on the merit basis.
Requirement for use of the logo programmes on Electronic Media.
For programmes on electronic media like debates, discussions or any other would be considered on merit of case, keeping in mind:
Nature of the programme
Profile/track record of the producers of the programme
Target audience
Contents of the programme and inclusion of manufacturing related content in the programme
Extent to which the programme would help in increasing awareness about approved sectors as well as the culture and heritage of the country.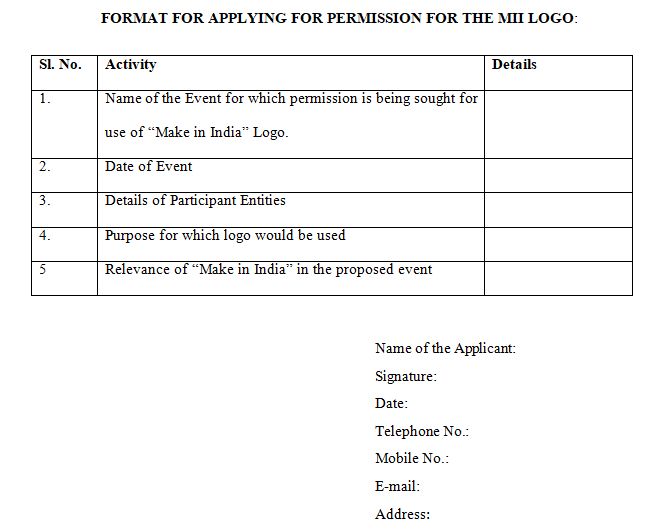 Footnotes
1. "About Us." About - Make In India. Accessed May 6, 2020. https://www.makeinindia.com/about.
2. ibid
3. Startup ecosystem in india - Make In India. Accessed May 6, 2020. https://www.makeinindia.com/startup-ecosystem-in-india.
4. Dasgupta, Gaurab. "Key Projects Announced under Make in India." Business Standard. Business-Standard, February 12, 2016. https://www.business-standard.com/article/economy-policy/key-projects-announced-under-make-in-india-116021200853_1.html.
5. ibid
6. ibid
7. ibid
8. Government of India: Department of Industrial Policy & promotion BE-III Division. "Guidelines for permitting the use of 'Make in India' logo"
Originally published 13 May, 2020
The content of this article is intended to provide a general guide to the subject matter. Specialist advice should be sought about your specific circumstances.