"Patent data shows that 55% of the total patent publications in 3d printing of tissue/organ domain are pending patent applications. Higher percentages of applications point to a growing market"
Bioprinting refers to an additive manufacturing technique that is used for the creation of organ/tissue-like structures that mimic the natural organs/tissues. 3D printers deposit layers of material otherwise known as bioinks to create various complex bodily structures including bones, skin, and even corneas. The technique is widely applicable to the fields of medicine and bioengineering.
Normally, the 3D bioprinting involves the same mechanism as that of the conventional 3D printers. In bioprinting, living cell suspensions are used for the printing. The required cells are normally extracted from a patient or, if this is not possible, adult stem cells can be used and cultured into a bioink to 'print' an organ or tissue objects. These cells are normally held together through some sort of dissolvable gel or collagen scaffold that can support the cells and mold them into the correct shape.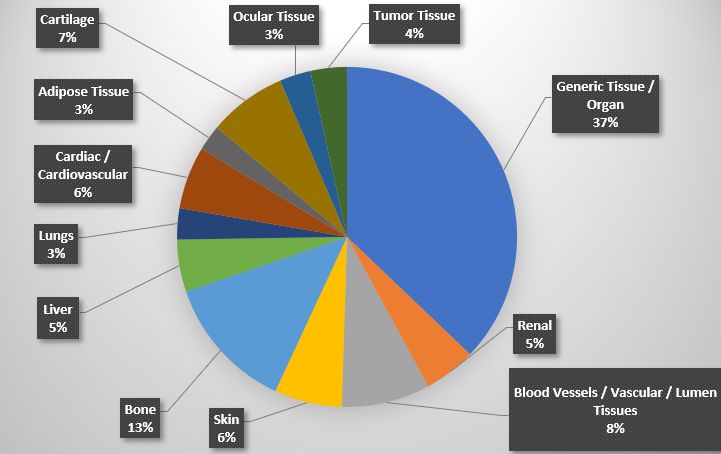 3D bio-Printing involves more-or-less of the following steps:
3D Imaging: Through a standard CT or MRI scan to get the exact dimensions of the tissue/organ.
3D Modeling: Blueprint of the organ/tissue generated by means of AutoCAD software. Mainly aims to avoid the transfer of defects.
Bioink Preparation: Bioink comprises of a combination of living cells, compatible base, like gelatin, collagen, etc. and cell growth/differentiation materials based on the requirements.
Printing: Layer-by-layer deposition of the bioink based on the AutoCAD design.
Solidification: Solidification or crosslinking may be aided by employing specific chemicals, UV light, or heat (also typically delivered via a UV light source).
3D bioprinting market's growth is primarily steered by the ever-increasing use of 3D bioprinting in the cosmetology and pharmaceutical industries, technological developments in 3D bioprinters and biomaterials, and the increase in funds for research activities related to 3D bioprinting. The 3D bioprinting market is estimated to reach USD 1,647 million by 2024 from USD 651.6 million in 2019, at a CAGR of 20.4% from 2019 to 2024. Many factors have encouraged the industry players to increase and strengthen their existing production and supply capabilities, particularly in the emerging markets, which are predicted to experience growth at the highest rated.
India and China are projected to offer considerable growth opportunities for companies engaged in the 3D bioprinting research, owing to the growing demand for cosmetic surgeries, support from government bodies, and the less-stringent data requisites and regulations.
Our Patent Research Team at IIPRD performed a detailed analysis of patenting activity pertaining to 3D bio-printing to understand underlying technologies and growth of 3D printing technology in bioprinting space. In our research, the USA was found to be the top innovator in the technology domain while APAC countries China and Korea are majorly innovating in investigative technology. Although ortho industry happens to be the major beneficiary of the investigative technology, 3D printing is gaining popularity in bioprinting of delicate tissues like ocular tissues and islets of Langerhans, etc. Also, the inventions related to the 3D bio-printing of breast tissues would prove to be beneficial- both in cancer research as well as regenerative medicine. Presently, more than half of the total patent in the 3D bioprinting space use Extrusion bioprinter technology for bioprinting, and around 50% of patented technology relates to regenerative medicines and tissue defects. To review more details related to 3D bioprinting, click  here to download complete report.
The content of this article is intended to provide a general guide to the subject matter. Specialist advice should be sought about your specific circumstances.