Game of Thrones, an eminent American fantasy TV series watched by millions of people world-wide and across continents has now become a brand in itself. We have all at some point come across the GOT merchandise in the form of T-shits, mugs, bobble heads and even the recent limited edition released by Johnnie Walker, the White Walker - Game of Thrones edition. Additionally the mark 'GAME OF THRONES' is a registered mark in class 33, i.e. for alcoholic beverages, as per the records of the UKIPO.
Wadworth & Co. is a popular brewery and has been brewing beer since 1875. The company had applied for the registration of the mark "GAME OF STONES" written in front the Stonehenge as shown in the image below.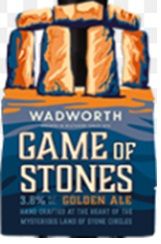 1
Recently, Home Box Office commonly known as HBO, a US TV Network lodged an opposition to an application for the mark "GAME OF STONES" filed in class 33 i.e. for alcoholic beverages by Wadworth & Co, for alcoholic beverages on the basis that it is was deceptively similar to the registered mark "GAME OF THRONES". The opposition that was filed failed on the grounds that the two marks were no considered similar and the applied mark was visually different as it is a device mark (logo) wherein the words "GAME OF STONES" is written below the depiction of the Stonehenge.
Footnote
1. Please note, the image has been used for reference purposes only and we claim no copyright over the image whatsoever.
Compiled by: Adv. Sachi Kapoor | Concept & Edited by: Dr. Mohan Dewan
The content of this article is intended to provide a general guide to the subject matter. Specialist advice should be sought about your specific circumstances.