Hong Kong has slowly but surely reopened to the world after a prolonged period of isolation due to COVID restrictions.
At the time of writing this article, most restrictions have been eased and green shoots are starting to appear in Hong Kong's economy.
Despite the pandemic, Hong Kong remains a global powerhouse and strategic area in trade and commerce. Based on the research of the Hong Kong Trade and Development Council published on 29 November 2022, Hong Kong remains the world's 6th largest exporter of merchandise trade in 2021, the same as that in 2020.1 Aside from this, the Hong Kong International Airport was the world's busiest airport for international air cargo and ranked 9th in the world in terms of container throughput in 2021.2
It is not surprising then that the Hong Kong Customs & Excise Department ("HKC&E") reported significant achievements in seizing counterfeit goods (to be sold locally or to be transhipped to other locations) in its 2021 Annual Review.3 HKC&E reported that 715 infringing cases were detected, and 404 arrests were made that year, representing an annual increase of 21% and 36%, respectively. In addition, the number of infringing items seized had increased by 170% to 3.15 million items, while the seizure value reached around HK$166 million. This represents an increase of 51% compared to 2020's figure.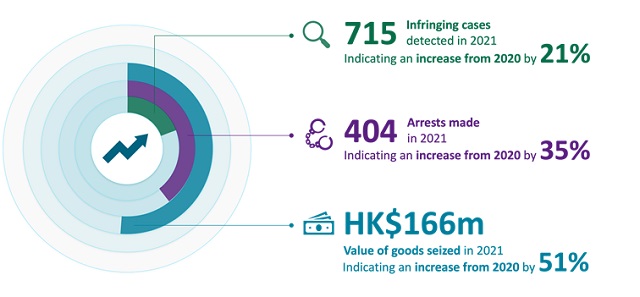 It appears this trend will continue for this year (which HKC&E will most likely report in the upcoming 2022 Annual Review) as there have been significant seizures made by HKC&E, some of which are summarized below:
In April, HKC&E seized some 21,000 counterfeit products destined for Belize in Central America in an inspection at the Kwai Chung Customhouse Cargo Examination Compound. The products seized included handbags, hats, shoes, sunglasses, etc., with an estimated street value of HK$2 million.4
A few months after, in June, the HKC&E confiscated HK$11.6 million worth of fake brand-name products ranging from handbags, footwear, mobile phones, and fashion accessories and arrested five people in a three-week citywide operation. HKC&E believed that most of the seized counterfeits would be further exported to the United States, Europe, and the Middle East, while some would be sold locally.5
Counterfeit perfume and cosmetic products with an estimated market value of about HK$360,000 were seized in October, and a woman was arrested.6
Ahead of the FIFA World Cup in Qatar, HKC&E seized over 100,000 counterfeit football jerseys worth over HK$50 million in a two-week special operation.7
Looking at this rise in activity, brand owners need to keep Hong Kong front of mind when it comes to their brand protection strategy in Asia. Especially as a key transhipment hub for the region. The HKC&E continue to have significant seizures of counterfeit goods landing or transiting in the city, so it's important that brands ensure that they have the right protection strategies including Customs Recordals with HKC&E. Customs Recordals are a unique and valuable method for combating infringements.
It would seem that despite the Hong Kong being cut off from the world during prolonged COVID restrictions, counterfeit goods landing or transiting through the city have not slowed down. This is expected to continue with the recent opening of Mainland China and the continued dismantling of COVID restrictions in Hong Kong.
Footnotes
1 https://research.hktdc.com/en/article/MzIwNjkzNTY5
2 https://research.hktdc.com/en/article/MzIwNjkzNTY5
3 https://www.info.gov.hk/gia/general/202201/30/P2022012800629.htm
4 https://www.thestandard.com.hk/breaking-news/section/4/188957/Hong-Kong-Customs-seizes-HK$2m-counterfeit-Central-America-bound-goods
5 https://www.thestandard.com.hk/breaking-news/section/4/191149/Five-arrested-as-Customs-seizes-HK$11-million-worth-of-fake-luxury-goods
6 https://www.thestandard.com.hk/breaking-news/section/4/195449/One-arrested-as-Customs-seizes-HK$360,000-worth-of-fake-cosmetics-products
7 https://www.thestandard.com.hk/section-news/section/11/247459/'Like-real'-football-World-Cup-jerseys-worth-$50m-seized
Co-authored by Robert Rigets
The content of this article is intended to provide a general guide to the subject matter. Specialist advice should be sought about your specific circumstances.