Le Guide Juridique 2021 édité par La Tribune de Lyon propose des réponses précises et pragmatiques aux questions concrètes que se posent les chefs d'entreprise.
Catherine Nommick a participé à la rédaction de ce Guide en rédigeant un article intitulé « Fusion-absorption : quel est l'impact de la jurisprudence récente en matière de transfert de responsabilité pénale ?  »1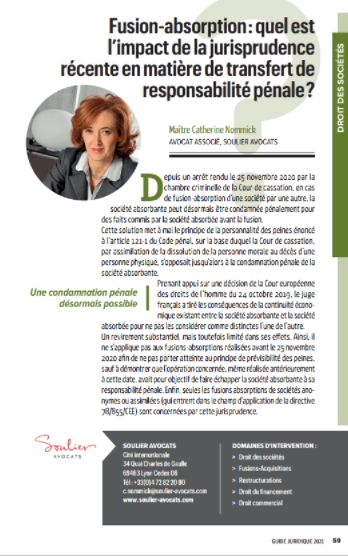 Footnote
1 Une version plus détaillée de cet article est disponible sur notre Blog : https://www.soulier-avocats.com/fusion-absorption-un-revirement-de-jurisprudence-en-matiere-de-transfert-de-responsabilite-penale/
Pour lire en Anglais, veuillez cliquer ici.
The content of this article is intended to provide a general guide to the subject matter. Specialist advice should be sought about your specific circumstances.