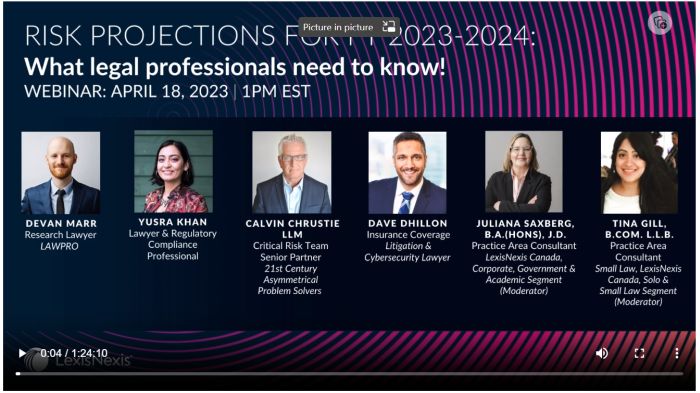 Download our latest whitepaper to find out how legal professionals can mitigate risk in these extraordinary times.
What are the biggest threats that Canadian entities need to plan for in FY 2023-2024? The answers may surprise you.
In these turbulent economic times, good risk management is a must for Canadian entities regardless of size.
Following up on our extremely well attended and popular webinar Risk Projections for FY 2023-2024 we are proud to provide you with our exclusive whitepaper 2023-2024 Risk Outlook for Canadian Entities.
This exclusive, original white paper co-authored by LexisNexis Practice Area Consultants Juliana Saxberg (Corporate, Public and Academic Markets) and Tina Gill (Small and Mid-Law and Quebec Markets) analyses the biggest threats currently facing Canadian entities, and the solutions available for legal professionals to protect their clients from the downstream impacts of worldwide geopolitical conflict and economic meltdowns, cybercrime and ransomware, insider threats, economic sanctions, compliance pitfalls, and climate risk.
The content of this article is intended to provide a general guide to the subject matter. Specialist advice should be sought about your specific circumstances.