Welcome to the February issue of Blakes Competitive Edge, a monthly publication of the Blakes Competition, Antitrust & Foreign Investment group. Blakes Competitive Edge provides an overview of recent developments in Canadian competition law, including updates on enforcement activity by the Canadian Competition Bureau (Bureau), recent initiatives and key trends.
Key Highlights
The number of completed reviews in January 2021 (15) is only 13 per cent lower than the number of completed reviews from January 2020 (17) and 27 per cent lower than the number of completed reviews from January 2019 (19), continuing to suggest that the number of filings is recovering after the reduction in filings observed in 2020 as a result of COVID-19.
Pre-merger notification threshold for size of transaction to decrease to C$93-million for 2021.
Provincial court levied C$15-million fine for misleading advertising relating to subscription trap scam.
Merger Monitor
January 2021 Highlights
15 merger reviews completed
Primary industries: mining, quarrying and oil and gas extraction (20 per cent); wholesale trade (20 per cent); professional, scientific and technical services (13 per cent); finance and insurance (13 per cent); manufacturing (13 per cent)
Zero consent agreements (remedies) filed
Eight transactions received an Advance Ruling Certificate (53 per cent), while seven transactions received a No Action Letter (47 per cent)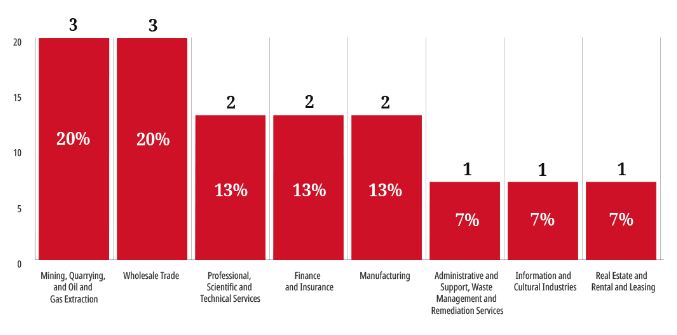 Merger Enforcement
Competition Tribunal Hears Oral Arguments in Parrish & Heimbecker Case
On February 3 and 4, 2021, the Competition Tribunal heard final oral arguments in respect of the Bureau's December 2019 application challenging Parrish & Heimbecker's acquisition of a grain elevator in Manitoba. See January's edition of Competitive Edge for discussion on first use of "hot tubbing" (provision of concurrent testimony by economic experts) in the Parrish & Heimbecker case.
Misleading Advertising Enforcement
C$15-Million Fine Levied by Ontario Court for Subscription Trap Scam
On January 28, 2021, the Bureau announced that Revive You Media pleaded guilty in the Provincial Court of Ontario for operating a subscription trap scam. The related Bureau investigation concluded that the company deceived consumers by advertising free trials for health and dietary supplements that trapped consumers into subscriptions with over C$100 in monthly fees. The company was fined C$15-million and is prohibited from directly or indirectly engaging in the promotion of deceptive trial offers for 10 years.
Section 11 Order Obtained for Examination of Bayer CropScience Representatives
On February 4, 2021, the Bureau obtained a section 11 order compelling the examination of three Bayer CropScience Inc. representatives. The Bureau previously obtained court orders in February 2020 to advance its investigation into a number of crop input suppliers for allegedly co-ordinating behaviour and refusing to supply to a new entrant.
Non-Enforcement Activity
Bureau Publishes "The Competition Advocate" Edition Regarding Competitive Bidding Processes in the Public Sector
On February 5, 2021, the Bureau published its latest edition of The Competition Advocate (a publication that offers its views on industries that may benefit from increased competition) which highlights that competition in public procurement is becoming increasingly important as Canadian governments enact stimulus measures to address the economic impact of COVID-19.
Pre-Merger Notification Threshold to Decrease to C$93-Million for 2021
Speeches
On January 26, 2021 the Commissioner of Competition provided remarks at the 2021 Vancouver Competition Policy Roundtable.
Investment Canada Act
November 2020 Highlights
For non-cultural investments: zero reviewable investment approvals and 55 notifications filed (29 for acquisitions and 26 for establishment of a new Canadian business)
Country of origin of investor (non-cultural): U.S. (53 per cent), Germany (five per cent), Hong Kong (five per cent) India (five per cent), and the U.K. (five per cent)
January – November 2020 Highlights
For non-cultural investments: four reviewable investment approvals and 683 notifications filed (447 for acquisitions and 236 for establishment of new Canadian business)
Country of origin of investor (non-cultural): U.S. (50 per cent), U.K. (eight per cent), India (four per cent), Australia (three per cent), France (three per cent), China (three per cent) and Germany (three per cent)
For permission to reprint articles, please contact the Blakes Marketing Department.
© 2020 Blake, Cassels & Graydon LLP.
The content of this article is intended to provide a general guide to the subject matter. Specialist advice should be sought about your specific circumstances.