NISSAN CANADA FLEEING FROM FLEET SALES, PRESIDENT SAYS
Nissan Canada President Steve Milette says a move away from fleet sales is behind the brand's deeper-than-average decline in Canadian sales volume over the past few months. While light vehicle sales are down 3.8 per cent year-over-year in Canada through the end of October, Nissan is down 8.5 per cent in Canada over the same period, according to the Automotive News Data Center. The last few months have seen steeper declines: 13 per cent year-over-year for the months of September and October, 7.6 for August, and 12 in June and July. Milette says that while retail sales could be stronger and Nissan dealers in the country "would expect to do a little bit more [volume] at this point in time ... the vast majority of the decline would be from the fleet business." "Our strategy is one of quality of sales, which means that we're really interested in growing the retail piece," Milette told Automotive News Canada. "This is the year, unfortunately, where we're taking some volume out of the rental channel."
Milette said that while fleet business is still "a good thing," the brand sees this move as being important for the brand's status in Canada long-term. "We feel [fleet sales are] not a good thing for residuals and a sustainable business model, so we had to pare back," said Milette, who was appointed to the role of president in May 2019. "The total sales over the last six years, they increased 82 per cent in Canada, so retail, fleet, all channels grew quite significantly. Now, we're just course-correcting on the types of sales that we're willing to do, and then we're going to go full speed ahead on the pure retail business."
Source: Automotive News Canada
CYBER ATTACKS ON AUTO INDUSTRY
The American automotive industry has been the target of malicious cyber actors since at least late 2018, according to an FBI report obtained by CNN. In the bulletin disseminated this week to a select group of private companies, the FBI warned of efforts by hackers to successfully compromise auto industry computer systems using sophisticated techniques and by taking advantage of network vulnerabilities. The cyber attacks "have resulted in ransomware infections, data breaches leading to the exfiltration of personally identifiable information, and unauthorized access to enterprise networks," the FBI said.
Source: CNN
ALPHONS IACOBELLI: THE BAD PENNY THAT KEEPS TURNING UP
Nobody likes it when a former colleague joins a rival. And nobody will know what the late Fiat Chrysler CEO Sergio Marchionne thought when his longtime labor chief, Alphons Iacobelli, landed at General Motors in January 2016. Today, Iacobelli, 60, is inmate No. 55817-039 in a federal prison in Morgantown, W.Va., serving a five-and-a-half-year term for his role in the FCA-UAW corruption scandal. His sentence is scheduled to be complete Sept. 8, 2023. Iacobelli was in charge of bribing top UAW officials and keeping them "fat, dumb and happy," according to federal prosecutors in the yearslong investigation into union corruption. He also kept plenty of the graft for himself, buying a $350,000 Ferrari and siphoning another $1 million in union workers' training funds to pay off his personal credit card debts.
Come again?
GM's massive lawsuit against Fiat Chrysler this past week suggests more could be heard directly or indirectly from Iacobelli if the case gets any legs during litigation. Iacobelli was GM's executive director for labor relations for more than a year and a half, according to his LinkedIn page. He was dismissed after he was charged for crimes committed when he was Fiat Chrysler's vice president of employee relations. He knew exactly what transpired there; he played key roles in all of FCA's dealings with the UAW. So GM executives had several months when they could have gotten a full download. Did he say anything to anyone at GM? What do they know? Did any of that knowledge go into the lawsuit against FCA? Iacobelli, through his attorney, declined to comment or answer questions about the GM suit against FCA and former employees, including Iacobelli himself.
GM tenure
Reading into the details of the bombshell lawsuit, GM's lawyers did their homework. And it's a good bet they used information from their former employee, Iacobelli. The lawsuit names Iacobelli 66 times in 95 pages. Curiously, when describing Iacobelli's role at FCA, GM's lawyers neglected to mention that he worked for GM after his criminal activity took place.
Apparently, GM's position is that his time at the company has nothing to do with his role in the scheme at FCA or his current residence in West Virginia. A GM spokesman declined to comment. Previous government indictments seem to dance around Marchionne's involvement in the bribery scandal that Iacobelli helped orchestrate. But the GM suit paints him as the central figure.
Sergio's master plan
His motive, according to GM, was to bribe the UAW into making sweetheart deals with FCA to pressure GM into merging with FCA. Industry consolidation was Marchionne's overriding mission during his later years, and he had repeatedly failed in his pursuit of a merger with GM.
The GM lawsuit contains details about Marchionne's mission that few others would ever share, or want to share. The suit — citing evidence obtained through "information and belief" — goes into great detail about FCA's advantages over GM that were purchased from UAW executives during Iacobelli's tenure. For example, the lawsuit cites secret deals related to lower-paid tier-two and temporary workers. The UAW allowed FCA to use more of these workers than GM. The UAW also looked the other way on potentially expensive worker grievances at FCA because of these secret deals.
The union and the company further had a secret "side letter" in 2014 allowing FCA to get more favorable prescription drug prices. Such a deal would have saved GM $20 million a year, the suit said, again citing "information and belief." A good source for such "information and belief" could be the person who negotiated the deal. FCA Chairman John Elkann and his lawyers can call this lawsuit nonsense and might even have the guts to file some kind of counterclaim. They might convince a judge to toss the whole thing out.
But they better be careful.
This litigation might take on the look of a football game where one team plays against another team whose coach has a copy of their playbook. GM could have all the evidence it needs to make FCA — and their suitors at PSA Group — very uncomfortable. After all, someone with the ethics of Al Iacobelli could tell GM an awful lot over several months. As the old saying goes, he's the bad penny that keeps turning up.
Source: Reuters and Automotive News
AMERICA'S CAR BUYERS ARE GETTING OLDER AND DRIVING LONGER
In October, seasonally adjusted U.S. auto sales topped 16.5 million, making the U.S., unsurprisingly, the second-biggest auto market in the world after China. Big as that figure is, it's down by more than 2 million vehicles from two years ago and back to levels seen in 2014, 2007 and 2002. There's a major difference between the auto market of the late 2000s and the late 2010s, however: the age of buyers. Auto market researcher Michael Sivak recently noted the distinct shift in new-car purchasers toward older buyers. In 2007, nearly half of all light-duty vehicle buyers in the U.S. were under the age of 44; in 2017, more than half were over the age of 55.
Source: Bloomberg
IRS ANNOUNCES HIGHER ESTATE AND GIFT TAX LIMITS FOR 2020
If you own a vacation property in the USA this is good news for you.
The Internal Revenue Service announced today the official estate and gift tax limits for 2020: The estate and gift tax exemption is $11.58 million per individual, up from $11.4 million in 2019. That means an individual can leave $11.58 million to heirs and pay no federal estate or gift tax, while a married couple will be able to shield $23.16 million. The annual gift exclusion amount remains the same at $15,000. The IRS announced the new inflation-adjusted numbers in Rev. Proc. 2019-44. Forbes contributor Kelly Phillips Erb has all the details on 2020 tax brackets, standard deduction amounts and more. We have all the details on the new higher 2020 retirement account limits too.
Source: Forbes
A GENERATION THAT ALLEGEDLY HATED VEHICLES NOW BUYS THEM APLENTY
Millennials have transitioned from a group originally deemed as uninterested in vehicle ownership to a generation that's expected to account for 40% of all new-vehicle purchases next year. That includes luxury vehicles, pickup trucks and CUVs/SUVs. Millennials buying vehicles in those three segments go about it in markedly different ways, according to the 2019 CarGurus Buyer Insights Report.
Source: WardsAuto
VW – AUDI CUTTING JOBS
Volkswagen's luxury car unit Audi on Tuesday said it would cut one in ten jobs, freeing up billions of euros to fund its shift toward electric vehicle production. Audi said it would cut up to 9,500 jobs, or 10.6% of its total staff by 2025, saving 6 billion euros ($6.61 billion), but also create up to 2,000 new positions in the areas of electric mobility and digitalization.
Source: Reuters
FEUDING KOREAN BATTERY SUPPLIERS RISK DISRUPTING EV PRODUCTION
South Korea's SK Innovation beat its larger rival LG Chem to a multibillion dollar deal in 2018 to supply Volkswagen Group with electric vehicle batteries in the United States. With great fanfare, SK broke ground in March on a $1.7 billion factory in Commerce, Ga., about 120 miles from VW's Chattanooga plant, which will be the automaker's electric vehicle hub in the U.S.
LG Chem had other ideas.
Stung by missing out on the VW deal to SK Innovation and the departure of 77 employees for its rival, LG Chem took SKI to court in the U.S. in April accusing it of misappropriating trade secrets. Fast forward seven months and the two companies have hit each other with lawsuits for battery patent infringements in a dispute that threatens to disrupt the launches of electric vehicles by some of the world's biggest automakers.
U.S court filings reviewed by Reuters show the feuding suppliers are trying to stop each other from importing and selling EV batteries destined for vehicles VW will build in Tennessee as well as General Motors's Bolt, Ford Motor Co.'s pickups, Jaguar's I-Pace, Audi's e-tron, and Kia's Niro.
At stake is the Korean companies' ability to supply automakers in the U.S with batteries just as the companies are scrambling to lock in supplies with lucrative contracts ahead of an expected surge in demand, according to court filings by the two companies and several industry experts. "Whoever loses the fight would suffer a fatal blow, unless the two reach a settlement. This will also be a setback for automakers," said Cho Jae-phil, a professor at Ulsan National Institute of Science and Technology who worked previously at another Korean rival, Samsung SDI.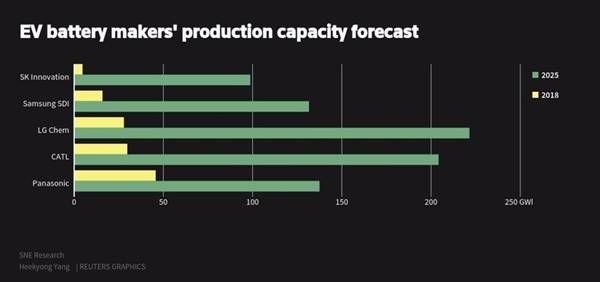 The U.S. patent infringement lawsuits lodged by the companies mean that if one, or both, lose they probably will not be able to market products using the patents in question in the country, the companies said in court filings. The two have taken their feud to South Korean courts as well.
Source: Reuters
The content of this article is intended to provide a general guide to the subject matter. Specialist advice should be sought about your specific circumstances.