Recentemente noticiamos a abertura do Programa Especial de Parcelamento de Débitos de ICMS do Estado de São Paulo. 
O Estado do Rio de Janeiro também já aprovou em sua Assembleia Legislativa o Projeto de Lei nº 133/2015, que autoriza a concessão de benefícios para pagamento à vista e parcelado de débitos estaduais inscritos ou não em dívida ativa. A lei aguarda sanção do governador do Estado e posterior publicação no Diário Oficial.
Além destes, diversos outros Estados estão com programas de anistia e parcelamento de débitos em curso. A fim de alertá-los quanto aos prazos e benefícios, preparamos o quadro abaixo que relaciona as reduções e os prazos para adesão, com destaque para os Estados cuja adesão se encerra no final do mês de novembro: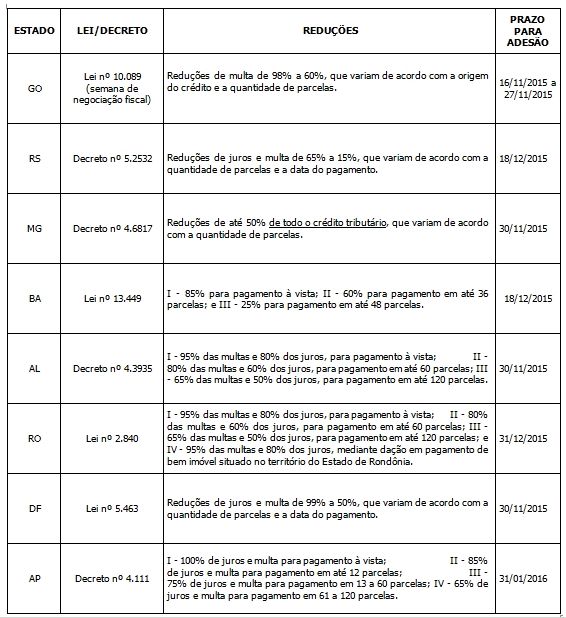 Destacamos também que já foram publicados os Decretos do CONFAZ nº 131, 132, nº 134, que autorizam os Estados de Sergipe, Rio Grande do Norte e Pará, respectivamente, a conceder redução de juros e multa para débitos de ICMS. No entanto, estes Estados aguardam a publicação da legislação interna regulamentadora.
The content of this article is intended to provide a general guide to the subject matter. Specialist advice should be sought about your specific circumstances.