Notwithstanding the ongoing spread of COVID-19 and unprecedented changes in daily life and the economy, the second half of 2020 marched on to the steady drumbeat of securities-related lawsuits we have observed in recent years, including securities class and stockholder derivative actions, insider trading lawsuits, and government enforcement actions. In this 2020 year-end edition of our semi-annual publication, we discuss developments in the securities laws that have occurred against this backdrop.
The year-end update highlights what you most need to know in securities litigation developments and trends for the second half of 2020:
Federal securities filings decreased by approximately 22% when compared to 2019, even as the average settlement value rose and the median settlement value remained comparable.
The Supreme Court granted certiorari in Goldman Sachs Group Inc. v. Arkansas Teacher Retirement System, No. 20-222, and is set to review the Second Circuit's inflation-maintenance theory and consider the use of price-impact evidence to rebut the presumption of reliance at the class certification stage.
With the Supreme Court set to provide additional guidance on "price impact" theories under Halliburton II, the Seventh Circuit followed the Second Circuit's path by requiring trial courts to consider evidence of a lack of price impact even where that evidence overlaps with a merits issue, such as materiality, and assigning both the burden of production and the burden of persuasion to defendants.
The Delaware Supreme Court diminished Section 220's threshold requirement that a stockholder have a "proper purpose" to inspect a corporation's books and records, and may soon reduce or eliminate former stockholders' standing to continue litigating "dual-natured" merger claims post-closing. We also discuss the fraud-on-the-board theory that survived a motion to dismiss in Mindbody.
We continue to monitor courts' application of the disseminator theory of liability recognized by the Supreme Court's 2019 decision in Lorenzo.
We again survey specific securities-related lawsuits arising in connection with or related to the coronavirus pandemic, including class actions, derivative actions, and government enforcement actions filed by both the Securities and Exchange Commission (the "SEC") and the Department of Justice.
We review developments regarding Omnicare's falsity of opinions standard, as rulings by the Second Circuit and several district courts shed light on the boundaries of liability for false or misleading statements of opinion as well as omissions.
Finally, we consider notable ERISA litigation activity, including how the Supreme Court's early 2020 decisions in Sulyma and Jander have been applied by lower courts, as well as a potential circuit split regarding an employer's fiduciary duties while offering a single-stock fund.
I.   Filing And Settlement Trends
According to data from a newly released NERA Economic Consulting ("NERA") study, filings and settlements in 2020 reflected the volatility of a tumultuous year, though certain aspects remained consistent with existing trends. For example, a decrease in the number of merger-objection cases filed in 2020 (down to 106 from 162 in 2019) drove a decline in the number of new federal class actions filed in 2020 (down to 326 from 420 in 2019). As in 2019, the most frequently litigated industry sectors continue to be the "Health Technology and Services" and "Electronic Technology and Technology Services" sectors, each rising by 2%.
The median settlement value of federal securities cases in 2020—excluding merger-objection cases and cases settling for more than $1 billion or $0 to the class—was largely consistent with prior years (at $13 million, up from $12 million in 2019, and on par with $13 million in 2018). By contrast, average settlement values (excluding merger-objection and zero-dollar settlements) rose in 2020 (at $44 million, up from $29 million in 2019, though down from $73 million in 2018).
A.   Filing Trends
Figure 1 below reflects filing rates for 2020 (all charts courtesy of NERA). 326 cases were filed last year, down considerably from the steady figures we have seen from 2017–2019. Note, however, that this figure does not include class action suits filed in state court or state court derivative suits, including those filed in the Delaware Court of Chancery.
Figure 1: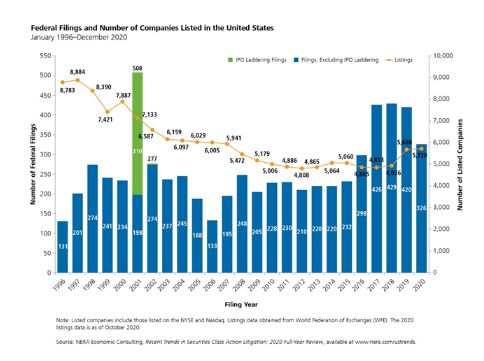 B.   Mix Of Cases Filed In 2020
1.   Filings By Industry Sector
As shown in Figure 2 below, the distribution of non-merger filings by industry was relatively consistent with 2019, even as the number of filings significantly decreased. The "Electronic Technology and Technology Services" and "Health Technology and Services" sectors continued to account for almost half of all filings, reaching 45% in 2020, with filings in both sectors rising by 2% over 2019. Notably, "Energy and Non-Energy Minerals" filings rose by 5% (at 6%, up from 1% in 2019), while "Commercial and Industrial Services" dropped by 4% (at 4%, down from 8% in 2019).
Figure 2: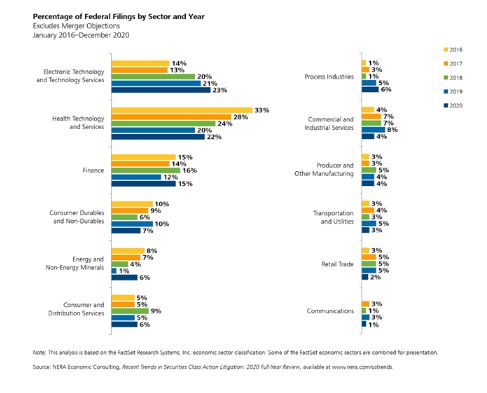 To view the full article please click here.
The following Gibson Dunn attorneys assisted in preparing this client update: Jeff Bell, Shireen Barday, Krista Hanvey, Monica Loseman, Brian Lutz, Karl Nelson, Mark Perry, Avi Weitzman, Lissa Percopo, Mark H. Mixon, Jr., Nick Barba, Sam Berman, Jason Bressler, Aaron Chou, Luke Dougherty, Jonathan Haderlein, Rachel Jackson, Andrew V. Kuntz, Jenny Lotova, Haley Moritz, Megan Murphy, Alex Ogren, Emily Riff, Jennifer Roges, Max E. Schulman, Alisha Siqueira, Marc Aaron Takagaki, and Luke Zaro.
The content of this article is intended to provide a general guide to the subject matter. Specialist advice should be sought about your specific circumstances.