Mergers & Acquisitions deal activity in the Food and Beverage industry remains strong, with 276 deals closed in 2018. The market witnessed two multi-billion-dollar transactions in the last quarter of 2018 – the acquisition of The Schwan Food Company Inc. by CJ Foods America Corp., which valued the company at $2.3 billion and the acquisition of the Canadian Natural Cheese Business of Kraft Canada Inc. by Parmalat Canada, Inc., for $1.2 billion. Another significant transaction during the period was the acquisition of Blommer Chocolate Company by Fuji Oil Holdings Inc. for $750 million.
M&A activity in the Food and Beverage industry is still predominately driven by strategic buyers (including companies primarily owned by private equity investors), with strategic transactions representing 89% of total deal flow in 2018. Of the 276 deals closed in the past 12 months, 188 (68%) were completed by privately owned buyers. 
Overall deal volume in 2018 remained in line with the prior year, with 277 deals closing in 2017.
This year, the alcoholic beverages sector saw a high level of deal volume, with 45 total transactions in 2018, as buyers targeted craft brewers, distillers and vintners. The general food products sector was also active with 36 deals closed, as strategic and financial buyers scooped up assets varying from manufacturers of oils, to frozen foods, as well as sauces and condiments. The non-alcoholic beverage sector was also very active, with 34 deals closed over the year driven, in part, by activity in cannabis-infused beverage products.
The strong deal flow will likely continue as many private food and beverage companies contemplate exit strategies. This may provide opportunities for well-capitalized companies to acquire prime assets or merge to support growth.
Sources: Capital IQ as of Oct. 31 2018. Hemp Industry Daily, BNN Bloomberg.
Note: M&A deal count is defined by a list of subsectors viewed as the best representation of the industry.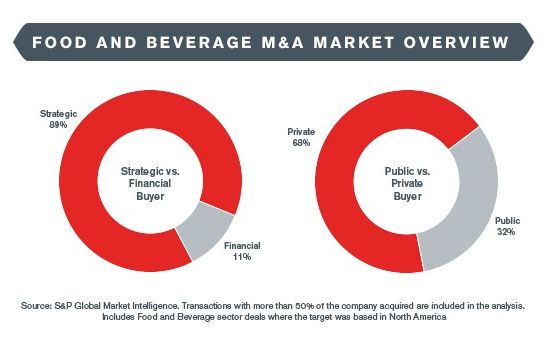 Food and Beverage M&A Landscape - Winter 2019.pdf (1.4) MB
The content of this article is intended to provide a general guide to the subject matter. Specialist advice should be sought about your specific circumstances.