Merger & Acquisition (M&A) deal activity in the U.S. and Canadian food and beverage industry remains strong, with 299 deals closing in the last 12 months (LTM) through September 30, 2019.

The market witnessed several major transactions through Q2 and Q3 2019, including the acquisition of Quest Nutrition LLC for $1.0 billion by Atkins Nutritionals Holdings, which was announced on August 21, 2019, and the acquisition of Arnott's Biscuits Holdings and related business of Campbell Soup Company by KKR & Co. Inc., which was announced on August 2, 2019, with a transaction value of $2.2 billion.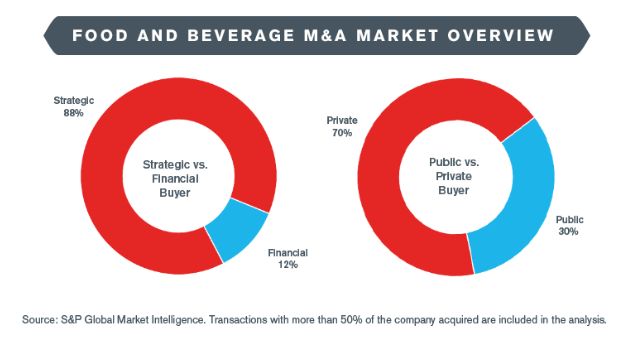 M&A activity in the food and beverage sector is still predominately driven by strategic buyers (including companies primarily owned by private equity investors), with strategic transactions representing 88% of total deal value over the LTM. Of the 299 deals closed in the LTM, 209 (70%) were completed by privately owned buyers.

Overall deal volume in the LTM through September 30, 2019 increased 5.7% relative to the same period last year.

The beverage sector continues to be an active space for M&A, with 52 transactions completed by alcoholic beverage companies and 31 deals completed by non-alcoholic players in the LTM. Transactions in the alcoholic beverage sector are predominantly focused on small, private craft brewers, with the occasional larger transaction, such as the acquisitions of Castle Brands Inc. and Off-Centered Way LLC. The strong activity in the non-alcoholic beverage sector is supported by tailwinds from hemp-/CBD-infused beverages. The agricultural sector has seen strong deal flow as well, with 35 transactions closing over the LTM, representing a diverse and fragmented base of fruit and vegetable farms, orchards, herbs, pulses and many others.
Source: Capital IQ as of September 30, 2019
Note: M&A deal count is defined by a list of subsectors viewed as the best representation of the industry.
Food and Beverage M&A Landscape – Fall 2019.pdf (1.1) MB
The content of this article is intended to provide a general guide to the subject matter. Specialist advice should be sought about your specific circumstances.